Lemon Poppy Seed Doughnuts
I've been in a real lemon state of mind lately (expect to see a few more citrusy recipes coming soon!) and when I saw this recipe for Lemon Poppy Seed Doughnuts it seemed right up my alley. If you haven't yet purchased a doughnut pan after seeing my recipes for Baked Spice Doughnuts or Strawberry Doughnuts, hopefully third time's the charm! Lemon poppy seed muffins have always been one of my favorites, and the combination is delicious in doughnut form as well. These doughnuts are perfect for Spring. Surprise your brunch guests, your family or your co-workers with healthy homemade doughnuts!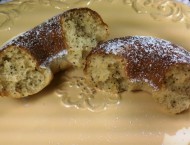 Lemon Poppy Seed Doughnuts
Ingredients:
1 cup all-purpose flour
1/2 cup sugar
1 tablespoon poppy seeds
3/4 teaspoon baking powder
3/4 teaspoon baking soda
1/4 teaspoon salt
1 egg
1/3 cup low fat buttermilk (1%)
1/3 cup fat free plain Greek yogurt (I used Fage 0%)
1 tablespoon canola oil
2 teaspoon lemon juice
1 teaspoon lemon zest
1/2 teaspoon vanilla extract
2 teaspoon powdered sugar, divided
Directions:
Preheat the oven to 400. Lightly coat a doughnut pan with cooking spray and set aside.
Combine the flour, sugar, poppy seeds, baking powder, baking soda and salt in a medium bowl. In a separate bowl, combine the egg, buttermilk, yogurt, oil, lemon juice, lemon zest and vanilla. Pour wet ingredients into dry ingredients and stir to combine.
Dust the prepared doughnut pan with 1 teaspoon of the powdered sugar. Fill each space in the doughnut pan 2/3 full with batter, dividing evenly among the six spaces. Bake for 10-12 minutes. Remove from oven and cool for five minutes. Remove from pan and dust with remaining 1 t of powdered sugar.
MyWW SmartPoints per (1 doughnut) serving: (SP calculated using the recipe builder on weightwatchers.com)
Green: 8 SmartPoints/ Blue: 7 SmartPoints/ Purple: 7 SmartPoints
WEIGHT WATCHERS POINTS PLUS:
5 per doughnut (P+ calculated using the recipe builder on weightwatchers.com)
NUTRITION INFORMATION:
201 calories, 36 g carbs, 19 g sugars, 4 g fat, 1 g saturated fat, 6 g protein, 1 g fiber (from myfitnesspal.com)