Banana Chocolate Chip Baked Oatmeal Singles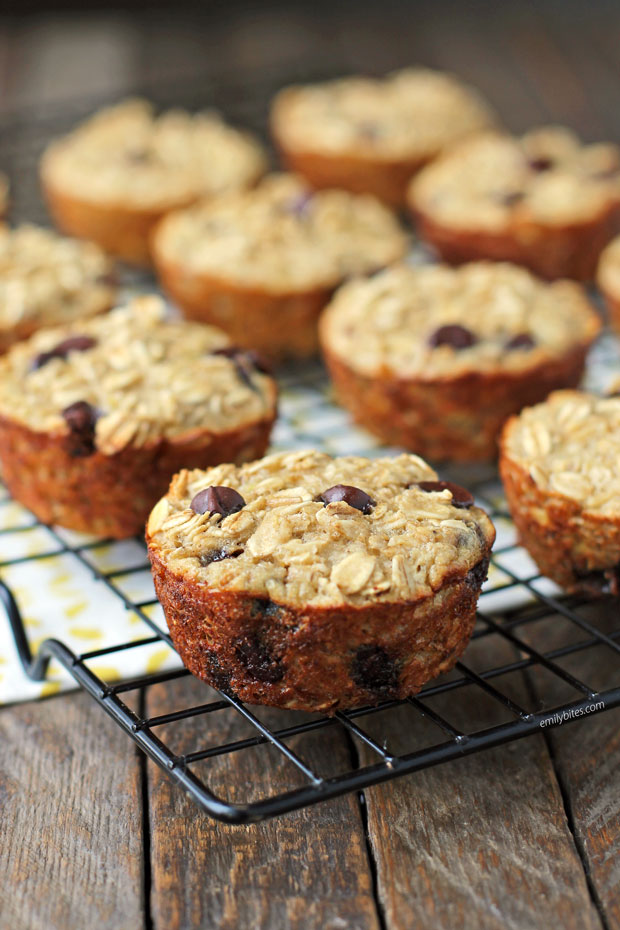 These Banana Chocolate Chip Baked Oatmeal Singles are an easy, delicious grab-and-go breakfast for the whole family! It's January, the time when everyone (me included!) recommits to their diet and exercise goals and resolves to eat healthy and get in the best shape of their lives. Naturally, I figured the best way to ease into my resolutions was with chocolate for breakfast! If you've been following my blog for a while, you know I love baked oatmeal. In 2011 I made Pumpkin, Apple Cranberry and Blueberry & Peach versions. I wanted to make a banana/chocolate adaptation of it and after seeing how much people liked my Sausage, Egg & Cheese Hash Brown Cups and Bacon, Egg & Cheese Biscuit Cups, I decided to try baking them in muffin tins to make them easier to grab and go. You all know how I love my muffin tins! These turned out fantastic. They have a rich banana oatmeal flavor and each single serving is jam packed with chocolate for only 126 calories, 4 Green, 4 Blue or 3 Purple WW SmartPoints each. If eating chocolate as part of a healthy breakfast is any indication, 2012 is going to be a good year.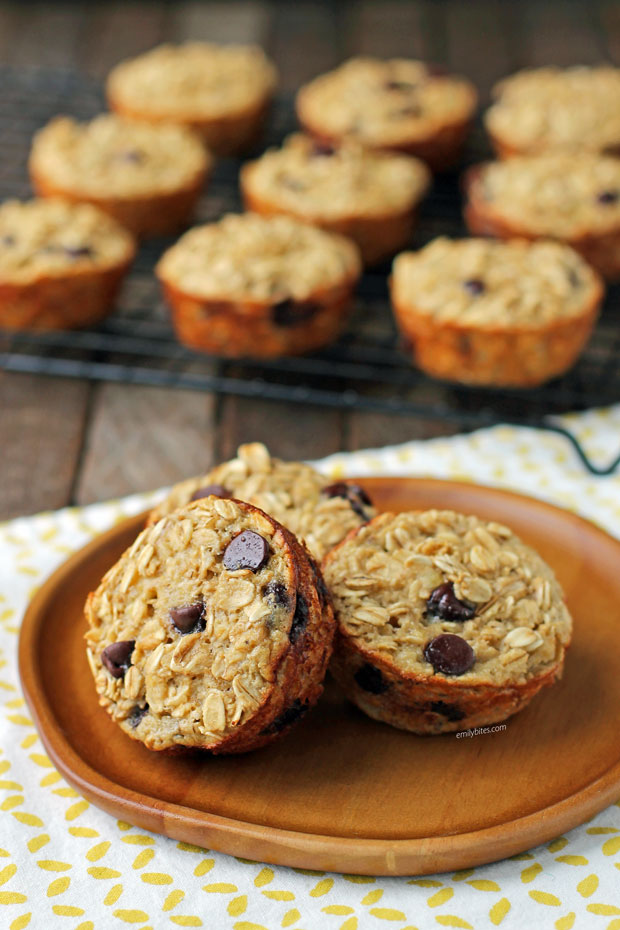 Banana Chocolate Chip Baked Oatmeal Singles
Yield: 12 oatmeal singles
Ingredients:
2 cups old-fashioned oats
1/4 cup packed brown sugar
1 1/2 teaspoons baking powder
1/4 teaspoon salt
1 egg white
1 egg
2/3 cup skim milk
2/3 cup mashed bananas
1/2 teaspoon vanilla extract
6 tablespoons semi-sweet chocolate chips
Directions:
Preheat the oven to 350. Lightly mist 12 cups in a standard muffin tin with cooking spray.
Combine the oats, brown sugar, baking powder and salt in a large bowl and stir until thoroughly mixed.
In a separate bowl, whisk together the egg whites, egg, mashed banana, milk and vanilla. Add the wet ingredients to the dry ingredients and stir until blended together. Stir in the chocolate chips.
Spoon the oatmeal mixture evenly between the prepared muffin cups. Bake uncovered for 20-22 minutes or until oatmeal is lightly browned and a toothpick inserted into the middle comes out clean.
MyWW SmartPoints per (1 single) serving: (SP calculated using the recipe builder on weightwatchers.com)
Green: 4 SmartPoints/ Blue: 4 SmartPoints/ Purple: 3 SmartPoints
Weight Watchers Points Plus:
3 per single (P+ calculated using the recipe builder on weightwatchers.com)
Nutrition Information:
126 calories, 22 g carbs, 11 g sugars, 3 g fat, 2 g saturated fat, 3 g protein, 2 g fiber (from myfitnesspal.com)