Slow Cooked Taco Chili Salad
This concoction is so versatile that I had no idea how to describe it in the recipe title, but I decided on Slow Cooker Taco Chili Salad. I found the recipe on Ezra Pound Cake and she referred to it as a soup, but since there was very little liquid the way I made it, that didn't seem right to me. If you don't drain and rinse the cans of beans it will be more like a soup, so feel free to make it that way. The consistency of mine was more like a hearty chili and the main ingredients are similar, but there's no chili powder in it so I'm not sure that really describes it either. My favorite way to eat this turned out to be over a bed of crisp lettuce like a taco salad, so that's how I photographed it. You could also portion it into single lettuce leaves and eat this as taco lettuce wraps or serve it over rice like a Chipotle bowl.
You also have an opportunity to get creative with the toppings. I included shredded cheddar in the recipe, but it was fun to experiment with other additions as well. My favorite to use (as always) was Wholly Guacamole. I used 2 tablespoons of their spicy variety and the cool creaminess was a fabulous contrast to the hot and hearty chili. I also tried it with half an ounce of Fritos sprinkled over the top, and that added a really nice crunchy texture and saltiness I enjoyed. Of course, I also tried the chili straight-up out of a bowl and that was great too.
Basically, I'm leaving it up to you to decide what this is and how you'll serve it. Get creative and let me know your favorite way to eat it!
 topped with guacamole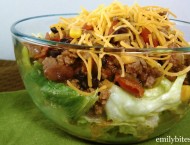 Slow Cooked Taco Chili (Salad)
Yield: 12 (1 cup) servings
Ingredients:
2 lbs 95% lean ground beef
1 large onion, diced
1 (14.5 oz) can of fire-roasted diced tomatoes
1 (10 oz) can of Rotel diced tomatoes and green chiles
2 (15 oz) cans of black beans, drained and rinsed (do not drain if you want it soupier)
1 (16 oz) can of pinto beans, drained and rinsed (do not drain if you want it soupier)
1 (15 ¼ oz) can of whole kernel corn, drained
2 (4 ½ oz) cans of diced green chiles
1 (1 oz) envelope reduced sodium taco seasoning
1 (1 oz) envelope Ranch dry salad dressing/seasoning mix
1 ½ cups 2% shredded cheddar cheese
Directions:
Bring a large sauté pan or skillet to medium heat. Add chopped onions and sauté until cooked. Add ground beef and cook until meat is browned. Drain meat.
Transfer the meat & onions into your slow cooker. Add the tomatoes, Rotel, black beans, pinto beans, corn and chiles and stir until combined. Add the taco and ranch seasonings and stir in until thoroughly mixed. Cook on low for 6-8 hours. Top each serving with 2 tablespoons of shredded cheddar and serve.
MyWW SmartPoints per (1 cup) serving: (SP calculated using the recipe builder on weightwatchers.com)
Green: 7 SmartPoints/ Blue: 4 SmartPoints/ Purple: 4 SmartPoints
Weight Watchers Points Plus:
7 per serving (P+ calculated using the recipe builder on weightwatchers.com)
Nutrition Information:
282 calories, 28 g carbs, 3 g sugars, 8 g fat, 3 g saturated fat, 27 g protein, 7 g fiber (from myfitnesspal.com)
topped with Fritos
This post contains affiliate links