Slow Cooker Sweet & Tangy Chicken
This time of year is always super busy for me. I don't know how y'all who have kids do it, because I don't even have to prepare for back-to-school! It just seems like every year my schedule explodes in August & early September. I think it's because everyone is trying to cram in as much "end of Summer" fun as they can before the weather gets cooler.
I generally do a lot of cooking on the weekends, but with all the weekend trips and visitors lately I haven't had a ton of time to spend in the kitchen. That's where my slow cooker comes in! It's so nice to toss a few ingredients in a pot in the morning and then come home from work to a hot and ready meal. This particular Slow Cooker Sweet & Tangy Chicken recipe fits that scenario perfectly. There's next to no morning prep time and when you get home the meat literally falls apart for shredding and you just have to thicken the sauce for 2-3 minutes. Serve it over some brown minute rice and steam a side of broccoli, snow peas or an Asian veggie mix and voila! Dinner is served.
In addition to being unbelievably simple, this recipe is really tasty. It's sweet and tangy with a garlicky Asian flair. It pairs really well with rice, but you could certainly serve it over vegetables or pasta, stuff it in a baked potato or add a tortilla and some mix-ins and make it a wrap. At only 209 calories or 7 Green, 5 Blue or 5 Purple Weight Watchers SmartPoints per serving, the possibilities are endless!
Looking for more simple slow cooker recipes? Try Meatballs & Marinara, Mexican Pulled Pork, Beef Braciole, Chicken Parmesan, Barbecue Beef, Apple Bacon BBQ Chicken, Taco Chili, Beef & Broccoli, Buffalo Chicken or Balsamic Beef.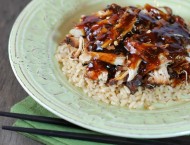 Slow Cooker Sweet & Tangy Chicken
Yield: 8 (1/2 cup) servings
Ingredients:
¾ cup packed brown sugar
2/3 cup apple cider vinegar
¼ cup diet lemon-lime soda
2 tablespoons minced garlic
2 tablespoons low sodium soy sauce
½ teaspoon black pepper
2 lbs raw boneless skinless chicken breasts
2 tablespoons corn starch
2 tablespoons water
Crushed red pepper flakes, to taste
Directions:
Combine the brown sugar, cider vinegar, soda, garlic, soy sauce and black pepper and pour into your slow cooker. Lay the chicken breasts across the bottom and stir sauce to cover chicken (if chicken peeks up over sauce that's okay). Cook on low for 6-8 hours.
Remove chicken from sauce and shred using forks (it should fall apart easily).
Pour the sauce from the slow cooker into a small saucepan (or if you have a slow cooker with a removable pot specifically meant to be used on the stove top you can just use the same pot – this is the slow cooker I use). In a small bowl, stir together the corn starch and water. Add the corn starch mixture to the sauce and bring to a boil over high heat. Boil for 2-3 minutes until sauce has thickened into a glaze. Remove from heat and let stand for another 1-2 minutes (sauce will continue to thicken while standing).
You can either mix the chicken back into the sauce or serve the sauce poured over the chicken (as pictured). Sprinkle each serving with a pinch of crushed red pepper flakes to taste before serving.
MyWW SmartPoints per (1/2 cup) serving: (SP calculated using the recipe builder on weightwatchers.com)
Green: 7 SmartPoints/ Blue: 5 SmartPoints/ Purple: 5 SmartPoints
Weight Watchers Points Plus:
5 per servings (P+ calculated using the recipe builder on weightwatchers.com)
Nutrition Information:
209 calories, 21 g carbs, 18 g sugars, 1 g fat, 0 g saturated fat, 26 g protein, 0 g fiber (from myfitnesspal.com)
This post contains affiliate links