Pumpkin Spice Krispie Treats
I love when you can marry two separate but amazing things together to create something even more fantastic. These easy-to-make Pumpkin Spice Krispie Treats combine everything you love about Fall pumpkin flavor with the marshmallow-y goodness of traditional rice krispie treats for a tasty Autumn twist. Plus they're downright adorable. You can make them the normal way in a baking dish if you want, but I totally suggest spending the extra 5-10 minutes to form them into little pumpkins. It may not change the flavor but you'll get major bonus points for presentation!
Because of the pumpkin puree, these aren't quite as crispy as traditional rice krispie treats, but it adds amazing flavor. Make sure you let the mixture cool before forming the pumpkin balls to give it time to firm up. These would be perfect for a Halloween party, a Thanksgiving day treat, or pretty much any other time. The best part is that the "hands on" time in making this recipe is only about 15 minutes. Oops, that's not true. The best part is that these tasty and adorable Pumpkin Spice Krispie Treats are each only 86 calories or 3 Weight Watchers SmartPoints on the myWW Green, Blue or Purple plans. Treat yourself!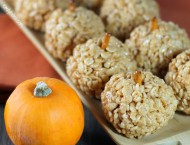 Pumpkin Spice Krispie Treats
Ingredients:
3 tablespoons light butter, cut into pieces
10 oz package marshmallows
2 tablespoons canned pumpkin puree
1 teaspoon pumpkin pie spice
6 cups Rice Krispies cereal
7 thin fat free pretzel sticks, broken into thirds
Directions:
Combine the butter and marshmallows in a large bowl and microwave for 2-3 minutes until contents are soft and melty. Spray a spoon with cooking spray and stir until thoroughly mixed. Add the pumpkin puree and pumpkin pie spice and stir together until thoroughly mixed. Add the rice krispies and stir until the cereal is completely coated. Let the mixture stand to cool for about 10 minutes. This cooling step is necessary for the mixture to be formed into balls.
Separate the mixture into 20 even piles on a sheet of parchment paper. Mist the palms of your hands and your fingers with cooking spray (to prevent sticking) and press and roll each pile into a round ball about 2" in diameter. Press a pretzel third into the top of each ball and eat the little leftover pretzel third.
MyWW SmartPoints per (1 piece) serving: (SP calculated using the recipe builder on weightwatchers.com)
Green: 3 SmartPoints/ Blue: 3 SmartPoints/ Purple: 3 SmartPoints
Weight Watchers Points Plus:
2 per treat (P+ calculated using the recipe builder on weightwatchers.com)
Nutrition Information:
86 calories, 18 g carbs, 8 g sugars, 1 g fat, 1 g saturated fat, 1 g protein, 0 g fiber (from myfitnesspal.com)