Cheddar Apple Bacon Grilled Cheese
There's a reason many New Englanders put cheddar on their apple pie. It's because sharp cheddar cheese and sweet apples is a downright delectable flavor combination. Add some salty, smoky bacon and sandwich it all between two slices of buttery grilled bread, and you've got quite the swoon-worthy sandwich in your hands.
This Cheddar Apple Bacon Grilled Cheese sandwich is super fast and easy to make and perfect comfort food for just over 300 calories! I used a grill pan skillet to get the pretty grill marks on my sandwich, but a flat skillet will work perfectly well. If you want to bulk the sandwich up even further and you've got extra points or some calories to spare, you can even add some sliced deli turkey and make this a turkey melt!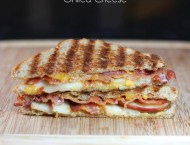 Cheddar Apple Bacon Grilled Cheese
Ingredients:
2 tablespoons light butter (I used Land O' Lakes Light Butter Spread with Canola Oil)
4 slices light wheat bread (I used Pepperidge Farm Light Style Wheat)
2 oz sharp cheddar cheese, sliced thin or shredded (I used Cabot Seriously Sharp)
½ medium apple, sliced thin
4 slices center cut bacon, cooked crisp
Directions:
Butter one side of each piece of bread with ½ tablespoon of butter each. Place two slices butter side down on a skillet. Spread the cheddar cheese over the surface of the bread (I like to reserve a little to sprinkle on top of the sandwich filling before placing the top bread on – it helps the sandwich hold together when cooked). Top with the apple slices and cris-cross the bacon over top. Place the reserved slices of bread, butter side up, on top of each sandwich.
Bring the skillet over medium heat and cook for about 3 minutes until golden on the bottom. Flip the sandwiches (carefully!) and cook for another 2-3 minutes until golden on both sides.
MyWW SmartPoints per (1 sandwich) serving: (SP calculated using the recipe builder on weightwatchers.com)
Green: 11 SmartPoints/ Blue: 11 SmartPoints/ Purple: 11 SmartPoints
Weight Watchers Points Plus:
8 per sandwich (P+ calculated using the recipe builder on weightwatchers.com)
Nutrition Information:
305 calories, 23 g carbs, 6 g sugars, 17 g fat, 10 g saturated fat, 16 g protein, 5 g fiber (from myfitnesspal.com)