Raspberry Chocolate Chip Frozen Yogurt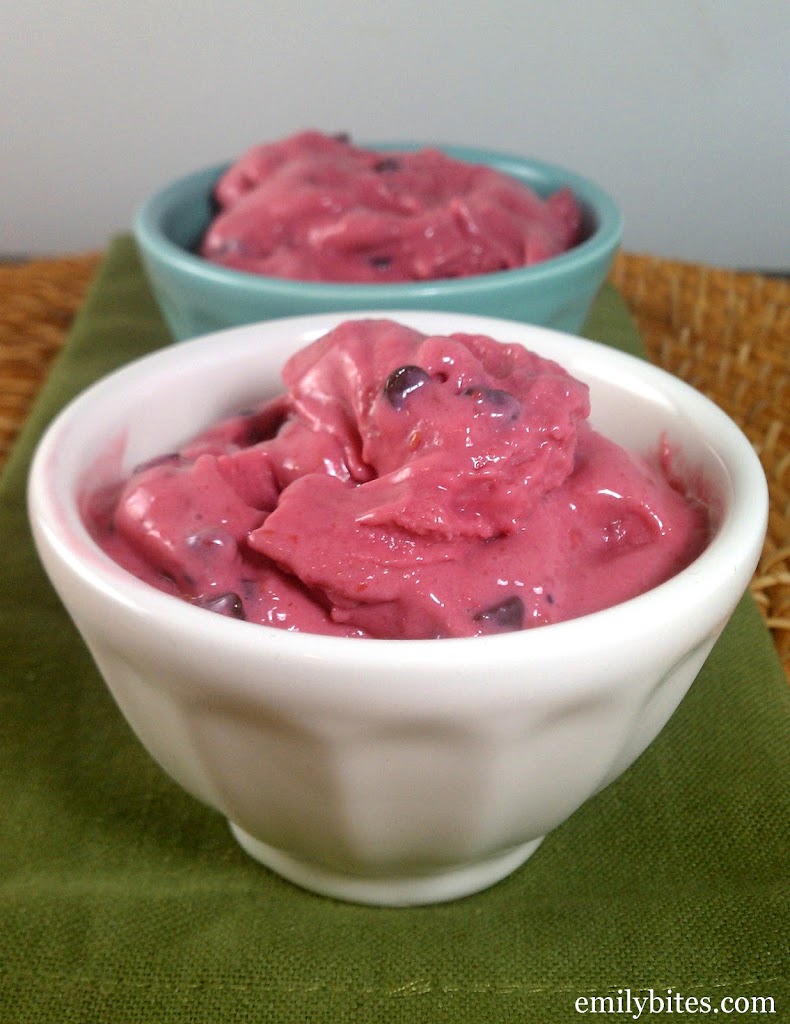 Sweet, tart, and oh-so-creamy, this frozen yogurt recipe is a perfect healthy treat for the hot summer days ahead. I've always loved raspberry and chocolate together, and I have been craving frozen treats lately, so this seemed like the perfect solution. With only four ingredients, this recipe is simple and refreshing with nothing artificial or hard to pronounce. Using mini chocolate chips ensures chocolate in every bite, and the combination of tangy raspberries and sweet chocolate is a real treat. I will definitely use fat free Greek yogurt to make similar recipes again, because it produced a really smooth, creamy, thick consistency. This dessert tastes too decadent to be so healthy. Go ahead and fool your taste buds!
I absolutely recommend the ice cream machine I have. I use a Cuisinart model (available for purchase through Amazon – see the "My Store" tab at the top of the page to add the exact model to your Amazon cart) and it's so fast and easy to use. You simply keep the machine's bowl in your freezer and whenever you want to make ice cream, frozen yogurt or sorbet you mix up the ingredients, put the bowl on the machine, start it up, pour in mixture and in less than 20 minutes you have ice cream! No rock salt or ice required.
Raspberry Chocolate Chip Frozen Yogurt
Yield: 8 (1/2 cup) servings
Ingredients:
3 cups frozen (or fresh) raspberries (I used frozen. You can use either, but evidently it freezes faster if you use frozen)
2 cups fat free plain Greek yogurt
1/3 cup sugar
1/3 cup miniature semi-sweet chocolate chips
Directions:
Combine the raspberries, yogurt and sugar in a food processor and run until thoroughly combined into a smooth, thick yogurt.
Put the entire mixture into an ice cream freezer/maker and freeze according to manufacturer's instructions. In the last few minutes of freezing add the chocolate chips. Freeze any leftovers in an  airtight container.
MyWW SmartPoints per (1/2 cup) serving: (SP calculated using the recipe builder on weightwatchers.com)
Green: 5 SmartPoints/ Blue: 4 SmartPoints/ Purple: 4 SmartPoints
Weight Watchers Points Plus:
3 per serving (P+ calculated using the recipe builder on weightwatchers.com)
Nutrition Information:
120 calories, 21 g carbs, 16 g sugars, 2 g fat, 1 g saturated fat, 6 g protein, 3 g fiber (from myfitnesspal.com)