Raspberry Cream Cheese Muffins
What a delicious way to break in my kitchen after being out of town for almost two weeks! These Raspberry Cream Cheese Muffins are fabulous. They're sweet and fluffy and chock full of tart raspberries. Yum. I imagine these would be delicious with blueberries or strawberries as well. When my alarm goes off in the morning, I generally press snooze until the last possible minute that I feel I can get up and still make it to work on time. Needless to say, this strategy doesn't leave a lot of time to make breakfast. These muffins are perfect because they're easy to make ahead and just grab on-the-go in the morning, maybe with a banana or a side of fruit for a full breakfast.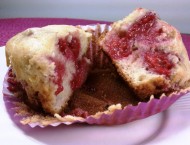 Raspberry Cream Cheese Muffins
Ingredients:
5 oz 1/3 less fat cream cheese, softened
3 tablespoons butter, softened
3 tablespoons unsweetened applesauce
1 ½ cups sugar
1 ½ teaspoons vanilla extract
2 large egg whites
1 large egg
1 cup all-purpose flour
1 cup white whole wheat flour
1 teaspoon baking powder
¼ teaspoon baking soda
½ teaspoon salt
½ cup low-fat buttermilk
2 cups raspberries
Directions:
Preheat the oven to 350. Line 24 muffin cups with cupcake liners.
In a large bowl, combine the cream cheese, butter and applesauce and beat with a mixer until blended. Add sugar and beat until combined. Add vanilla, eggs and egg whites and beat until blended.
In a separate bowl, combine the flour (lightly spoon into measuring cups and then level with a knife), baking soda, baking powder and salt and stir together. In the bowl containing the wet ingredients, use the mixer on a low speed while pouring in the flour mixture and the buttermilk. Beat until blended. Add raspberries and fold in gently.
Spoon the batter evenly into the liners. Bake for 25 minutes. Cool on a wire rack.
MyWW SmartPoints per (1 muffin) serving: (SP calculated using the recipe builder on weightwatchers.com)
Green: 6 SmartPoints/ Blue: 5 SmartPoints/ Purple: 5 SmartPoints
Weight Watchers Points Plus:
3 per muffin (P+ calculated using the recipe builder on weightwatchers.com)
NUTRITION INFORMATION:
121 calories, 21 g carbs, 14 g sugars, 3 g fat, 1 g saturated fat, 3 g protein, 2 g fiber (from myfitnesspal.com)