Dark Chocolate Orange Cupcakes
Oh dark chocolate, how I love thee. You are practically perfect on your own, only to be improved upon by the addition of orange. The mix of bright and decadent, rich and light flavors is absolutely irresistible. This is one of my all-time favorite flavor combinations and for 114 calories per cupcake, I am excited to indulge in these Dark Chocolate Orange Cupcakes guilt-free!
Diet soda and cake mix is such an easy way to get moist, fluffy, easy-to-make cupcakes that are easy on the waistline. I love topping them with a cream cheese frosting. I've come up with a few different flavors and twists on the idea, from Black Forest to Lemon-Lime to Peppermint-Iced Red Velvet. Each cupcake is only 5 Weight Watchers SmartPoints on myWW Green, Blue or Purple and no one ever knows they're light. Have your cake and eat it too!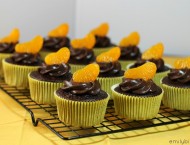 Dark Chocolate Orange Cupcakes
Ingredients:
1 (15.25 oz) box of dark chocolate cake mix (I used Betty Crocker Super Moist)
½ – 1 teaspoon orange zest (zest from one large Navel orange)
2 tablespoons fresh orange juice, squeezed from an orange
12 oz of diet orange soda
2 egg whites
8 oz 1/3 less fat cream cheese, softened
1 cup powdered sugar
2 tablespoons dark chocolate unsweetened cocoa powder (I used Hershey's Special Dark)
1 teaspoon orange extract
24 canned mandarin orange slices with no added sugar (I used Libby's Skinny Fruits), drained and then patted dry with paper towels
Directions:
Preheat oven per directions on cake mix box.
Line cupcake pan(s) with 24 cupcake liners
In a large bowl, combine the cake mix, orange zest, juice, soda and egg whites. Whisk together or beat with an electric mixer until thoroughly mixed. Pour mixture evenly into cupcake spaces, filling each about 2/3 full.
Bake according to directions on cake mix box. Let cool completely before frosting.
In a separate bowl, begin beating the cream cheese with an electric mixer and slowly add the powdered sugar. Add the cocoa powder and orange extract and beat until smooth and well combined. Frost the cupcakes and place one mandarin orange slice on each.
MyWW SmartPoints per (1 cupcake) serving: (SP calculated using the recipe builder on weightwatchers.com)
Green: 5 SmartPoints/ Blue: 5 SmartPoints/ Purple: 5 SmartPoints
Weight Watchers Points Plus:
3 per cupcake (P+ calculated using the recipe builder on weightwatchers.com)
Nutrition Information:
114 calories, 21 g carbs, 13 g sugars, 3 g fat, 2 g saturated fat, 2 g protein, 1 g fiber (from myfitnesspal.com)