Creamy Pasta with Sausage & Mustard Seeds
My sister-in-law, Julia, cooked this Food & Wine Creamy Pasta with Sausage & Mustard Seeds for our family when she and my brother were in town for the holidays and it was a huge hit with everyone who tried it. It has a little something for everyone – creamy wine sauce, spicy little kick from the sausage and crushed red pepper flakes, tangy twist from the mustard, sweet herb flavor from the basil and heartiness from the pasta. What's not to love?
Besides being delicious, this dish comes together surprisingly quickly, making it an ideal weeknight dinner option or a great entree idea for company. Toss together a side salad and your meal is served! I added some fresh spinach I had on hand to the mix, but feel free to add more to your liking – I probably will next time I make it (and I will definitely be making it again)!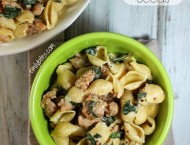 Creamy Pasta with Sausage & Mustard Seeds
Yield: 10 (rounded 1 cup) servings
Ingredients:
1 lb (16 oz) uncooked wheat pasta shells
2 teaspoons extra virgin olive oil
1 ½ lbs hot Italian turkey or chicken sausage, casings removed
3 oz fresh baby spinach, chopped (about a half a standard salad bag – feel free to add more if desired)
¾ cup dry white wine
¾ cup fat free half and half
3 tablespoons super grainy mustard (I used Wegmans Dijon Whole Grain Mustard which is basically all seeds, consistency-wise)
Pinch of crushed red pepper flakes
1 cup thinly sliced or chopped fresh basil
Directions:
Cook pasta in salted water according to package instructions. Drain and set aside.
While the water is boiling for step one, place the oil in a large skillet or saute pan and bring over medium-high heat. Add the sausage and cook for about five minutes or until meat is cooked through, breaking it up into small pieces with a spoon as it cooks. Add the fresh spinach and stir in. Cook for another minute until spinach wilts.
Add the wine to the sausage and reduce the heat to a simmer. Stir together, releasing any brown bits from the bottom of the pan and cook for another 5 minutes until the wine is reduced by half. Add the half and half, mustard and crushed red pepper. Stir together and simmer for another 2 minutes.
Remove the skillet from heat and stir in the reserved pasta and basil until well combined. Serve.
MyWW SmartPoints per (rounded 1 cup) serving: (SP calculated using the recipe builder on weightwatchers.com)
Green: 8 SmartPoints/ Blue: 8 SmartPoints/ Purple: 4 SmartPoints
Weight Watchers Points Plus:
8 per serving (P+ calculated using the recipe builder on weightwatchers.com)
Nutrition Information:
277 calories, 38 g carbs, 2 g sugars, 6 g fat, 1 g saturated fat, 17 g protein, 5 g fiber (from myfitnesspal.com)