Garlic Roasted Green Beans with Almonds
These Garlic Roasted Green Beans with Almonds are my absolute favorite new side dish. I want to eat them with everything! The toasty, crunchy almonds, the crisp, seasoned green beans and the golden roasted garlic are a combination you won't be able to get enough of – plus it goes with everything! 
This dish is super easy to make and you could easily make a bigger batch if you're serving it for Thanksgiving or a dinner party. It looks elegant, packs tons of flavor, and it's healthy – what more could you ask for? Besides a way to eat as much garlic as you please and still have minty-fresh breath afterward, of course.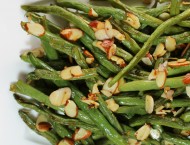 Garlic Roasted Green Beans with Almonds
Ingredients:
12 oz raw green beans, ends trimmed
1 tablespoon olive oil
Sea salt and cracked black pepper, to taste
2 garlic cloves, minced
2 tablespoons sliced almonds
Directions:
Preheat the oven to 425 degrees.
Place the green beans in a large bowl and drizzle with olive oil. Stir to coat, making sure oil is evenly distributed on the beans. Sprinkle with salt and pepper.
Spread the green beans across a baking sheet in a single layer. Place the baking sheet in the oven for 15 minutes. Remove the beans from the oven and sprinkle the minced garlic and sliced almonds over top of the green beans. Stir to mix together and then spread to a single layer again. Place the baking sheet back in the oven and roast for an additional 5 minutes until green beans are cooked through and the garlic and almonds are lightly golden.
MyWW SmartPoints per (1/4th of the recipe) serving: (SP calculated using the recipe builder on weightwatchers.com)
Green: 2 SmartPoints/ Blue: 2 SmartPoints/ Purple: 2 SmartPoints
Weight Watchers Points Plus:
1 per serving if you count the green beans as free, 2 per serving if you use the recipe builder*,  (P+ calculated using the recipe builder on weightwatchers.com)
Nutrition Information:
80 calories, 7 g carbs, 1 g sugars, 5 g fat, 1 g saturated fat, 2 g protein, 3 g fiber (from myfitnesspal.com)