Linguine with Roasted Vegetables and Goat Cheese
Confession: I am completely and utterly obsessed with this Linguine with Roasted Vegetables and Goat Cheese. I want to eat it for every meal. The flavors from the herbs, lemon and vegetables are bright and fresh while the goat cheese throughout is creamy and decadent. Can I just take a second to swoon over goat cheese? <pauses dreamily> A serving is hearty and filling and to me it just tastes like Spring. We finally had some warmer sunny days this week and this dish has my taste buds ready for the season to change.
I wouldn't change a single thing about this recipe, but it's definitely customizable and you can swap in your favorite vegetables according to taste. It's simple to make too: chop the veggies, put them in to roast, make the pasta and toss everything together. How simple is that? All this deliciousness rings in at just 312 calories or 9 Green, 9 Blue or 4 Purple myWW SmartPoints along with 10 grams of protein and 7 grams of fiber per serving! This is definitely one I'll make again and again.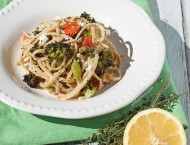 Linguine with Roasted Vegetables and Goat Cheese
Yield: 6 (1 1/4 cup) servings
Ingredients:
3 cups fresh broccoli florets
1 cup sliced carrots
1 cup bite sized cuts of asparagus
¼ cup olive oil, divided
Freshly cracked black pepper and sea salt to taste
1 teaspoon fennel seeds
1 teaspoon minced garlic
10 oz dry wheat linguine pasta (I used Wegmans brand)
2 teaspoons freshly squeezed lemon juice
½ teaspoon lemon zest
1 teaspoon diced fresh chives
1 teaspoon fresh thyme leaves
3 oz goat cheese crumbles
Directions:
Preheat the oven to 400 degrees. Lay the broccoli florets, carrots and asparagus in a single layer on a baking sheet and drizzle with 8 teaspoons of the olive oil. Grind salt and pepper over the top to taste. Place in the oven for 25-30 minutes. Remove from oven and sprinkle with the fennel seeds and minced garlic. Stir the veggies, seeds and garlic together and spread across the pan. Place back in the oven for another 5 minutes.
While the vegetables are roasting, boil water and cook the pasta according to package directions. Drain the pasta and transfer it to a serving or mixing bowl while hot.
Add the remaining 4 teaspoons of olive oil to the pasta along with the lemon juice and stir to coat the pasta. Add the zest, chives, thyme and stir to combine. Add the roasted vegetables, making sure to get any excess oil, fennel seeds and garlic from the baking sheet into the bowl. Add the goat cheese crumbles and toss together until thoroughly combined.
MyWW SmartPoints per (1 ¼ cup) serving:(SP calculated using the recipe builder on weightwatchers.com)
Green: 9 SmartPoints/ Blue: 9 SmartPoints/ Purple: 4 SmartPoints
Weight Watchers Points Plus:
8 per (1 ¼ cup) serving (P+ calculated using the recipe builder on weightwatchers.com)
Nutrition Information:
312 calories, 40 g carbs, 4 g sugars, 14 g fat, 3 g saturated fat, 10 g protein, 7 g fiber (from myfitnesspal.com)