New WW Points Program 2022/2023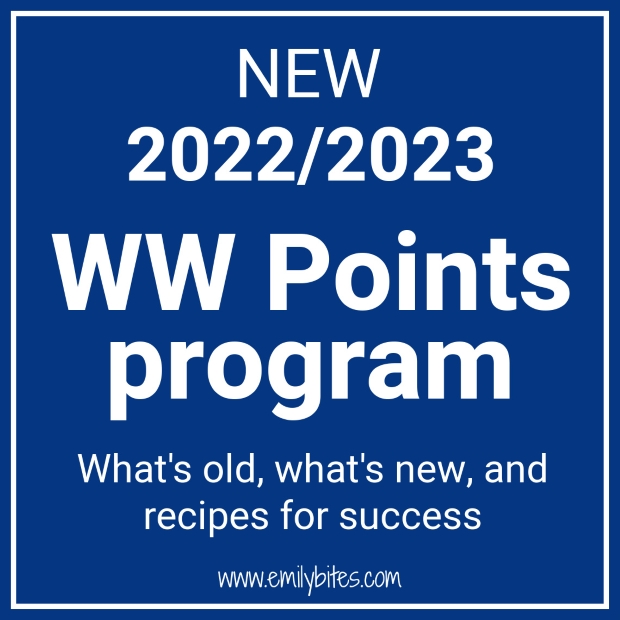 Hello, friends! Starting this week there is an all-new WW (formerly known as Weight Watchers) program they're just referring to as Points (rather than previous iterations like PersonalPoints, SmartPoints, PointsPlus, etc). Since I have a lot of readers who follow the WW program, I wanted to put together a post outlining some of the details of the new plan.
It looks like WW is giving current members until December 11th to choose to switch to the new WW Points program before the change will happen automatically. That's nice because if you'd like to wait until your weigh-in day to start the new program, or just want to get through Thanksgiving on a familiar plan, you don't have to make the change right away.
If you've done WW in the past, this new program will likely look somewhat familiar to you in that it's very similar to the previous Freestyle or Blue plans. If you're just here for the tasty lightened up comfort food recipes and not interested in WW, don't worry, I'll be posting more recipes soon!
Let's dive into the new program.
Something Old, Something New, Something Borrowed, Something Blue?
As I said above, if you were a WW member between December 2017 – November 2021 then this new WW Points program will look very familiar. The ZeroPoint foods list will now be the same for many members (diabetic members will have a slightly different list – more info below) and will look pretty much the same as it was on the previous WW Freestyle or WW Blue plans (I believe adding air-popped popcorn and cottage cheese). It also seems like the lowest daily points allowance for members will go back to 23 daily points (same as it was on Freestyle/Blue). The biggest difference between the new Points program and those earlier plans is that it will continue to use the Points calculation/formula that was used to determine PersonalPoints.
Back to One(ish) Plan
For many years, everyone who counted points using WW was on the same plan. At the end of 2019 they split the program into three different color plans, each with their own list of ZeroPoint foods. Then a year ago they individualized it even further by introducing PersonalPoints, where every member had their own personalized ZeroPoint foods list. I did hear frustration from some members during this time that they felt it was more difficult to find and share meals, recipes, and foods with others on the program.
It seems like WW has decided to regain that sense of community for its members and get many members back on the same plan. However, diabetic WW members will have a slightly different ZeroPoint food list, so some of my recipes moving forward will list two different Points values per serving. Here are the ZeroPoint food lists for both the standard and diabetic Points plans:
Standard ZeroPoint Foods:
So, what foods will be ZeroPoints? On the standard new Points plan the ZeroPoint foods will be:
non-starchy vegetables
fruits
eggs
plain nonfat yogurt and cottage cheese
fish and shellfish
chicken and turkey breast
beans, peas, and lentils
tofu and tempeh
corn and plain air-popped popcorn
That means if you previously had brown rice, or avocado, or wheat pasta, or potatoes as ZeroPoints, those will no longer be zero. That doesn't mean you can't eat them anymore (you can use your Points allowance however you like!), but you will have to count points for them. If you did lose some items on your ZeroPoint foods list, you'll likely see that your daily points allowance went up to accommodate eating and tracking some of those foods.
If you now have more ZeroPoint foods than you did on PersonalPoints, you'll likely see that your daily points allowance has gone down. While you will have less daily points to use, you'll now have more ZeroPoint foods, so WW is expecting you'll incorporate these foods into your diet more frequently to offset the difference.
Diabetic Plan
There will still be a separate ZeroPoint food list for diabetics. If you select that you are diabetic in your WW settings you will not have fruit, yogurt, cottage cheese, or corn/popcorn as zero points. Though diabetic members will not have those ZeroPoint food categories, they will have a higher daily points allowance to balance it out! The ZeroPoint foods for the diabetic Points plan will be:
non-starchy vegetables
eggs
fish and shellfish
chicken and turkey breast
beans, peas, and lentils
tofu and tempeh
Points Formula:
Although WW is moving on from their PersonalPoints program to the new Points plan, their formula for calculating points is remaining the same. The points are calculated using calories, fiber, protein, added sugars, saturated fats and unsaturated fats. The algorithm is intended to help guide you toward foods higher in healthy fats, fiber, and protein and lower in added sugars and saturated fats.
Changes in Earning Additional Points
On the most recent PersonalPoints plan there were three ways to earn additional points: eating vegetables, drinking water, and being active. Gaining points for veggies and water were both new last year for PersonalPoints and both are gone again for the new Points program. The only way to gain more points on the new plan is to track activity. As always, how many you earn will depend on the activity as well as your height weight, age, etc. You'll be able to track activity manually or passively using a compatible fitness tracker, same as previously. These points can be earned on an unlimited basis and will be added to your weekly points budget rather than your daily budget.
What's The Same
Change can be difficult and every time a new WW program is introduced there are members who feel stressed or unhappy about it. Because this new Points program is so similar to some of the previous plans I've also heard a lot of member are happy with the changes, but if that's not you then I totally understand. If it makes you feel better, the overall method of WW is the same and here's a list of things that are staying familiar:
The Points formula will remain the same, so many of your favorite foods (that weren't ZeroPoints) will still have the same Points value.
The nutrition information from each food item is turned into one simple number, making it easy to evaluate the food's overall nutrition and track it in the app.
You'll still get a daily points budget along with a weekly points budget to use as you like.
Rollover points will also stay the same, so if you don't use all of your daily Points one day, up to four unused points will be rolled over into your weekly points budget.
There will still be ZeroPoint foods that you can use to make sure you never go hungry. You can use these foods as a base for meals, eat them as a snack, or add them to meals that need a little bulk.
How will this affect the recipes on Emily Bites?
The great news is that if you're a USA-based WW member, you'll still be able to click on the WW link in each of my blog posts to view your new Points in the WW app! The WW app will show you the points per serving for whichever program you're on, so once you make the switch it will show you the updated points values. From there you can track and save the recipe, and once you do you can also make changes to it within the WW app if you wish.
You can check out my recipe index here to look for WW-friendly recipes by category or ingredient! You can also just click on the All Recipes category to browse through them all!
One of the nice things about this change is that I'll be able to start posting the actual number of Points per serving on my recipe posts and social media again! This will definitely be helpful at-a-glance for WW members to know how a recipe will fit into their meal planning and also for international WW members who have not been able to see their points through my US-based WW links. Hooray!
I will definitely post the new Points values for my recipes moving forward and will work on updating my previous recipe posts with the new Points per serving. This definitely isn't going to happen overnight (I have almost 800 recipes on here), but I will work on it as quickly as I'm able!
As far as people using the diabetic plan having different ZeroPoint foods and therefore different Points values for recipes containing those foods, I will work on getting those listed as well! Again, if you have chosen the diabetic WW plan in the app then when you click the links in my recipe posts it will show you the correct Points per serving for your plan in the WW app.
So…what do you think??
I'd love to hear your thoughts on the new Points program. What are you excited for? Nervous about? I want to hear what you think! Give me a comment below. Also, if you don't already, make sure to follow me on Instagram, Facebook, or by email to get updates and tons of delicious WW-friendly lightened up comfort food recipes!
Thank you so much for being here and for following my blog and cooking along with me! You are all so important to me. A lot of my readers follow the WW program, but for those of you who don't, thanks for your patience while I explained these changes to the WW folks – I'll keep listing nutrition information for everyone else! We'll be back to recipes with the next post, I promise. Love you guys, I can't wait to hear your thoughts!
Emily