Pumpkin Chocolate Chip Bran Muffins
These muffins are great as a super filling grab-and-go breakfast. The pumpkin and chocolate chips taste yummy together and serve as a tasty spin on typical bran muffins. These are thick, dense muffins and do a great job keeping you full for breakfast or a snack. My mom came up with this recipe and any time she mentions she made these I seem to turn up to visit within a day or so. It's a not a coincidence. Thanks Mom!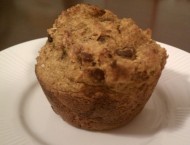 Pumpkin Chocolate Chip Bran Muffins
Ingredients:
¾ cup flour
½ cup whole wheat flour
¼ cup brown sugar
1 tablespoon baking powder
1 ½ teaspoon pumpkin pie spice
1 ½ cup All Bran cereal
¾ cup skim milk
1 cup canned pumpkin
1 egg
¼ cup applesauce (unsweetened)
½ cup chopped walnuts
½ cup chocolate chips
Directions:
Preheat the oven to 400. Spray 12 muffin cups in a pan with cooking spray.
Mix together flour, whole wheat flour, brown sugar, baking powder and pumpkin spice. In a separate large bowl, mix cereal, milk and pumpkin. Let sit about 2 minutes to soften. Stir in egg and applesauce. Then add dry ingredients, chocolate chips and nuts. Stir until just blended. Put mixture in muffin cups and bake about 22-25 minutes.
MyWW SmartPoints per (1 muffin) serving: (SP calculated using the recipe builder on weightwatchers.com)
Green: 6 SmartPoints/ Blue: 6 SmartPoints/ Purple: 6 SmartPoints
Weight Watchers Points Plus:
5 per muffin (P+ calculated using the recipe builder on weightwatchers.com)