Tomato and Sausage Risotto
Cooking risotto intimidates a lot of people. The real truth is, it's very easy to make, it's just takes a while since you have to add the liquid a little at a time and wait for it to be absorbed. The risotto really doesn't need your constant attention while it cooks, you just need to stir it every few minutes and check to see if the liquid is absorbed yet. Now that we have that out of the way, you need to make this. This Tomato and Sausage Risotto is cheesy and decadent with a little heat from the sausage and mouthfuls of creamy rice and juicy tomatoes. It's warm and filling and it's hard to believe you get such a generous portion for only 9 WW SmartPoints on myWW Green, Blue or Purple. If you're in need of an impressive looking meal to serve company of just a comforting meal for yourself or your family, this dish is for you.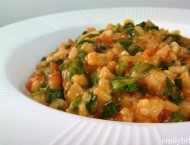 Tomato & Sausage Risotto
Yield: 6 (1 ¼ cup) servings
Ingredients:
1 (28 oz) can of diced tomatoes in juice
3 cups water
¾ lb hot Italian turkey sausage, casings removed (I used 3 links of Jennie-O)
1 small onion, finely chopped
salt & pepper, to taste
1 cup uncooked Arborio rice
½ cup dry white wine
9 oz fresh spinach, chopped (Fresh Express sells a 9 oz bag, I used that)
½ cup grated Parmesan cheese
2 tablespoons light butter
Directions:
Combine the tomatoes and their juices with the water in a small saucepan and bring to a simmer. Turn heat to low to keep the mixture warm until needed.
In a large pot or sauté pan, combine the sausage and chopped onion and add salt & pepper to taste. Cook over medium heat, breaking the sausage up with a wooden spoon until meat is brown and onions have softened. Add the rice and stir to coat the rice and combine. Cook for 1-2 minutes and then add wine. Stir until wine is absorbed (1-2 minutes).
Add two cups of the tomato mixture to the rice and stir. Turn the heat down to a simmer (medium-low heat) and cook until liquid is absorbed, stirring occasionally. Add another cup and cook, stirring occasionally, until the liquid is absorbed. Continue, one cup of liquid at a time until all of the tomato liquid has been added and absorbed. Rice will be tender and creamy. Add the chopped spinach and stir in until combined. Cook for another 1-2 minutes until spinach is wilted and combined.
Remove risotto from heat and add the butter and cheese. Stir until thoroughly mixed. Serve immediately.
MyWW SmartPoints per (1 1/4 cups) serving:(SP calculated using the recipe builder on weightwatchers.com)
Green: 9 SmartPoints/ Blue: 9 SmartPoints/ Purple: 9 SmartPoints
Weight Watchers Points Plus:
8 per serving (P+ calculated using the recipe builder on weightwatchers.com)
Nutrition Information:
379 calories, 42 g carbs, 4 g sugars, 9 g fat, 3 g saturated fat, 21 g protein, 7 g fiber (from myfitnesspal.com)