Bacon Cheeseburger Wraps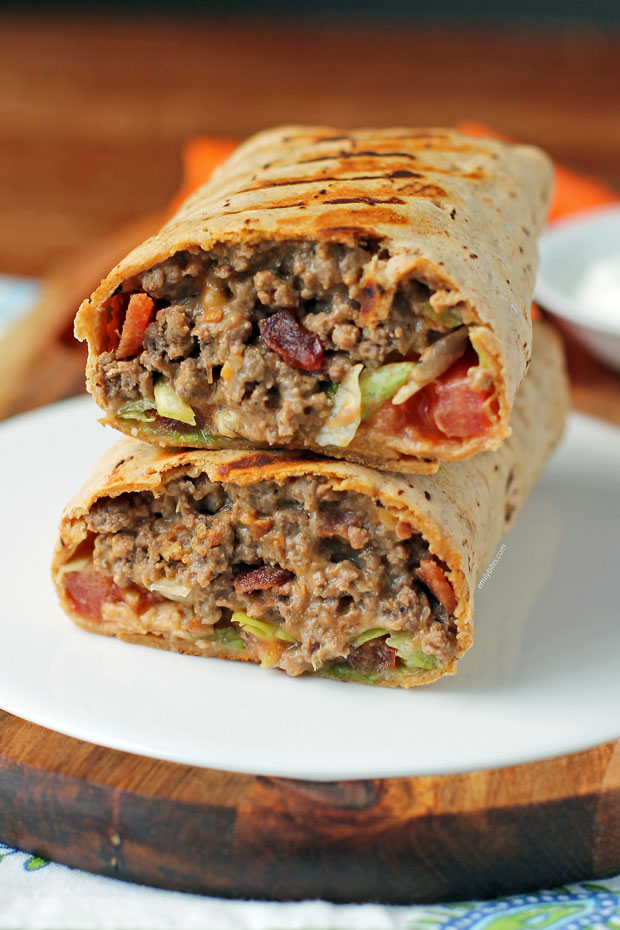 I have been craving a cheeseburger like crazy lately. I have a lot of fun twists on cheeseburger flavors on my blog already: Cheeseburger Pizza, Cheeseburger "Cupcakes", Cheeseburger Lettuce Wraps, etc. As usual though, I wanted to try something new. I recently remembered my love for Flatouts (I used to buy these all the time and I have no idea how I forgot about them or why I stopped), so a cheeseburger wrap seemed like the perfect dinner solution. I use the ingredients below together in a lot of recipes, so I started brainstorming (well, if you can consider immediately pouncing on the first idea that popped into my head brainstorming…) how to improve upon juicy seasoned ground beef smothered in cheese, ketchup and mustard, topped with crisp lettuce and ripe tomatoes. Then I realized…bacon. Is there anything that can't be improved with bacon? I love the Hormel Real Bacon Bits because they're an easy way to add just the right amount of bacon to your dish without any extra work or clean up. These wraps are satisfying, packed full of flavor and they come together quickly. Consider my burger craving squelched.
To view your WW PersonalPoints for this recipe and track it in the WW app or site, click here!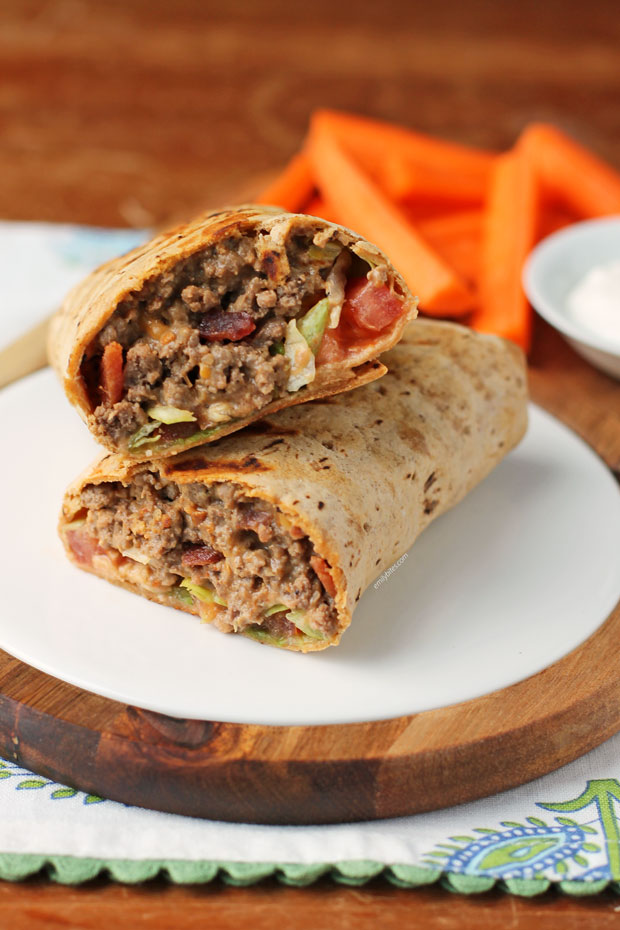 Bacon Cheeseburger Wraps
These easy, filling Bacon Cheeseburger Wraps make a tasty, satisfying lunch or dinner!
Ingredients
1

lb

raw 95% lean ground beef

1

tablespoon

McCormick Hamburger Seasoning

4

Laughing Cow Light Queso Fresco & Chipotle Wedges

,

cut into pieces (can use another flavor)

2

tablespoon

Ketchup

2

teaspoons

Yellow Mustard

1/3

cup

2% shredded sharp cheddar cheese

2

tablespoon

Hormel Real Bacon Bits

4

light original Flatouts

½

a medium tomato

,

cut into pieces

1 – 1 ½

cups

shredded lettuce
Instructions
Bring a large skillet to medium heat. Add the ground beef and hamburger seasoning and cook until meat is browned. Drain meat. Clean skillet and set aside.

Place meat in a medium bowl and add the cheese wedges, ketchup, mustard, cheddar and bacon bits. Stir to combine. Microwave on high for one minute. Stir again until meat is evenly coated.

Spoon a quarter of the meat mixture (around 2/3 cup) onto the center of each flatout and spread the mixture lengthwise, leaving about an inch at each end. Evenly distribute the shredded lettuce and tomato pieces across the top of the meat. Fold in the 1" ends of the flatout over the filling and then fold in the long ends to cover it.

Lightly mist the large skillet with cooking spray and bring over medium-low heat. Place the wraps fold-side down onto the skillet (I did them in batches of two) and let them cook for 3-4 minutes or until golden. Flip the wraps and continue to cook until golden on the bottom. Cut in half and serve.
Notes
To view your WW PersonalPoints for this recipe and track it in the WW app or site, click here!
Nutrition Information:
335 calories, 22 g carbs, 4 g sugars, 13 g fat, 5 g saturated fat, 40 g protein, 10 g fiber (from myfitnesspal.com)
MyWW SmartPoints per (1 wrap) serving: (SP calculated using the recipe builder on weightwatchers.com)
Green: 8 SmartPoints/ Blue: 8 SmartPoints/ Purple: 8 SmartPoints
Weight Watchers Points Plus:

8 per wrap (P+ calculated using the recipe builder on weightwatchers.com)