Balsamic Roasted Vegetables
Roasting vegetables is one of the best ways to maximize their natural flavors. It's also my favorite way to eat them. All you need is a baking sheet, an oven, some olive oil and seasoning and you can transform your favorite veggies into a tray of warm, caramelized deliciousness. Roasting intensifies any sweetness that a vegetable naturally has, so Balsamic vinegar is a really good complement to roasted veggies. I chose the vegetables for this recipe based on personal favorites and also to have an array of colors, but you can certainly use other vegetables if you prefer. This recipe would make for a mouth-watering Thanksgiving side dish, but is really simple and delicious for any day of the year.
pre-cooked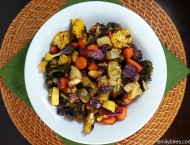 Balsamic Roasted Vegetables
Yield: 6 (2/3 cup) servings
Ingredients:
4 oz raw broccoli florets (from about 1 small head)
7 oz raw cauliflower florets (half of one large head)
8 oz raw yellow Summer squash, chopped (about 1 small-medium squash)
8 oz raw zucchini, chopped (about 1 small-medium zucchini)
7 oz raw carrots, chopped (this was about 3 medium-large carrots)
5.5 oz raw red onion, chopped large (about half a large red onion)
2 tablespoons extra virgin olive oil
2 tablespoons Balsamic vinegar
Salt, to taste
Directions:
Preheat the oven to 425 degrees. Lightly mist a baking sheet with cooking spray and set aside
In a large bowl, combine all the vegetables and mix them together. Drizzle the olive oil and vinegar over the vegetables and sprinkle on your desired amount of salt. Toss to coat. Pour vegetables onto the prepared baking sheet and roast in the oven for about 25 minutes or until caramelized.
MyWW SmartPoints per (2/3 cup) serving: (SP calculated using the recipe builder on weightwatchers.com)
Green: 2 SmartPoints/ Blue: 2 SmartPoints/ Purple: 2 SmartPoints
Weight Watchers Points Plus:
2 per serving* (P+ calculated using the recipe builder on weightwatchers.com)
*The Weight Watchers PointsPlus recipe builder assigns pointsplus values to the vegetables in recipes. If you prefer to count yours as free then each serving is 1 P+ instead of 2.
Nutrition Information:
89 calories, 11 g carbs, 2 g sugars, 6 g fat, 1 g saturated fat, 3 g protein, 4 g fiber (from myfitnesspal.com)