Orange Cranberry Baked Oatmeal Singles
If you've followed me for any amount of time you probably know I love making baked oatmeal cups, but these Orange Cranberry Baked Oatmeal Singles may just be my favorite ones yet. I am positively swooning over them. It doesn't hurt that bright, sweet orange with tart cranberry is one of my favorite flavor combinations, especially in baked goods. I honestly don't know how else to say it besides please make these, if you love them even 1/10 as much as I do then you'll positively adore them. Plus, as with all my baked oatmeal singles, they come together super quickly and easily (who doesn't love an easy recipe?) and they make perfect grab-and-go breakfasts for the week. I also think they'd be pretty perfect on Christmas morning with a cup of coffee while opening gifts!
Not only are these Orange Cranberry Baked Oatmeal Singles hearty and delicious, each one is only 94 calories or 3 Green, 3 Blue or 2 Purple Weight Watchers SmartPoints. Now that's a perfect way to start your day.
Looking for more baked oatmeal recipes? Try my Pear Gingerbread Baked Oatmeal Singles, Strawberry Banana Baked Oatmeal Singles, Blueberry Baked Oatmeal Singles, Banana Chocolate Chip Baked Oatmeal Singles, Carrot Cake Baked Oatmeal Singles, Apple Cinnamon Baked Oatmeal Singles, Pumpkin Chocolate Baked Oatmeal Singles, Chocolate Cherry Baked Oatmeal Singles, Pumpkin, Cranberry & Apple Baked Oatmeal or Blueberry Peach Baked Oatmeal!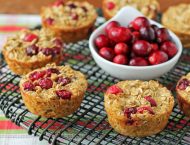 Orange Cranberry Baked Oatmeal Singles
Ingredients:
2 cups old fashioned oats
1/3 cup packed brown sugar
1 ½ teaspoons baking powder
¼ teaspoon salt
1 egg white
1 egg
1/2 cup skim milk
1/2 cup unsweetened applesauce
¼ cup freshly squeezed orange juice
1 ½ teaspoons orange zest (this is roughly the amount I got from one large orange)
2/3 cup halved fresh cranberries (I just sliced them in half before filling the measuring cup)
Directions:
Preheat the oven to 350. Lightly mist 12 cups in a muffin tin with cooking spray.
Combine the oats, brown sugar, baking powder and salt in a large bowl and stir until thoroughly mixed.
In a separate bowl, whisk together the egg white, egg, milk, applesauce, orange juice and orange zest. Add the wet ingredients to the dry ingredients and stir until blended together. Stir in the cranberries.
Spoon the oatmeal mixture evenly between the prepared muffin cups. Bake uncovered for 20-22 minutes or until oatmeal is lightly browned and a toothpick inserted into the middle comes out clean.
MyWW SmartPoints per (1 single) serving: (SP calculated using the recipe builder on weightwatchers.com)
Green: 3 SmartPoints/ Blue: 3 SmartPoints/ Purple: 2 SmartPoints
Weight Watchers Points Plus:
2 per single (P+ calculated using the recipe builder on weightwatchers.com)
Nutrition Information per single:
94 calories, 18 g carbs, 8 g sugars, 1 g fat, 0 g saturated fat, 3 g protein, 2 g fiber (from myfitnesspal.com)