Superfood Salad with Citrus Vinaigrette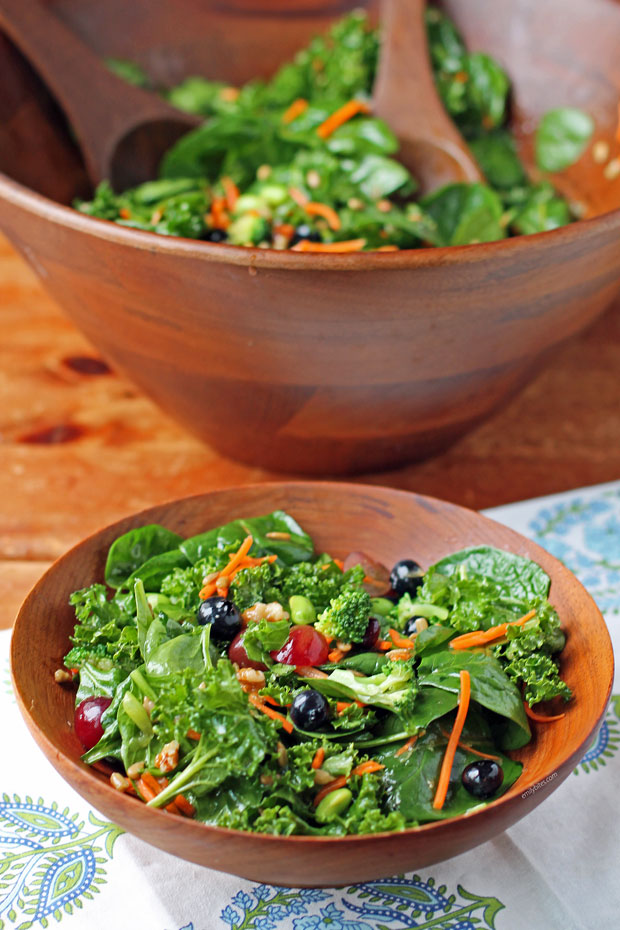 This fresh Superfood Salad with Citrus Vinaigrette is a healthy and flavorful way to kick off the new year! This salad is packed full of nutrients with kale, spinach, blueberries, grapes, edamame, broccoli, carrots, walnuts and sunflower seeds, all tossed in a bright citrus vinaigrette. I love the sweet, juicy bites from the grapes and berries and the bit of crunch from the nuts and seeds. This salad makes a fantastic lunch on its own or can be served as a side dish or topped with chicken to add protein. The recipe makes about twelve cups of salad, for six (2 cup) servings each. If you want to make less, the recipe is super easy to halve for just three servings. Either way, two cups of this tasty Superfood Salad is just 192 calories or 4 WW Points (or 5 WW Points if following the diabetic Weight Watchers plan)! To view your current WW Points for this recipe and track it in the WW app or site, click here!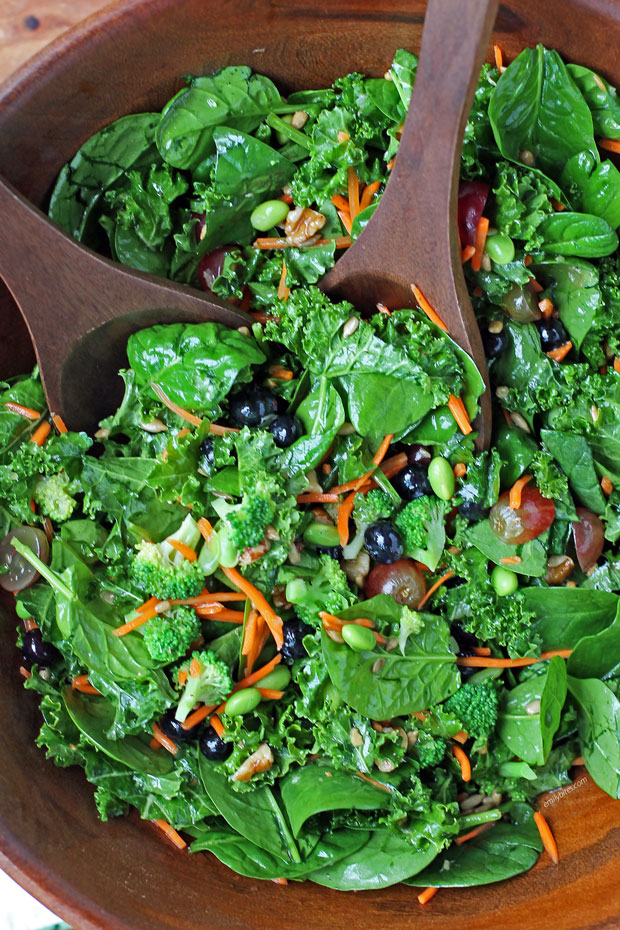 I initially wanted to make a superfood salad after trying the superfood side at Chick-fil-a a few years ago. Theirs has kale, broccolini, nuts and dried cherries in a maple vinaigrette and it's really tasty. I've had it in the back of my head forever, but then one of my awesome readers sent me a link to a superfood salad from Averie Cooks that had a lot more "superfoods" in it and inspiration hit! I decided to use fresh fruit and added things based on what I like and typically have on hand, and when this salad was finished I was so happy with the result. My two-year-old even ate it…sort of? She picked around the spinach and kale and ate the other parts, but she never eats lettuce, so that wasn't a surprise.
Speaking of kale, I like to buy it already chopped, bagged, and ready-to-eat from my grocery store – thank you, Wegmans! If you buy yours in a bunch, you may find this article from Bon Appetit about preparing kale for salads helpful!
Looking for more tasty, lightened up salad recipes? Check out my Caprese Salad, Barbecue Ranch Chicken Salad, Thai Chicken Chopped Salad with Peanut Dressing, Turkey and Pear Autumn Salad, Greek Chicken Quinoa Salad, Southwest Steak Salad, Avocado BLT Pasta Salad, Broccoli Salad, Strawberry Quinoa Salad, Taco Chicken Salad, and more in the Salads category of my recipe index.
Superfood Salad with Citrus Vinaigrette
This healthy Superfood Salad with a Citrus Vinaigrette is full of nutrients and bright, fresh flavor!
Ingredients
½

cup

frozen shelled edamame

2

cups

chopped broccoli florets

4

cups

chopped kale with ribs removed

,

(I buy mine pre-chopped and ready-to-go in a bag fromWegmans)

4

cups

fresh spinach leaves

1

cup

shredded carrots

1

cup

blueberries

1

cup

halved red grapes

¼

cup

chopped walnuts

¼

cup

shelled sunflower seeds

3

tablespoons

orange juice

2

tablespoons

olive oil

2

tablespoons

apple cider vinegar

1

tablespoon

maple syrup

1

tablespoon

lemon juice

½

teaspoon

salt

¼

teaspoon

black pepper
Instructions
Cook the edamame according to package instructions. Add the broccoli to the edamame for the last minute of cooking so that it is bright and lightly softened. Drain the edamame and broccoli and run under cold water in the strainer to cool.

Place the cooled and drained edamame and broccoli into a large mixing bowl and add the kale, spinach, carrots, blueberries, grapes, walnuts, and sunflower seeds. Toss to combine.

In a small mixing bowl, add the orange juice, oil, vinegar, maple syrup, lemon juice, salt and pepper and whisk together to combine. Pour the dressing over the salad* and toss to coat.

*If not serving the salad all at once, store the dressing separately and add to each serving as needed. Each 2 cup serving of salad with get about 1 ½ tablespoons of dressing.
Notes
To view your current WW Points for this recipe and track it in the WW app or site, click here!
WW Points per (2 cup) serving: 4* (Points calculated using the recipe builder on weightwatchers.com)
*5 Points per servingif following the diabetic plan
Nutrition Information per (2 cup) serving:
192 calories, 21 g carbs, 11 g sugars, 10 g fat, 1 g saturated fat, 6 g protein, 4 g fiber, 277 mg sodium (from myfitnesspal.com)
MYWW SMARTPOINTS PER (2 cup) SERVING: (SP calculated using the recipe builder on weightwatchers.com)
Green: 5 SmartPoints/ Blue: 4 SmartPoints/ Purple: 4 SmartPoints
Weight Watchers Points Plus:
5 per (2 cup) serving (PP calculated using a Weight Watchers PointsPlus calculator and the nutrition info below)
Adapted from Averie Cooks