Parmesan Linguini with Peas
If you've ever dreamed of eating warm, cheesy homemade Alfredo pasta without the guilt, you can wake up now because this Parmesan Linguini with Peas recipe is here! The flavors of the salty Parmesan and the sweet peas mingle together perfectly and the sauce is rich and creamy without feeling heavy or too thick. This dish presents beautifully and comes together really quickly. It's also simple to make – perfect for company or a weeknight meal!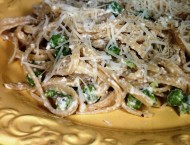 Parmesan Linguini with Peas
Yield: 4 (1 rounded cup) servings
Ingredients:
8 oz dry wheat linguini
1 cup peas, fresh or frozen
1 ½ tablespoons light butter
2-3 tablespoons fresh lemon juice (I used about 2.5, the juice from one lemon)
½ cup fat free half & half
½ teaspoon salt
½ teaspoon dried basil flakes
freshly ground black pepper to taste
2 oz Parmesan cheese, freshly grated, separated
Directions:
Boil a large pot of water and cook the pasta according to package instructions. About 2 minutes before the pasta is finished, add the peas to the boiling water as well. Drain together and set aside.
In a small saucepan, melt the butter and then stir in the lemon juice. Add the half & half, salt, pepper, dried basil and most of the Parmesan (set a little aside to sprinkle on top of finished dish). Stir to combine and cook over low-medium heat for a few minutes to heat through.
Combine pasta/peas mixture and sauce in a serving dish and toss until pasta is coated in sauce. Serve with reserved Parmesan sprinkled over the top.
MyWW SmartPoints per (1 rounded cup) serving: (SP calculated using the recipe builder on weightwatchers.com)
Green: 9 SmartPoints/ Blue: 8 SmartPoints/ Purple: 4 SmartPoints
Weight Watchers Points Plus:
9 per serving (P+ calculated using the recipe builder on weightwatchers.com)
NUTRITION INFORMATION:
324 calories, 50 g carbs, 6 g sugars, 8 g fat, 2 g saturated fat, 15 g protein, 8 g fiber (from myfitnesspal.com)