PB Banana Green Smoothie
Ever since I recently discovered the wonder that is PB2 (affiliate link!)
, I've been looking forward to using it in a smoothie. For those of you who missed it, you can see me gush about it in my Thai Chicken Skewers with Peanut Sauce post. It's just downright awesome and evidently it's available in a lot more grocery stores than I thought, though if you have trouble finding it you can always order it from Amazon (affiliate link)
.
Peanut butter and bananas are such a natural combination and since bananas are ideal for adding substance to smoothies, this PB Banana Green Smoothie seemed like a great place to start. I rounded it out with some yogurt and honey and then threw in some spinach for extra nutrients. If you've never used spinach in a smoothie before, don't fret! It's not as weird as it sounds. It does turn most smoothies green but it also gives you lots of nice health benefits without really changing the flavor of the smoothie at all. Try it!
This PB Banana Green Smoothie made a perfect, filling breakfast. I love that it packs 23 grams of protein and 5 grams of fiber – it kept me full for hours!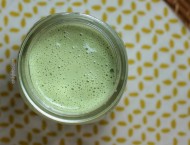 PB Banana Green Smoothie
Yield: 1 (1 ½ cup) serving
Ingredients:
½ cup ice cubes
1 medium banana, sliced
6 oz nonfat plain Greek yogurt
2 tablespoons PB2 (powdered peanut butter)
1 teaspoon honey
½ cup raw baby spinach, packed
Directions:
Place all ingredients into a blender and blend until smooth. Pour into a glass and drink up! Entire recipe yields about 1 ½ cups
MyWW SmartPoints per (1 1/2 cups) serving: (SP calculated using the recipe builder on weightwatchers.com)
Green: 9 SmartPoints/ Blue: 9 SmartPoints/ Purple: 9 SmartPoints
Weight Watchers Points Plus:
7 per serving (P+ calculated using the recipe builder on weightwatchers.com)
If you choose not to use the Weight Watchers recipe builder to calculate your smoothie PointsPlus (in which case the banana is free) then the smoothie is 4 points+ instead of 7. I personally track it this way!
Nutrition Information:
279 calories, 46 g carbs, 28 g sugars, 2 g fat, 0 g saturated fat, 23 g protein, 5 g fiber (from myfitnesspal.com)