Chicken Caesar Salad Pizza
I ate a salad for lunch today. Okay, it was pizza…but it was Chicken Caesar Salad Pizza. I feel like that counts You get all the Caesar salad flavors you love: crisp lettuce, nutty Parmesan, sliced chicken breast and tangy Caesar dressing – all on a crispy pizza crust! Plus, it's crazy delicious and a slice is only 212 calories or 6 Weight Watchers SmartPoints on the myWW Green, Blue and Purple plans.
This is a quick, easy recipe for weeknight dinners and a great way to use up some leftover chicken. I used sliced, grilled chicken breasts, but shredded would work fine as well. My husband was skeptical of Chicken Caesar Salad Pizza at first, but after trying it he gave it the thumbs up – I'm sure your family will too!
For more lightened-up and delicious pizza ideas like my Thai Chicken Pizza, Cheeseburger Pizza, Buffalo Chicken Pizza, Meat Lover's Pizza, Breakfast Pizza and more, check out the "Pizza" category in my recipe index!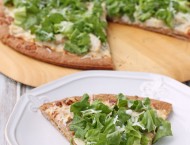 Chicken Caesar Salad Pizza
Ingredients:
Directions:
Pre-heat the oven to 450.
Set aside 2 tablespoons of the dressing for topping and spread the rest evenly across the top surface of the pizza crust, leaving at least a ½ inch edge around the outside. Sprinkle the shredded Parmesan (leave a bit aside for topping) evenly over the top and then place the sliced chicken pieces evenly across the surface.
Place pizza on a foil covered baking sheet, a preheated pizza stone or straight onto the oven rack (depending on how you like your crust) and bake for 8-10 minutes. Remove from the oven and sprinkle the chopped lettuce over the top. Drizzle with the reserved dressing and remaining Parmesan. Slice and serve.
MyWW SmartPoints per (1 slice) serving:(SP calculated using the recipe builder on weightwatchers.com)
Green: 6 SmartPoints/ Blue: 6 SmartPoints/ Purple: 6 SmartPoints
Weight Watchers Points Plus:
5 per slice (P+ calculated using the recipe builder on weightwatchers.com)
Nutrition Information per slice:
212 calories, 25 g carbs, 3 g sugars, 7 g fat, 3 g saturated fat, 14 g protein, 4 g fiber (from myfitnesspal.com)