Teriyaki Chicken and Rice Casserole
I had never thought to make a casserole using Asian ingredients, but then I came across a few versions of this Teriyaki Chicken and Rice Casserole recipe and I couldn't wait to try it. I love teriyaki, and this recipe makes really thick, flavorful sauce. A serving of this dish really filled me up because it's chock full of healthy, satisfying ingredients like vegetables, chicken breasts and brown rice. I also decided to add pineapple because it's something I've always loved in fried rice and it pairs beautifully with teriyaki sauce. A serving of this Teriyaki Chicken and Rice Casserole is just 321 calories or 7 Green, 6 Blue or 3 Purple Weight Watchers SmartPoints!
Looking for more delicious and filling casseroles to serve your family this winter? Try favorites like my Bubble Up Chicken Pot Pie Casserole, Beef Enchilada Quinoa Bake, Eggplant Parmesan Casserole, Cheesy Chicken, Broccoli and Rice Casserole, Chicken Cordon Bleu Pasta Bake, Bubble Up Pizza Casserole, Deep Dish Sloppy Joe Casserole and so many more in the casseroles section of my recipe index!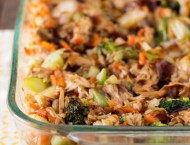 Teriyaki Chicken and Rice Casserole
Yield: 8 (1 & 1/4 cup) servings
Ingredients:
¾ cup low sodium soy sauce
½ cup water
1/3 cup packed brown sugar
1 tablespoon honey
¾ teaspoon ground ginger
1 teaspoon olive oil
½ teaspoon minced garlic
2 tablespoons corn starch
2 tablespoons water
1 ½ lbs boneless skinless chicken breasts
32 oz frozen mixed vegetables (look for the un-sauced stir fry or Asian varieties that only include zero-point veggies for WW)
1 cup drained canned pineapple tidbits or chunks (packed in juice or with no added sugar)
3 cups cooked brown rice
Directions:
Pre-heat the oven to 350.
Combine the soy sauce, the ½ cup water, the brown sugar, honey, ginger, olive oil and garlic in a small saucepan and cover. Bring to a boil over medium heat. Remove lid and cook for one minute once boiling.
While waiting for the sauce to come to a boil, stir together the corn starch and 2 tablespoons of water in a separate dish until smooth to form a slurry. Once the sauce is boiling, add the slurry to the saucepan and stir in to combine. Cook for another minute until the sauce starts to thicken and then remove from heat.
Lay the raw chicken breasts flat in a 9×13 casserole dish and pour about a cup of the sauce over top of the chicken. Place the chicken in the oven and cook for 30-35 minutes until breasts are cooked through*. Remove the dish from the oven and shred the chicken right in the dish using two forks.
*While the chicken is cooking, steam or cook your frozen vegetables according to package directions.
When the chicken is shredded and the vegetables are cooked, add the vegetables, pineapple and rice to the casserole dish with the chicken. Add most of the remaining sauce, reserving a bit to drizzle over the top when finished. Stir everything together in the casserole dish until well combined. Return the dish to the oven and cook for 15 minutes. Remove from the oven, drizzle with the remaining sauce and serve.
MyWW SmartPoints per (1 & 1/4 cup) serving: (SP calculated using the recipe builder on weightwatchers.com)
Green: 7 SmartPoints/ Blue: 6 SmartPoints/ Purple: 3 SmartPoints
Weight Watchers Points Plus:
7 per serving (P+ calculated using the recipe builder on weightwatchers.com)
Nutrition Information:
321 calories, 43 g carbs, 18 g sugar, 3 g fat, 1 g saturated fat, 26 g protein, 4 g fiber (from myfitnesspal.com)