Mashed Butternut Squash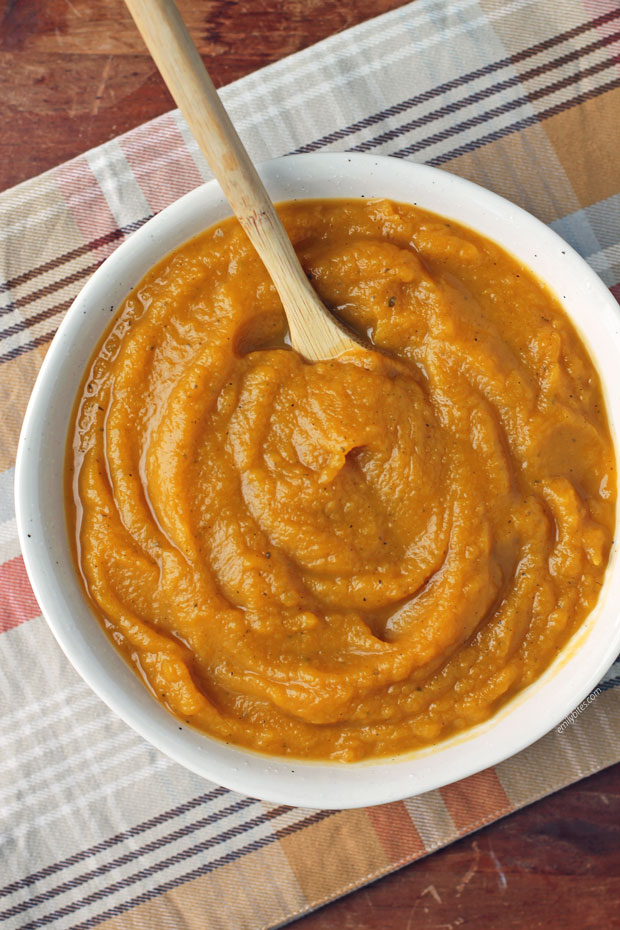 This Mashed Butternut Squash is a healthy, tasty side dish that pairs perfectly with a meaty main course. I think this dish would be equally at home in a Thanksgiving spread or a casual dinner at home. I like to peel and chop the squash ahead of time and store it cubed in a Ziploc bag in the fridge. That way, when I'm ready to cook this comes together super quickly. I based the seasoning of this Mashed Butternut Squash on my favorite Butternut Squash Soup recipe, so it tastes very similar, but obviously thicker. The simple flavors and minimal ingredients really allow the sweet flavor of the squash to shine. Since Butternut squash isn't as starchy as potatoes or sweet potatoes, you'll notice that mashed squash isn't super thick and sturdy like mashed potatoes. I'd say the consistency is more like a thick puree. I highly recommend dipping some of your chicken or steak (whatever you serve as a main course) in the squash, because it's absolutely perfect for that.
I like to cook my squash in vegetable broth for a bit of added flavor, but you can substitute water if you like. You may find you want to add a smidge of salt at the end (to taste) if you use water. Since the vegetable broth is discarded, I only counted a small amount in my calculations for nutrition information and WW SmartPoints. In the end, each ¾ cup serving of Mashed Butternut Squash is just 140 calories or 1 WW SmartPoint on all three Weight Watchers color plans.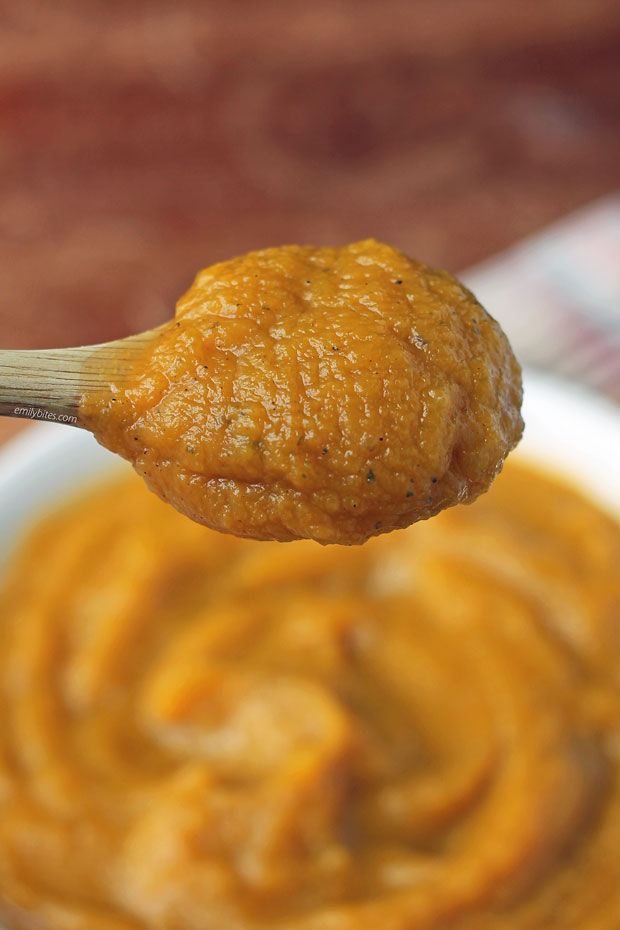 Looking for some tasty lightened up main dishes to pair with this Mashed Butternut Squash? I've got you covered! Check out my Swedish Turkey Meatballs, Cheesy Bacon BBQ Chicken, Stuffed Turkey Bundles with Gravy, Baked Chicken Tenders, Chicken Cordon Bleu, Slow Cooker Meatloaf, Pimento Cheese Stuffed Chicken, Spinach and Feta Stuffed Flank Steak, Raspberry Chipotle BBQ Pork Tenderloin, Bacon Wrapped BBQ Meatloaf, Slow Cooker Balsamic Beef, Skinny Spinach & Artichoke Chicken, Chicken Piccata, Chicken Marsala and more in the Main Dishes category of my recipe index!
Mashed Butternut Squash
This simple Mashed Butternut Squash is a healthy, tasty side dish that pairs perfectly with a meaty main course!
Ingredients
4

tablespoons

light butter

,

sliced (I use Land O'Lakes light stick butter)

1/3

cup

chopped onion

2

lbs

peeled and chopped butternut squash

,

cut into ¾"-1" cubes

1 ½

cups

vegetable broth

,

you can substitute water if you like, the broth infuses the squash with a bit of its flavor

¼ - ½

teaspoon

dried marjoram

1/8

teaspoon

black pepper

1/8

teaspoon

ground cinnamon

A pinch of cayenne pepper
Instructions
Place the butter into a 3 QT saute pan or walled skillet with a cover and melt over medium heat. Add the onions and saute for a few minutes until tender. Add the cubed squash and pour the broth over it. Cover the pan and increase the heat to high to bring to a boil. Reduce the heat to low and simmer, covered, for 10-15 minutes until the squash is very tender.

Transfer the squash to a colander and drain until no excess liquid remains. Transfer the drained squash to the bowl of a stand mixer or a large mixing bowl (if using a hand mixer or immersion blender). Add the marjoram, pepper, cinnamon, and cayenne. Beat the squash (or blend with an immersion blender) until smooth. Taste and decide if you want a bit more cinnamon, a touch of salt, etc.
Notes
MYWW SMARTPOINTS PER (3/4 cup) SERVING: (SP calculated using the recipe builder on weightwatchers.com)
Green: 1 SmartPoints/ Blue: 1 SmartPoints/ Purple: 1 SmartPoints
Weight Watchers Points Plus:
4 per (3/4 cup) serving (PP calculated using a Weight Watchers PointsPlus calculator and the nutrition info below)
Nutrition Information per (3/4 cup) serving:
140 calories, 29 g carbs, 6 g sugars, 3 g fat, 2 g saturated fat, 3 g protein, 5 g fiber (from myfitnesspal.com)