Ravio-sagne
This is a great way to get all the flavors of lasagna with virtually none of the prep time. I made a few changes to the original recipe, including using less cheese, but trust me, it's still plenty cheesy. The ravioli goes in frozen so your prep time is simply layering it with sauce and cheese. Delicious & easy!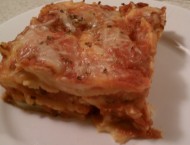 Ravio-sagne
Ingredients:
2 cups marinara sauce
25 oz package of frozen rectangle cheese ravioli (I used Rosetto)
1 1/2 cups reduced fat shredded mozzarella cheese (I used the 2% Milk kind)
Oregano to taste (the original recipe calls for 1/3 c finely slivered basil leaves but I didn't have those so I subbed oregano)
Directions:
Preheat the oven to 400.
Spoon 1/2 c sauce evenly into the bottom of an 11×7 glass baking dish. Lay 1/3 of the ravioli (18 pieces…it should fit pretty much exactly into 3 rows of 6) in a single layer to cover the bottom of the dish. Spoon another 1/2 c of sauce evenly over the top. Sprinkle 1/2 c cheese over the top. Repeat the layering 2 more times starting with the ravioli. Sprinkle oregano on top.
Cover the dish with aluminum foil and bake for 40 minutes. Remove the foil and continue baking uncovered 10 minutes. Let stand 10 minutes and then slice into 6 equal pieces.
MyWW SmartPoints per (1/6 of the recipe) serving: (SP calculated using the recipe builder on weightwatchers.com)
Green: 12 SmartPoints/ Blue: 12 SmartPoints/ Purple: 12 SmartPoints
Weight Watchers Points Plus:
8 per serving (P+ calculated using the recipe builder on weightwatchers.com)