Beef and Turkey Meatball Subs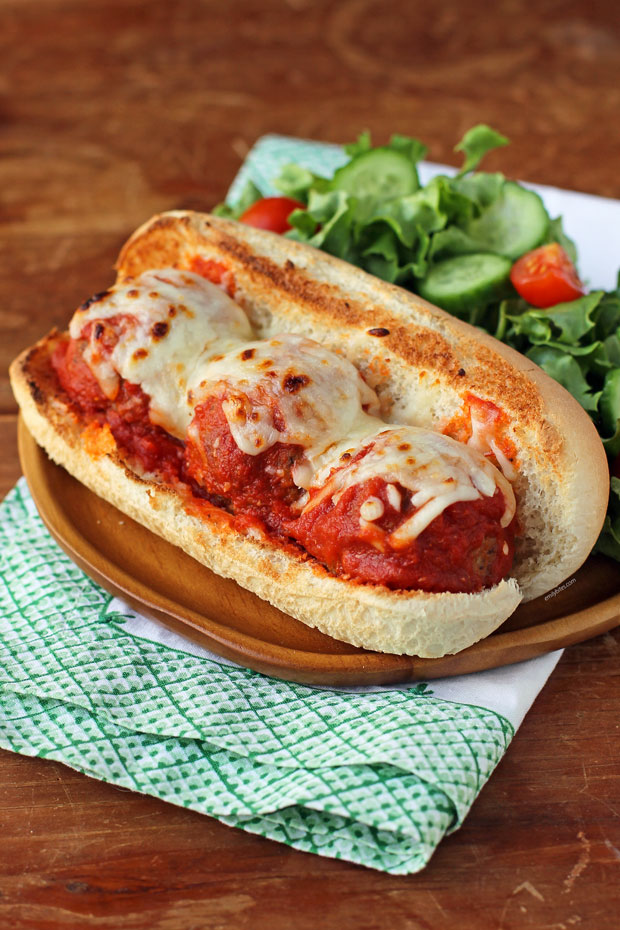 These hearty, satisfying Beef and Turkey Meatball Subs are a tasty, lighter way to indulge your comfort food cravings! Each sub features three homemade Italian meatballs made with a mix of ground beef and ground turkey. The meatballs are baked and then mixed into warm pasta sauce, placed on a bun and topped with Mozzarella cheese. You'll then broil them for a couple minutes so that the cheese melts and the bun gets toasted to perfection. I love meatballs, and I will eat them any which way, but as a sub is one of my favorites. These Beef and Turkey Meatballs Subs are super filling and full of flavor, and a whole sub is just 311 calories or 7 WW (Weight Watchers) Points each! To view your current WW Points for this recipe and track it in the WW app or site, click here!
Lately I've been really into mixing ground beef and ground turkey together to use for meatloaf, meatballs, etc. It still offers beefy flavor, which I love in those types of dishes, but the lean ground turkey breast lightens it up. You may have noticed this meat combination used in my Lasagna Soup or Meatloaf with Gravy recipes, and I have a Gyro recipe coming soon that uses it as well. Keep your eyes peeled for that one!
I've seen people talking about the Schmidt 647 breads and buns on social media, so when I saw them at Wegmans I picked up some of their long rolls (hot dog bun size). My Wegmans also had their hamburger buns, English muffins, and bread. The long buns I used in this recipe are 80 calories or 2 SmartPoints each on the three WW Plans. They also have 9 grams of fiber. That's significantly less calories and more fiber than traditional hot dog buns, and I was super pleased to discover they taste the same! I genuinely would never have thought they were a "light" version if I didn't know. This post isn't sponsored, by the way, I just wanted to share the find with you all! Looking forward to trying more of their products.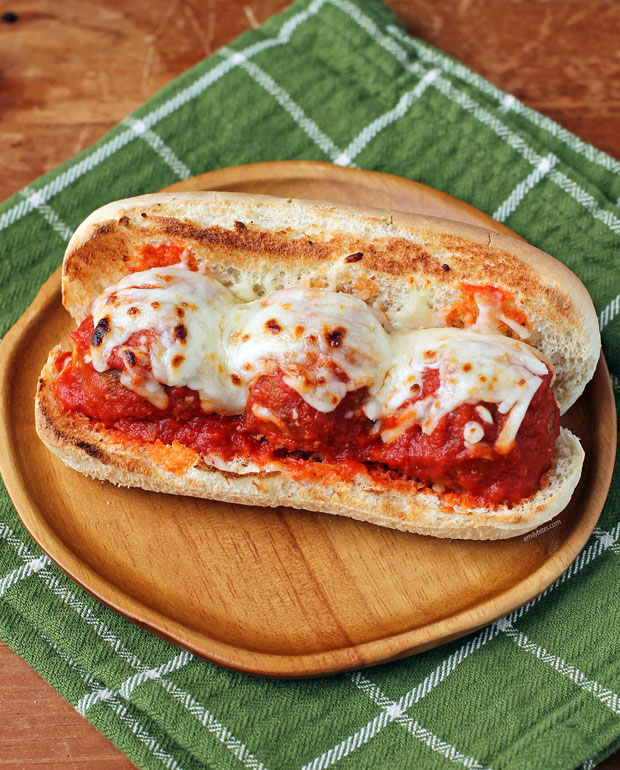 Looking for more tasty comfort food recipes using ground beef or ground turkey? Check out my Italian Sausage Bread, Meatloaf with Gravy, Slow Cooker Meatballs and Marinara, Korean-Inspired Ground Turkey, Greek Turkey Burgers, Beefy American Goulash, Chili Cornbread Bake, One-Pot Cheesy Chili Mac, Swedish Turkey Meatballs, One-Pot Turkey and Veggie Spaghetti, Chili Wonton Cups, and more in the Ground Beef and Ground Turkey categories of my recipe index!
Beef and Turkey Meatball Subs
These Beef and Turkey Meatball Subs are lightened up comfort food with homemade meatballs covered in sauce and cheese on a toasty bun!
Ingredients
1

large

egg

⅓

cup

plain breadcrumbs

2

tablespoons

grated Parmesan cheese

,

the kind in the shaker

1

tablespoon

Italian seasoning

2

teaspoons

dried minced onion

,

(found by the spices, also sometimes called chopped onion)

½

teaspoon

garlic powder

½

teaspoon

salt

¼

teaspoon

black pepper

¼

cup

water

½

lb

(8 oz) 95% lean ground beef

½

lb

(8 oz) 99% lean ground turkey breast

1 ¼

cups

pasta sauce

,

(I used Mid's Meatless Pasta Sauce)

5

light hot dog buns

,

(I used Schmidt 647 long rolls)

10

tablespoons

shredded 2% Mozzarella cheese
Instructions
Preheat the oven to 400 degrees and line a sheet pan with parchment paper.

In a large mixing bowl, add the egg, breadcrumbs, Parmesan, Italian seasoning, minced onion, garlic powder, salt, pepper, and water, and stir together with a fork until well combined. Add the ground beef and ground turkey to the bowl and use clean hands to mix everything together until just combined.

On a clean, dry surface (like a cutting board), separate your meat mixture into 15 equal piles. Wet your hands or spray them with a bit of cooking spray and then roll each little pile into a ball. Place each ball on the prepared baking sheet. Place the baking sheet in the oven and bake for 15-20 minutes until cooked through.

When there is about 5 minutes left on the meatballs, pour the pasta sauce into a medium saucepan and cover. Place on a burner over medium-low heat, and switch to low heat if it starts bubbling. Stir occasionally.

When the meatballs are finished, combine them with the sauce (you can put them all together, or you can separate out ¼ cup of sauce to every 3 meatballs, as that's what each sub will get). Move an oven rack to the top position and switch the oven to broil.

Remove the used parchment from your sheet pan and replace it with a clean piece. Place your open buns onto the baking sheet and fill each one with 3 meatballs covered in ¼ cup of sauce. Sprinkle 2 tablespoons of shredded Mozzarella over the top of the meatballs on each sub. Place the pan under the broiler and broil for about 2 minutes*, or until the cheese is melted and the tops of the buns are a bit toasted. *Keep an eye on the subs under the broiler, some cook faster than others and things can go from golden/toasted to blackened fairly quickly!
Notes
To view your current WW Points for this recipe and track it in the WW app or site, click here!
WW Points per sub: 7 (Points calculated using the recipe builder on weightwatchers.com)
Nutrition Information per sub:
311 calories, 37 g carbs, 7 g sugars, 9 g fat, 3 g saturated fat, 33 g protein, 11 g fiber, 806 mg sodium (from myfitnesspal.com)
MYWW SMARTPOINTS PER SUB: (SP calculated using the recipe builder on weightwatchers.com)
Green: 8 SmartPoints/ Blue: 7 SmartPoints/ Purple: 7 SmartPoints
Weight Watchers Points Plus:

8 per sub (PP calculated using a Weight Watchers PointsPlus calculator and the nutrition info below