Italian Sausage Bread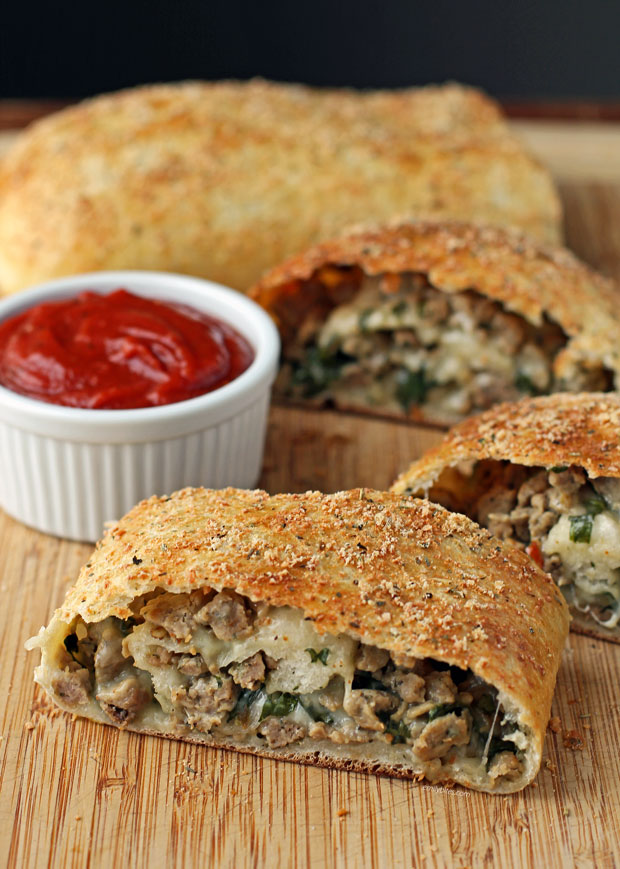 This Italian Sausage Bread is literally stuffed with meaty, cheesy goodness, and perfect for lunch or dinner. Honestly, I want you to read what I'm saying here, but I won't blame you at all if you stop to immediately add the ingredients to your grocery list. I'll wait! I can't get over how tasty this is. Back when we used to go to restaurants (ah, memories), a steakhouse near us served a similar cheesy sausage and spinach bread. I thought it might be difficult to mimic the flavors in a lighter way, but consider me wrong, because this is pretty spot on! I guess this dish is basically Stromboli, but I've always seen this particular combo of flavors called sausage bread, so that's what I went with. Either way, it's packed with flavorful sausage and gooey Mozzarella cheese. You can pick up each slice of Italian Sausage Bread and eat it like a sandwich, and I recommend serving it with pizza sauce or marinara for dipping!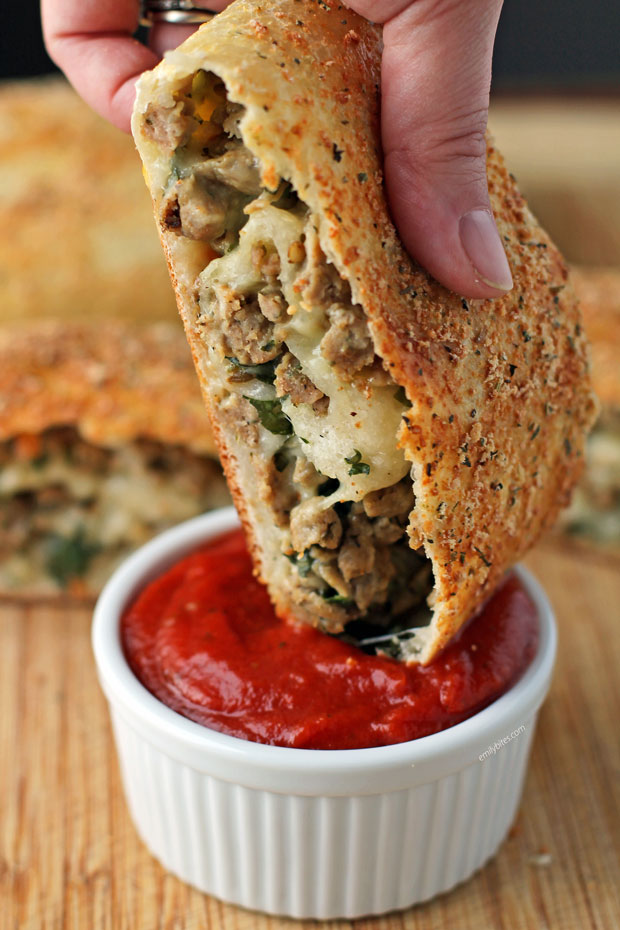 Instead of buying pre-made sausage, I used lean ground turkey breast and added sausage seasonings to create my own turkey sausage. Please don't be intimidated by that…it's just dumping some spices on the ground turkey and mushing it together. You've got this. It's full of flavor and much leaner than what they usually sell in stores. Using the ground turkey breast, each hearty slice of this Italian Sausage Bread is just 346 calories or 9  WW Points! To view your current WW Points for this recipe and track it in the WW app or site, click here!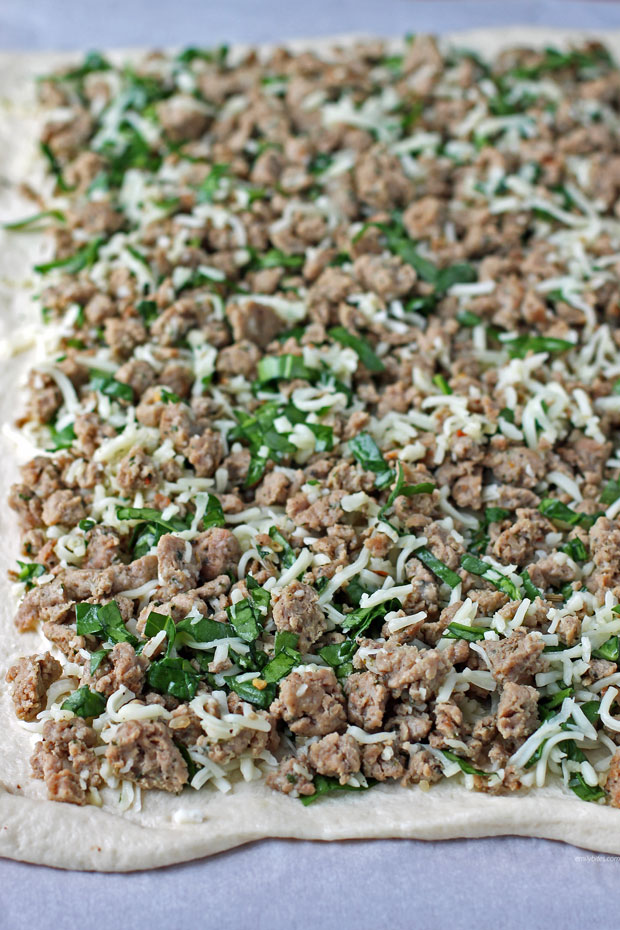 Looking for more tasty, lightened up Italian-inspired recipes like this Italian Sausage Bread? Check out my Ricotta Stuffed Chicken Bake, One-Pot Turkey and Veggie Spaghetti, Bruschetta Chicken Pasta, One-Pot Creamy Tomato Pasta with Chicken and Spinach, Tuscan Olive Chicken, Chicken Florentine Roulades, Italian Wedding Pasta Skillet, Pizza Lasagna Roll-Ups, Bruschetta Topped Balsamic Chicken, Sausage and Tortellini Tomato Soup, Chicken Parmesan Stuffed Shells, Sausage Stuffed Portobello Mushrooms, Beef and Sausage Manicotti, Zuppa Toscana, Eggplant Parmesan Casserole, and many more in the Italian category of my recipe index.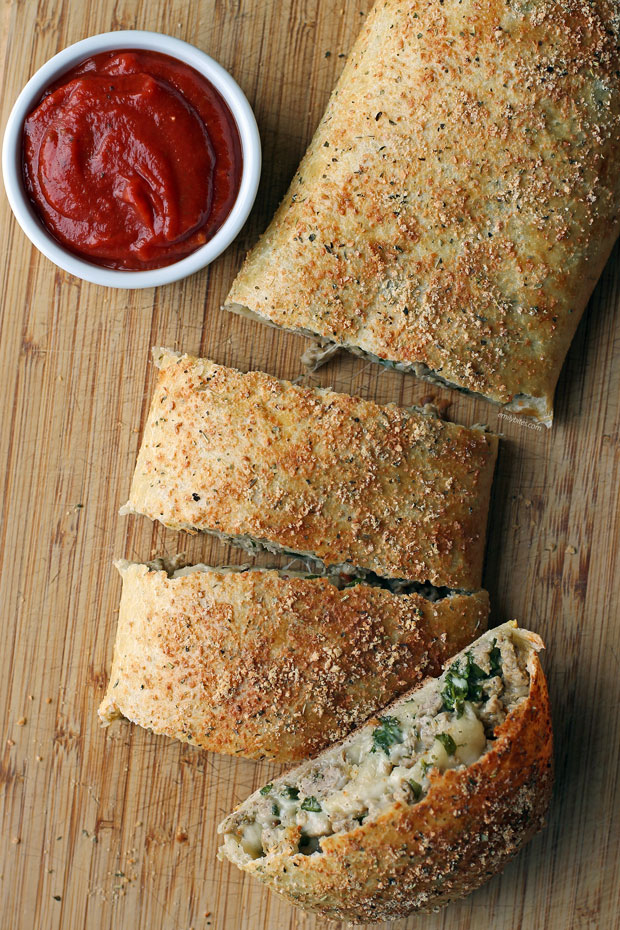 Italian Sausage Bread
This Italian Sausage Bread is stuffed with meaty, cheesy goodness and eats like a sandwich!
Ingredients
1

teaspoon

dried parsley flakes

1 ¼

teaspoons

Italian seasoning

,

divided

1

teaspoon

salt

½

teaspoon

black pepper

½

teaspoon

garlic powder

½

teaspoon

dried minced onion

¼

teaspoon

fennel seed

¼

teaspoon

paprika

¼

teaspoon

crushed red pepper flakes

1

lb

uncooked 99% lean ground turkey breast

2

teaspoons

olive oil

1

cup

chopped fresh spinach leaves

13.8

oz

can Pillsbury Classic Pizza Crust dough

6

oz

shredded 2% Mozzarella Cheese

1

egg

,

beaten

2

teaspoons

grated Parmesan cheese

¼

teaspoon

garlic salt
Instructions
In a mixing bowl, combine the parsley, 1 teaspoon of the Italian seasoning, salt, pepper, garlic powder, minced onion, fennel seed, paprika, and crushed red pepper flakes and stir to make an Italian sausage seasoning mix. Add the ground turkey and stir with a fork (or mush with clean hands) to blend the spices evenly into the ground turkey to make turkey sausage.

Pre-heat the oven to 350 degrees.

Drizzle the olive oil in a large skillet or saute pan and bring to med-high heat. Add the turkey sausage mixture from step 1 and cook, breaking up into small chunks, for 4-5 minutes until cooked through. Transfer the cooked sausage to a mixing bowl and stir in the chopped spinach. Let the sausage cool for 5 minutes while you complete the next step.

Open the can of pizza dough and unroll into a rectangle onto a piece of parchment paper. You'll want your dough to be about 9"x14" (does not need to be exact), so you can lightly roll the edges out a bit with a rolling pin if necessary. Sprinkle 2 ounces of the shredded Mozzarella across the surface of the dough, leaving about an inch border all the way around.

Add the remaining 4 ounces of Mozzarella to the sausage and spinach in the mixing bowl and stir to combine. Spread this mixture across the surface of the dough, again leaving a one-inch border around the edges. Starting at the longer end, roll up the dough over the contents until entirely rolled (similar to stromboli or a cinnamon roll). Press the edges together and tuck under to seal the sides. Move the roll to the center of the parchment paper, making sure the seam side if down and transfer the parchment paper to a baking sheet.

Using a pastry brush, brush the outside of the roll with the beaten egg (you will not use the whole egg). In a small dish, stir together the Parmesan cheese, garlic salt, and remaining ¼ teaspoon of Italian seasoning. Sprinkle this mixture over the top of the roll while it is wet from the egg. Place the baking sheet into the oven and bake for 25-30 minutes. Allow to cool for 5-10 minutes before slicing into 6 pieces.
Notes
To view your current WW Points for this recipe and track it in the WW app or site, click here!
WW Points per slice: 9 (Points calculated using the recipe builder on weightwatchers.com)
Nutrition Information per slice:
346 calories, 34 g carbs, 4 g sugars, 9 g fat, 3 g saturated fat, 32 g protein, 1 g fiber, 742 mg sodium (from myfitnesspal.com)
MYWW SMARTPOINTS PER slice: (SP calculated using the recipe builder on weightwatchers.com)
Green: 9 SmartPoints/ Blue: 8 SmartPoints/ Purple: 8 SmartPoints
Weight Watchers Points Plus:

9 per slice (PP calculated using a Weight Watchers PointsPlus calculator and the nutrition info below)
Adapted from Love Bakes Good Cakes and Plain Chicken