Chicken Florentine Roulades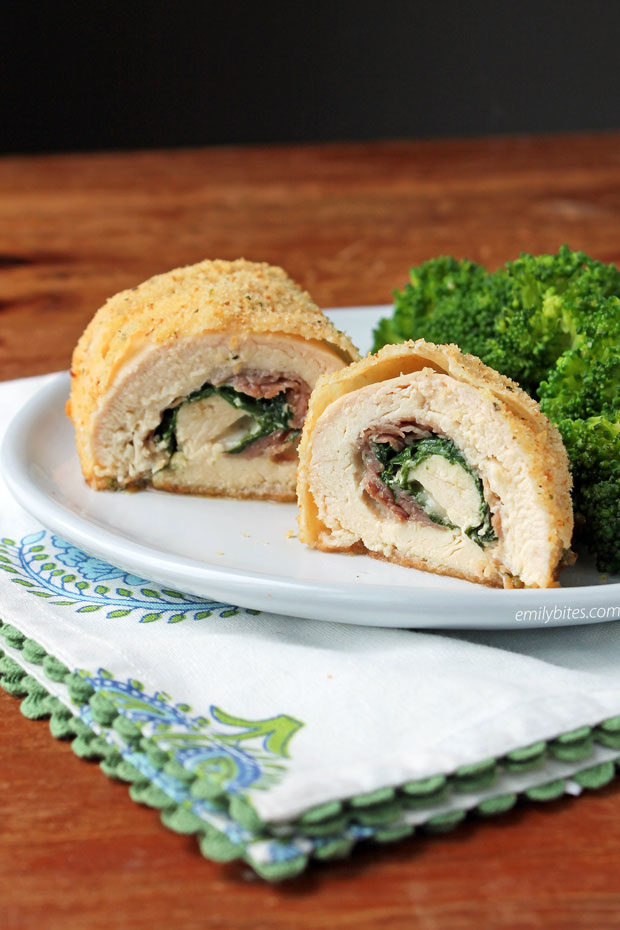 These Chicken Florentine Roulades are easy to prepare for a weeknight dinner and full of flavor your whole family will love. Stuffed with provolone cheese, prosciutto and spinach and then lightly breaded in seasoned breadcrumbs, I love how these seems a little fancy when really they're so simple. I actually got the idea for these when my husband brought something similar home from the ready-to-be-cooked area of the grocery store and I knew I could recreate them to be lightened up and just as delicious. We actually liked these ones more! Plus each of these Chicken Florentine Roulades are just 398 calories or 9 Green, 6 Blue or 6 Purple myWW SmartPoints!
Looking for more tasty, lightened up, creative ways to jazz up your chicken breasts? Check out my Crispy Cheddar Chicken with Cream Sauce, Barbecue Bacon Wrapped Chicken Tenders, Cream Cheese Stuffed Everything Chicken, Fiesta Stuffed Chicken, Bruschetta Topped Balsamic Chicken, Baked Chicken Tenders, Chicken Cordon Bleu, Mediterranean Topped Grilled Chicken, Pimento Cheese Stuffed Chicken, Antipasto Chicken Roulades, Cheddar Ranch Chicken Tenders, Chicken Milanese, Cheesy Bacon BBQ Chicken, Pesto Chicken Roulades, Lemon Pepper Iced Tea Chicken, Pizza Chicken Roulades, Hawaiian Chicken Skewers, Spinach and Artichoke Chicken, Thai Chicken Skewers with Peanut Sauce, Chicken Piccata and many more in the chicken section of my recipe index!
Chicken Florentine Roulades
Ingredients:
2 (6 oz each) boneless, skinless chicken breasts
1 ½ oz sliced Provolone cheese
1 oz sliced prosciutto
½ cup torn fresh spinach leaves
1 tablespoon flour
1 egg white, beaten
¼ cup seasoned breadcrumbs
Directions:
Pre-heat the oven to 400 degrees. Line a baking sheet with parchment paper or aluminum foil and set aside.
Place the chicken breasts on a cutting board. Using a meat mallet, pound the breasts to a ¼ inch thickness. Divide the provolone, prosciutto and spinach between the two breasts and layer them across the surface. Starting with a short side, roll each breast up and seal the edges shut using a few toothpicks.
Place the rolled and sealed breasts in a Ziploc bag and add the flour. Lightly flip the bag around until chicken is coated. Place the beaten egg white in a shallow dish and the breadcrumbs in a second shallow dish. Remove each rolled breast from the flour bag and dip it in the egg white, turning to coat. Then move the coated breast to the breadcrumb dish and coat it with crumbs on all sides. Place the completed rolls seam side down on the prepared baking sheet. Lightly mist the tops of the breaded breasts with olive oil cooking spray.
Bake for 30-35 minutes. Don't forget to remove the toothpicks before serving!
MyWW SmartPoints per serving: (SP calculated using the recipe builder on weightwatchers.com)
Green: 9 SmartPoints/ Blue: 6 SmartPoints/ Purple: 6 SmartPoints
Weight Watchers Points Plus:
10 per (one piece/breast) serving (PP calculated using a Weight Watchers brand PointsPlus calculator and the nutrition information below)
Nutrition Information per (one piece/breast) serving:
398 calories, 15 g carbs, 1 g sugars, 13 g fat, 5 g saturated fat, 52 g protein, 1 g fiber (from myfitnesspal.com)