Slow Cooker Chicken and Stuffing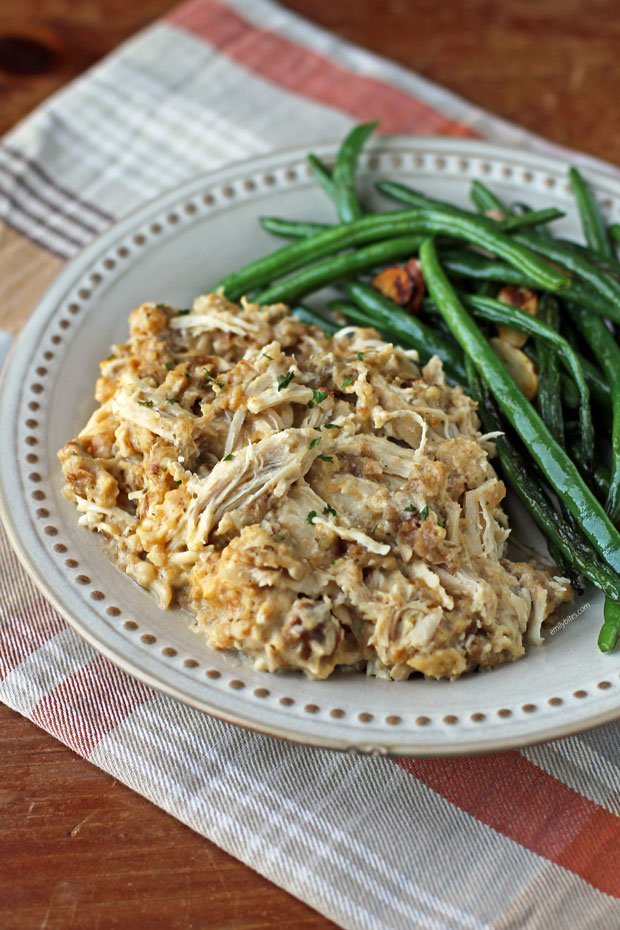 This Slow Cooker Chicken and Stuffing is easy 5-ingredient comfort food you can prep in minutes. All you'll do is place some chicken breasts in your slow cooker, stir together a few other ingredients to layer on top and then turn on your crockpot. That's it! At dinner time you'll have a warm, savory meal of chicken and stuffing with a creamy sauce with almost no effort at all. If you love the flavors of my Cheesy Chicken and Stuffing Bake, then I think you'll love this slow cooker variety as the ingredients are pretty similar! If you miss the cheese you can even add a layer of swiss or shredded mozzarella in between the creamy layer and the stuffing on top (this will change the nutrition and points, of course). There are definitely days where I just don't feel like cooking but still want something hot and homemade, and this Slow Cooker Chicken and Stuffing is the perfect solution. Add a side of veggies or a side salad and you're good to go. Plus, a 1 cup serving (it's slightly over a cup, so fill 'er up!) of this chicken and stuffing is just 315 calories or 5 WW (Weight Watchers) Points! To view your current WW Points for this recipe and track it in the WW app or site, click here!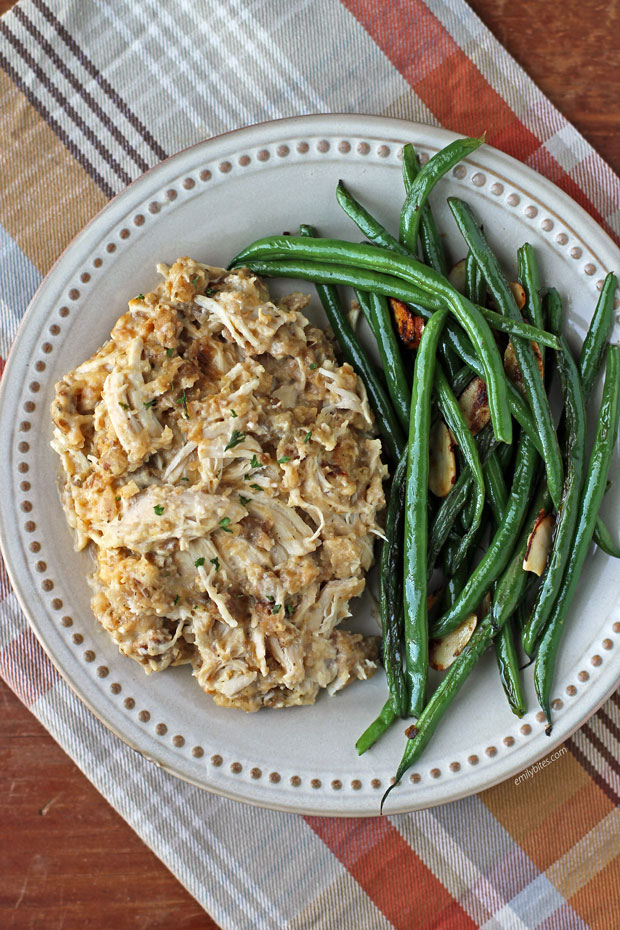 Now, admittedly this dish probably isn't going to win any beauty contests. When it's done cooking I stir it all together and the chicken gets shredded into chunks and mixed in with the sauce and stuffing. You will basically end up with a pile of chicken and stuffing all mushed together. Is it pretty? Nope. Is is tasty and comforting and super easy to make? YES. Oh, and easy to clean up after too since you only have to wash one mixing bowl. So, you know, pick your priorities. This may not be a recipe you make for company (though ironically I often call my similar Cheesy Chicken and Stuffing Bake "Company Chicken"…it's prettier), but I'm sure you and your family won't mind a bit!
Looking for more tasty comfort food recipes to warm up to in the colder weather months ahead? Check out my Meatloaf with Gravy, Creamy Chicken Stew, One-Pot Cheesy Chili Mac, One-Pot Creamy Tomato Pasta with Chicken and Spinach, Sheet Pan Meatloaves with Roasted Potatoes and Green Beans, One-Pot Buffalo Chicken Mac & Cheese, Swedish Turkey Meatballs, Chicken and Dumplings Casserole, One-Pot Creamy Garlic Chicken Pasta, Chicken Divan, Bubble Up Cheesy Chicken and Broccoli Bake, Stuffed Turkey Bundles with Gravy, One-Pot Dirty Spicy Rice with Chicken and Sausage, Crispy Cheddar Chicken with Cream Sauce, Chicken Pot Pasta, Beef Enchilada Pasta Skillet, Meat and Potatoes Bake, Rustic Sausage and Potatoes Skillet, Beef Stroganoff, Beefy American Goulash, and so many more in the Comfort Food category of my recipe index!
Slow Cooker Chicken and Stuffing
This easy 5-ingredient Slow Cooker Chicken and Stuffing is a satisfying, hands-off comfort food meal your family will love!
Ingredients
1 ¾

lbs

(28 ounces) boneless, skinless chicken breasts

,

this for me was 3 large breasts

1

(10.75 oz) can of Healthy Request Cream of Chicken Soup

½

cup

fat free sour cream

1

(6 oz) box of dry stuffing mix

,

such as Stove-Top, or you can use 6 ounces by weight of a bagged type like Pepperidge Farm

1

cup

reduced sodium chicken broth
Instructions
Place the chicken breasts in a single layer at the bottom of your slow cooker. In a mixing bowl, stir together the Cream of Chicken soup and sour cream until combined and then spread the mixture over the top of the chicken breasts in an even layer.

Rinse out your mixing bowl and then add in the dry stuffing mix and chicken broth. Stir together to combine and then spread the stuffing evenly over the top of the cream of chicken soup layer in your slow cooker. Place the cover on the slow cooker and cook on low for 6-8 hours. Stir together (chicken will fall apart into shreds/chunks) before serving.
Notes
To view your current WW Points for this recipe and track it in the WW app or site, click here!
WW Points per (1 cup) serving: 5 (Points calculated using the recipe builder on weightwatchers.com)
Nutrition Information per (1 cup) serving:

315 calories, 27 g carbs, 3 g sugars, 6 g fat, 1 g saturated fat, 36 g protein, 0 g fiber (from myfitnesspal.com)
MYWW SMARTPOINTS PER (1 cup) SERVING: (SP calculated using the recipe builder on weightwatchers.com)
Green: 7 SmartPoints/ Blue: 5 SmartPoints/ Purple: 5 SmartPoints
Weight Watchers Points Plus:

8 per (1 cup) serving (PP calculated using a Weight Watchers PointsPlus calculator and the nutrition info below