Bubble Up Cheesy Chicken and Broccoli Bake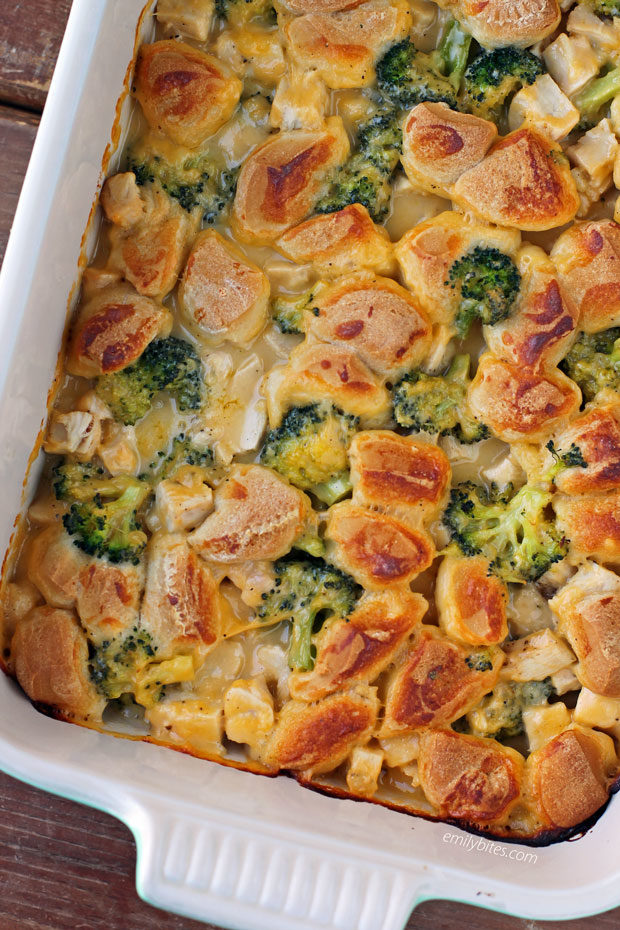 This Bubble Up Cheesy Chicken and Broccoli Bake is a super easy comfort food meal, perfect for a weeknight dinner. I know you all love bubble up casseroles and I was in the mood for something cheesy, so this was the delicious result. This cheese sauce, y'all…it's so good. Plus, my 10 month old has been avoiding vegetables since we transferred her from purees to pick-up foods, but she LOVES cheese (chip off the ol' block), so I figured maybe coating broccoli in cheddar cheese sauce would bring her around. This recipe comes together really quickly; you just whip up a quick cheese sauce, steam some broccoli in the microwave, stir everything together and bake! I do use cooked chicken in this recipe, which you can make ahead in your slow cooker, pressure cooker, oven, grill, or just use a rotisserie breast with the skin removed. Whatever you prefer! This Bubble Up Cheesy Chicken and Broccoli Bake gives to hearty chicken, healthy broccoli, and puffy biscuit pieces all smothered in a creamy cheese sauce for just 350 calories or 9 Green, 7 Blue or 7 Purple WW SmartPoints.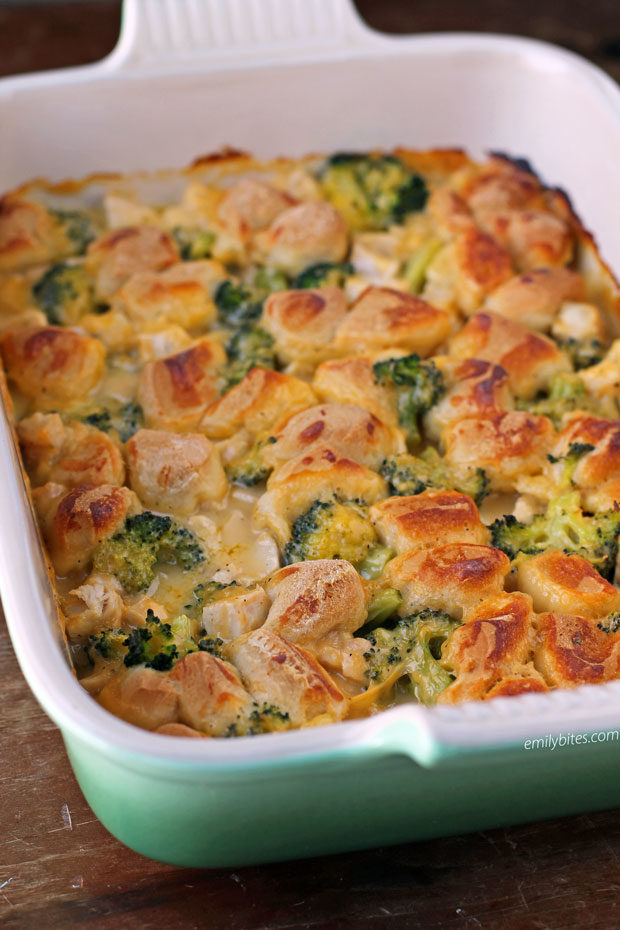 Just to answer a question I've received a few times on my bubble up casseroles since Weight Watchers' transition to Freestyle, I haven't tried making these with 2-ingredient dough yet (in place of the biscuit dough). The Wegmans brand biscuits I use are super easy and low in calories/points (I think the Pillsbury ones might be slightly more?) so I find them really convenient in these dishes. I have, however, heard from a few readers who tried making bubble ups using 2-ingredient dough (equal parts plain, nonfat Greek yogurt and self-rising flour) and said they were a success, so feel free to give it a try and report back with your results!
Looking for more lightened up comfort food casseroles? Check out my Bubble Up BBQ Chicken and Beans Bake, Cheesy Buffalo Chicken Chickpea Bake, Meat and Potatoes Bake, Spinach and Chicken Phyllo Bake, Bubble Up Chicken Alfredo Bake, Cottage Pie, One-Pot Cincinnati Chili Spaghetti Bake, Cheesy Buffalo Chicken Potato Bake, Chili Cornbread Bake, Bubble Up Pizza Casserole, Layered Chicken Enchilada Bake, Teriyaki Chicken and Rice Casserole, Eggplant Parmesan Casserole, Bubble Up Chicken Pot Pie Casserole, Chicken Parmesan Quinoa Bake, Deep Dish Sloppy Joe Casserole and many more in the Casseroles section of my recipe index!
Bubble Up Cheesy Chicken and Broccoli Bake
This Bubble Up Cheesy Chicken and Broccoli Bake is a super easy comfort food meal, perfect for a weeknight dinner.
Ingredients
3

tablespoons

light butter

,

I use Land O'Lakes

3

tablespoons

flour

½

teaspoon

salt

¼

teaspoon

black pepper

1 ½

cups

skim milk

6

oz

50% reduced fat sharp cheddar cheese

,

shredded (I used Cabot)

3

cups

fresh broccoli florets

16

oz

cooked skinless chicken breast

,

chopped or shredded

1

(7.5 oz) can of refrigerated biscuit dough, biscuits cut into quarters

, (I use Wegmans brand, but Pillsbury also makes some – if you can only find Grands, weigh out 7.5 ounces and cut them into small bite-sized pieces. May affect the points/nutrition.)
Instructions
Preheat the oven to 350 degrees. Lightly mist a 9x13 casserole dish with cooking spray and set aside.

Place the butter in a medium saucepan and bring over medium-low heat until the butter is melted. Add the flour, salt and black pepper to the butter and stir to combine. Add the milk a little at a time and whisk the flour mixture into the milk each time until smooth. Turn the heat up to medium and add the shredded cheeses. Whisk together and then whisk on and off for 3-5 minutes until smooth and thickened and remove from heat.

*Place the broccoli florets in a microwave-safe bowl and cover the bowl with a damp paper towel. Microwave for 2 minutes on high. (*You can otherwise steam the broccoli florets if preferred)

Place the chicken, broccoli, and cheese sauce in the baking dish and stir together until combined. Add the biscuit pieces and stir in to coat. Bake for 40 minutes until the casserole is hot and the biscuits have bubbled up. Let cool for 5-10 minutes. Slice into 6 pieces and serve.
Notes
MyWW SmartPoints per (1/6th of the recipe) serving: (SP calculated using the recipe builder on weightwatchers.com)
Green: 9 SmartPoints/ Blue: 7 SmartPoints/ Purple: 7 SmartPoints Weight Watchers Points Plus:
9 per serving (PP calculated using a Weight Watchers brand PointsPlus calculator and the nutrition information below) Nutrition Information per serving: 350 calories, 27 g carbs, 6 g sugars, 11 g fat, 5 g saturated fat, 38 g protein, 1 g fiber (from myfitnesspal.com)