Sheet Pan Meatloaves with Roasted Potatoes and Green Beans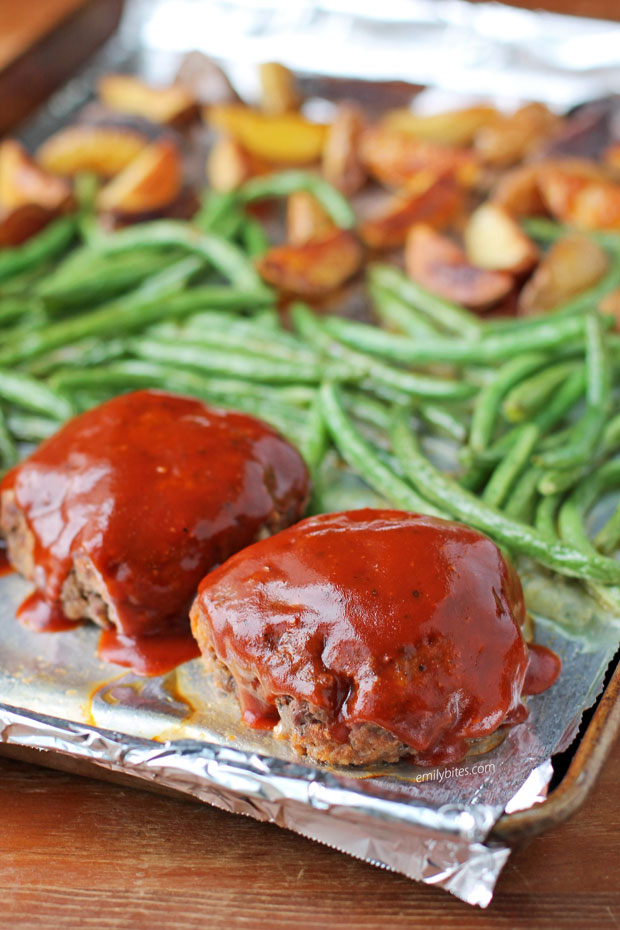 I love an easy, tasty one-pan meal, and these Sheet Pan Meatloaves with Roasted Potatoes and Green Beans are just that! With minimal ingredients and prep and just one sheet pan, you can get dinner on the table with ease. Crispy roasted potatoes and green beans are two of my favorite side dishes, plus these individually portioned meatloaves are just so cute. Make sure to pick a barbecue sauce that's lower in sugar for your meatloaf, the nutrition information for sauces can vary wildly. I always use Stubbs Original (not sponsored, I just really like their sauce) because I love the flavor and it's naturally low in sugar. My husband loved these meatloaves and said "you did a really good job on the sauce, it's great" before I told him it was just Stubbs, haha.
One of these Sheet Pan Meatloaves with Roasted Potatoes and Green Beans makes for a filling, tasty meal for just 353 calories or 9 Green, 9 Blue or 7 Purple WW SmartPoints!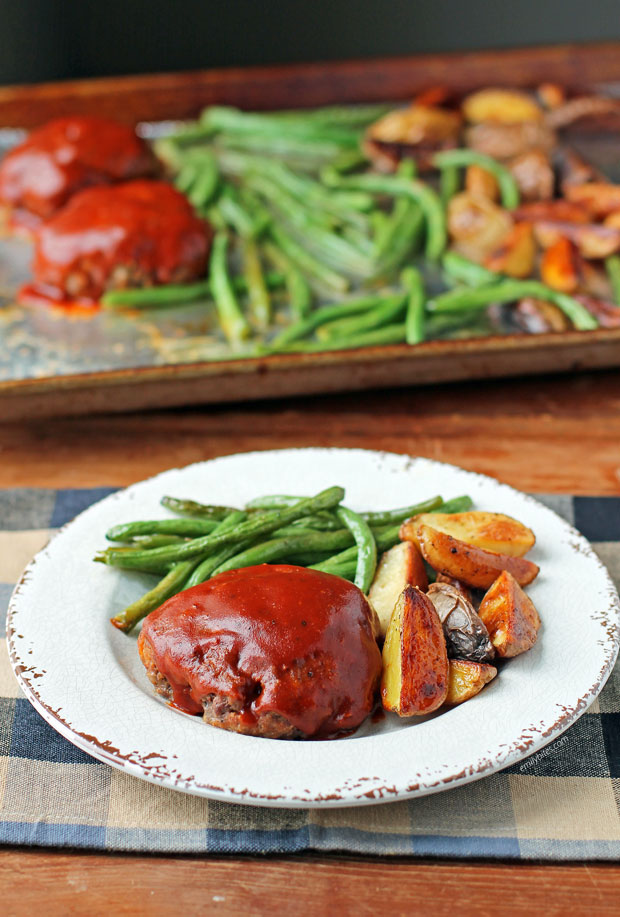 Looking for more tasty comfort food recipes to warm up to this winter? Check out my One-Pot Buffalo Chicken Mac & Cheese, Swedish Turkey Meatballs, One-Pot Cajun Chicken and Sausage Pasta, Chicken and Dumplings Casserole, One-Pot Creamy Garlic Chicken Pasta, Chicken Divan, Bubble Up Cheesy Chicken and Broccoli Bake, Stuffed Turkey Bundles with Gravy, One-Pot Dirty Spicy Rice with Chicken and Sausage, Crispy Cheddar Chicken with Cream Sauce, Chicken Pot Pasta, Beef Enchilada Pasta Skillet, Meat and Potatoes Bake, Rustic Sausage and Potatoes Skillet, Beef Stroganoff, Beefy American Goulash, and so many more in the Comfort Food category of my recipe index!
Sheet Pan Meatloaves with Roasted Potatoes and Green Beans
These Sheet Pan Meatloaves with Roasted Potatoes and Green Beans are an easy, tasty one-pan meal!
Ingredients
12

oz

fingerling or new potatoes

,

cut in halves or quarters

4 ½

teaspoons

olive oil

,

divided

Salt and black pepper

,

to taste

8

oz

green beans

1

lb

raw 95 % lean ground beef

¼

cup

finely chopped or grated onion

¼

cup

plain breadcrumbs

1/3

cup

+ ¼ cup barbecue sauce

,

divided (I use Stubbs Original)

1

teaspoon

garlic powder
Instructions
Preheat the oven to 400 degrees and line a large sheet pan with aluminum foil. Lightly mist the aluminum foil with cooking spray and set aside.

In a mixing bowl, toss the cut potatoes in 2 ½ teaspoons of the olive oil until coated. Sprinkle with salt and pepper and transfer to a single layer on the cookie sheet. Place in the heated oven and roast for 20 minutes.

While the potatoes are cooking, place the green beans in the mixing bowl you just used for the potatoes. Toss in the remaining 2 teaspoons of olive oil and sprinkle with salt and pepper. Set aside. In a separate mixing bowl, add the beef, onion, breadcrumbs, 1/3 cup of the barbecue sauce and the garlic powder. Stir or mush together until well combined.

Remove the baking sheet with the potatoes from the oven and flip each of the potatoes to another side. Move the potatoes to one third of the cookie sheet, keeping them in a single layer. Use your hands to form four mini loaves (about 3 inches in diameter) from the meat mixture and place them on the sheet pan. Transfer the green beans to the remaining space on the sheet pan and return the pan to the oven.

Bake for another 20-24 minutes until the meatloaves are cooked through, the beans are tender and the potatoes have crispy edges. Remove the pan from the oven and spoon the remaining ¼ cup of barbecue sauce over the tops of the meatloaves. Cover the pan with aluminum foil and allow to sit for 10 minutes to allow the loaves to rest and firm up (do not skip the rest period or your meatloaves may fall apart). Serve warm.
Notes
MYWW SMARTPOINTS PER (1 loaf + ¼ of the potatoes and green beans) SERVING: (SP calculated using the recipe builder on weightwatchers.com)
Green: 9 SmartPoints/ Blue: 9 SmartPoints/ Purple: 7 SmartPoints
Meatloaf ONLY, each: 5 Green/ 5 Blue/ 5 Purple
Weight Watchers Points Plus:
9 per (1 loaf + ¼ of the potatoes and green beans) serving (PP calculated using a Weight Watchers PointsPlus calculator and the nutrition info below
Meatloaf ONLY, each: 5 PointsPlus
Nutrition Information per (1 loaf + ¼ of the potatoes and green beans) serving:
353 calories, 32 g carbs, 9 g sugars, 11 g fat, 3 g saturated fat, 29 g protein, 5 g fiber (from myfitnesspal.com)
Meatloaf ONLY, each:
209 calories, 13 g carbs, 6 g sugars, 6 g fat, 2 g saturated fat, 25 g protein, 1 g fiber (from myfitnesspal.com)
Mildly adapted from Better Homes and Gardens