Chicken and Dumplings Casserole
This easy Chicken and Dumplings Casserole is pure, traditional comfort food, but lightened up and so simple to make! There's no forming or dropping dumplings, and no simmering on the stovetop required. You'll simply saute some vegetables and layer them with cooked chicken, a magic mixture of self-rising flour and milk that perfectly mimics the flavor and texture of dumplings, and a quick, stir-together sauce that bakes up rich and creamy. I adapted this recipe from The Country Cook and The Southern Bite Cookbook, and the first time I made it I was a little skeptical about the "dumpling" layer. However, I was totally wrong and my first bite of this casserole contained every bit of chicken and dumplings flavor I was looking for. This Chicken and Dumplings Casserole comes together quickly and easily and delivers so much rich, comforting casserole goodness you won't believe it's light! The casserole makes 6 servings, and each serving is just 277 calories or 7 Green, 5 Blue, or 5 Purple myWW SmartPoints.
I usually pre-cook my chicken in the slow cooker for easy shredding (click the link for details), but you can also use rotisserie breast, or boil, bake, or grill your chicken breasts. Whatever is easiest for you! Don't have self-rising flour? No problem, I included a substitution below (though self-rising flour is great for 2-ingredient dough recipes, so you may want to pick some up)!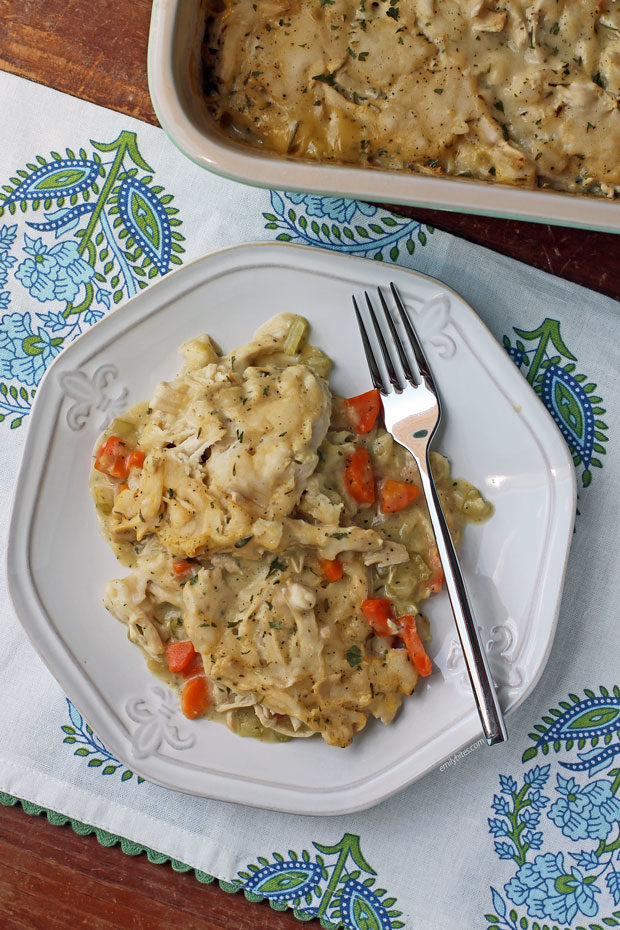 Looking for more lightened up comfort food casseroles? Check out my Deep Dish Taco Casserole, Chicken Divan, Bubble Up BBQ Chicken and Beans Bake, Cheesy Buffalo Chicken Chickpea Bake, Meat and Potatoes Bake, Spinach and Chicken Phyllo Bake, Bubble Up Chicken Alfredo Bake, Cottage Pie, One-Pot Cincinnati Chili Spaghetti Bake, Cheesy Buffalo Chicken Potato Bake, Chili Cornbread Bake, Bubble Up Pizza Casserole, Layered Chicken Enchilada Bake, Teriyaki Chicken and Rice Casserole, Eggplant Parmesan Casserole, Bubble Up Chicken Pot Pie Casserole, Chicken Parmesan Quinoa Bake, Deep Dish Sloppy Joe Casserole and many more in the Casseroles section of my recipe index!
Chicken and Dumplings Casserole
Yield: 6 (1 1/4 cup) servings
Ingredients:
4 tablespoons light butter (I use Land O'Lakes)
1 medium onion, chopped
2 medium ribs of celery, chopped
2 medium carrots, chopped
1 lb (16 oz) cooked boneless, skinless chicken breast, shredded
1 cup self-rising flour*
1 cup fat free milk
1 (10.75 oz) can of Campbell's Healthy Request Cream of Chicken condensed soup
2 cups reduced sodium nonfat chicken broth
½ teaspoon dried parsley flakes
½ teaspoon dried thyme
¼ teaspoon salt
¼ teaspoon black pepper
*if you don't have self-rising flour, you can mix together 1 cup all-purpose flour, 1 ½ teaspoons of baking powder, and ½ teaspoon of salt as a substitute.
Directions:
Preheat the oven to 350 degrees. Lightly mist a 9×13 casserole dish with cooking spray and set aside.
Melt the butter in a skillet over medium heat. Add the onion, celery and carrots and sprinkle with a little bit of salt and pepper. Stir together to coat. Saute the vegetables for 8-10 minutes, stirring occasionally, until softened. Transfer the vegetables to the prepared baking dish and spread in a single layer across the bottom of the dish. Top the vegetables with a layer of the shredded cooked chicken.
In a mixing bowl, combine the self-rising flour and milk and stir together until well combined and smooth. Pour the mixture evenly over the top of the chicken layer. Do NOT mix the layers together!
In another mixing bowl, whisk together the cream of chicken soup, chicken broth, parsley, thyme, salt and pepper until fully combined and smooth. Pour this mixture over the top of the other layers in the baking dish. Do NOT mix or stir the layers!
Place the dish in the oven and bake for 40-45 minutes.
MyWW SmartPoints per (1 1/4 cups) serving:(SP calculated using the recipe builder on weightwatchers.com)
Green: 7 SmartPoints/ Blue: 5 SmartPoints/ Purple: 5 SmartPoints
Weight Watchers Points Plus:
7 per (1 ¼ cup) serving (PP calculated using a Weight Watchers brand PointsPlus calculator and the nutrition information below)
Nutrition Information per (1 ¼ cup) serving:
277 calories, 26 g carbs, 3 g sugars, 7 g fat, 3 g saturated fat, 29 g protein, 2 g fiber (from myfitnesspal.com)