One-Pot Turkey and Veggie Spaghetti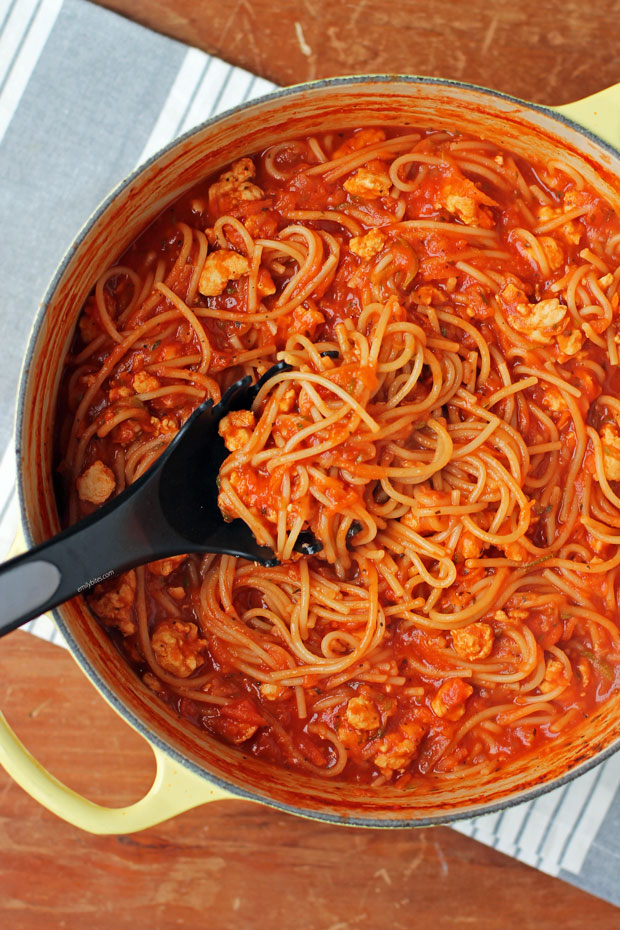 I'm SO excited to share this One-Pot Turkey and Veggie Spaghetti with you today. A hearty serving of pasta with meat sauce is such a craveable comfort food for me, and this recipe delivers! Unlike your traditional spaghetti dinner, this dish cooks all in one pot, saving you from extra clean-up later. Plus, there are hidden veggies in the sauce that can be helpful for getting vegetables into any picky eaters in your family! I used carrots and zucchini which were amazing, but feel free to add to that or swap them out for whatever veggies you prefer. I think mushrooms or bell peppers would work well! One pot, family friendly comfort food with secret veggies? The wins are endless. The only drawback is that you may have to fight your family members for the leftovers. Need more convincing? A big, satisfying (1 & 2/3 cup) serving of this One-Pot Turkey and Veggie Spaghetti is just 353 calories or 8 Green, 7 Blue or 3 Purple WW SmartPoints!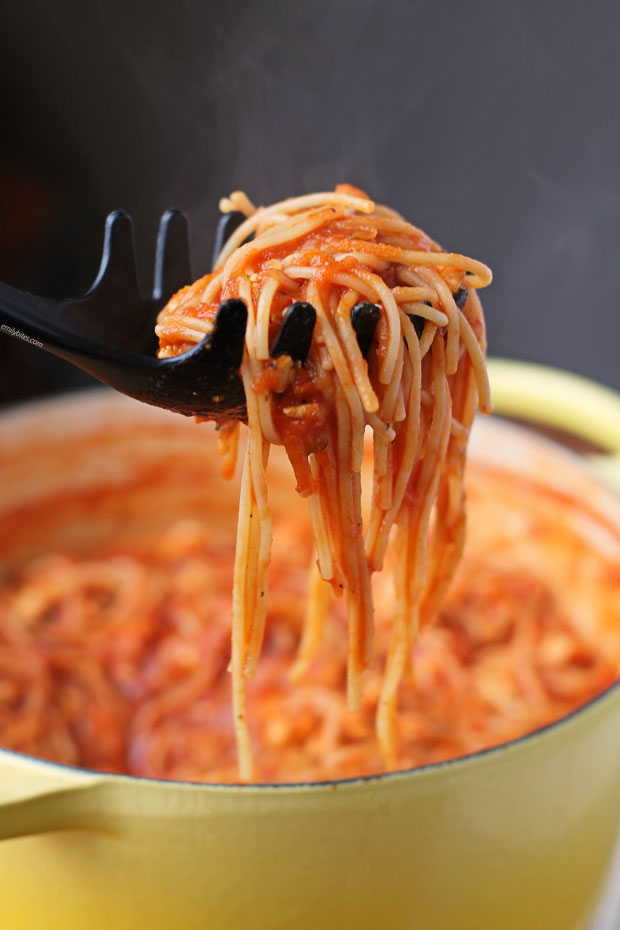 I originally got the idea for this recipe from an episode of Daniel Tiger (my daughter's favorite show) about trying new foods. Daniel's mom makes "veggie spaghetti" which is essentially spaghetti with veggies cooked in the sauce. My daughter has recently warmed up to some veggies (not broccoli), but for a while she wasn't touching them, and I thought if I shredded them up into something kids do like (spaghetti) then it could be a big hit! I added meat as well because yum. I personally loved this One-Pot Turkey and Veggie Spaghetti and will definitely be adding this to my regular meal rotation. Whether you have kids or not, this dish is a delicious, flavorful, satisfying success.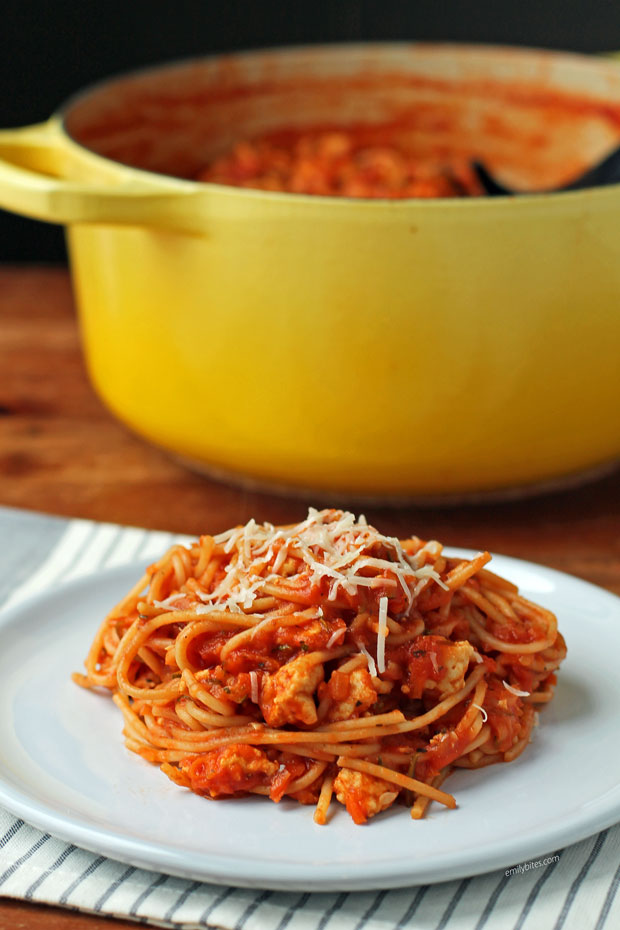 Looking for more tasty one-pot comfort food recipes to warm up to this winter? Check out my One-Pot Cajun Chicken and Sausage Pasta, One-Pot Buffalo Chicken Mac and Cheese, Lemon Garlic Chicken and Beans Skillet, One-Pot Creamy Garlic Chicken Pasta, One-Pot Spicy Dirty Rice with Chicken and Sausage, Spanish Chicken and Rice Skillet, White Chicken Chili, Turkey Sloppy Joe Pasta, Chicken Pot Pasta, Beef Enchilada Pasta Skillet, Mexican Chicken Cauliflower Rice Skillet, and so many more in the One-Pot Meals category of my recipe index!
One-Pot Turkey and Veggie Spaghetti
This One-Pot Turkey and Veggie Spaghetti is one of my family's favorite comfort food dinners, with hidden vegetables for picky eaters!
Ingredients
2

teaspoons

olive oil

1

lb

raw 99% lean ground turkey breast

1

small onion

,

chopped

2

medium carrots

,

shredded (I used the largest holes on a box grater)

1

medium zucchini

,

shredded (I used the largest holes on a box grater)

2

garlic cloves

,

minced

1 ½

cups

reduced sodium chicken broth

1

(15 oz) can tomato sauce

1

(24 oz) jar pasta sauce

,

I used Francesco Rinaldi Original

1

teaspoon

dried Italian seasoning

½

teaspoon

dried basil

10

oz

dry wheat spaghetti

,

broken in half (to fit better in the pot)
Instructions
Drizzle the oil in a 5 QT Dutch oven or large pot and bring to medium heat. Add the turkey to the hot oil and cook, breaking up with a wooden spoon, until broken into bite-sized pieces and mostly browned. Add the onion, carrot, zucchini and garlic and stir to combine. Cook for another 4-5 minutes, stirring occasionally, until the veggies are softened.

Add the broth, tomato sauce, pasta sauce, Italian seasoning and basil and stir to combine. Add the broken spaghetti pieces and stir until pasta is covered. Increase the heat to med-high and bring the mixture to a boil. When the mixture is boiling, reduce the heat to medium-low and simmer for 10-12 minutes, stirring occasionally, until the pasta is cooked and the sauce has thickened.

Remove from heat and allow to sit for 5 minutes to allow sauce to thicken further before serving.
Notes
MYWW SMARTPOINTS PER (1 & 2/3 cup) SERVING: (SP calculated using the recipe builder on weightwatchers.com)
Green: 8 SmartPoints/ Blue: 7 SmartPoints/ Purple: 3 SmartPoints
Weight Watchers Points Plus:

9 per (1 & 2/3 cup) serving (PP calculated using a Weight Watchers PointsPlus calculator and the nutrition info below)
Nutrition Information per (1 & 2/3 cup) serving:
353 calories, 52 g carbs, 12 g sugars, 4 g fat, 0 g saturated fat, 27 g protein, 8 g fiber (from myfitnesspal.com)