One-Pot Cheeseburger Pasta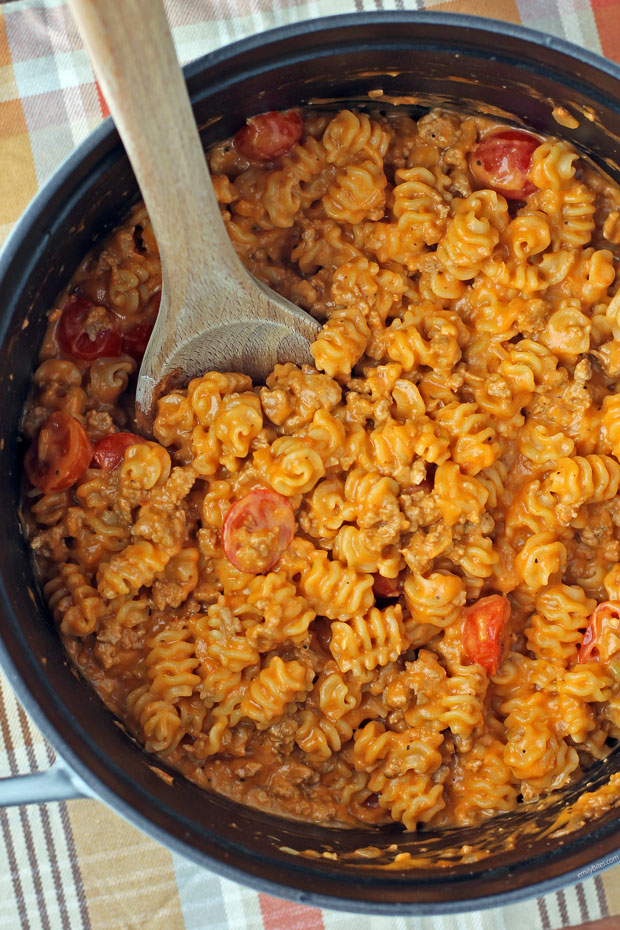 This easy One-Pot Cheeseburger Pasta is creamy, rich, and decadent tasting. You'll be surprised to find it's lightened up! My 4-year-old daughter even asked to eat leftovers the next day without any prompting. It was a big hit in my household! She thinks she doesn't like turkey, so I didn't mention that this recipe contains ground turkey instead of ground beef. Between the beef broth, Worcestershire sauce, and hamburger seasoning, this dish has great cheeseburger flavor and she couldn't even tell! The ketchup and mustard give the flavor a tangy twist and I love biting into the juicy tomatoes throughout. This One-Pot Cheeseburger Pasta combines two comfort foods into one, so if you're craving pasta and a cheeseburger all at once, there's no need to choose. Plus it all cooks in one pot for minimal clean-up! A serving of this dish is just 308 calories or 7 WW Points on the current Weight Watchers plan. To view your current WW Points for this recipe and track it in the WW app or site click here!
Recipe Notes
Serving Size: This recipe makes eight cups total, so I did eight servings of one cup each. If you'd like a larger serving, you can divide it into six servings (1 & 1/3 cup each) for 410 calories or 10 WW Points each.
Pasta: I used radiatore, which is one of the pasta shapes I buy most frequently, but you can use any medium-sized pasta shape like rotini, orecchiette, or medium shells.
Water: The liquid totals in this recipe worked perfectly for me, but since all stovetops and burners cook a little differently, feel free to add a bit more water toward the end when cooking the pasta if needed.
Meat: I use lean ground turkey breast in this recipe to lighten it up, but you can certainly substitute ground beef or another ground meat if you prefer (will affect nutrition estimates and WW Points).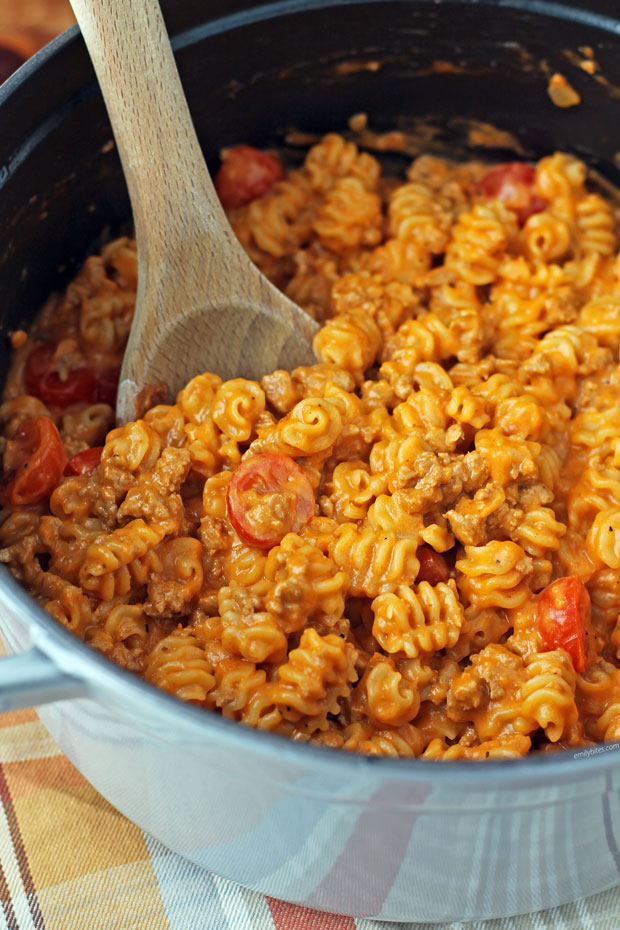 More Tasty Lightened-Up One-Pot Meals
One-Pot meals are one of my favorite types of recipes. I love the ease and simplicity, and I really love not having to wash a pile of pots and pans. If you're looking for more tasty One-Pot recipes like this One-Pot Cheeseburger Pasta, check out my One-Pot Creamy Tomato Pasta with Chicken and Spinach, Chicken Taco Rice Skillet, One-Pot Turkey and Veggie Spaghetti, One-Pot Chicken Florentine Mac and Cheese, Maple Dijon Chicken and Squash Skillet, One-Pot Cajun Chicken and Sausage Pasta, One-Pot Buffalo Chicken Mac and Cheese, Turkey Sloppy Joe Pasta, One-Pot Spicy Dirty Rice with Chicken and Sausage, Chicken Pot Pasta, Lemon Chicken Orzo, Beefy American Goulash, Rustic Sausage and Potato Skillet, and so many more in the One-Pot Meals category of my recipe index!
One-Pot Cheeseburger Pasta
This easy One-Pot Cheeseburger Pasta is creamy, rich, and filling with great cheeseburger flavor!
Ingredients
1

lb

uncooked 99% lean ground turkey breast

1

tablespoon

hamburger seasoning

,

(I use McCormick Grill Mates Hamburger Seasoning –recommended!)

1

tablespoon

Worcestershire sauce

1

small

onion

,

diced

1

medium

garlic clove

,

minced

3

cups

reduced sodium beef broth

½

cup

water

8

oz

can tomato sauce

12

oz

medium-sized pasta

,

(I used radiatore, but rotini, medium shells, orecchiette, or any pasta of a similar size will work great)

2

oz

⅓ less fat cream cheese

4

oz

shredded 2% milk sharp cheddar cheese

1

tablespoon

ketchup

1

tablespoon

yellow mustard

½

cup

halved cherry tomatoes
Instructions
Lightly mist a 5 QT Dutch oven or a large pot with cooking spray and bring over medium heat. Add the ground turkey and cook, breaking up with a spatula or cooking spoon until it starts to brown a bit and break into small chunks. Add the hamburger seasoning and Worcestershire sauce and stir together. Add the chopped onion and stir. Continue to cook for another 4-5 minutes until the onions are softened and the turkey is cooked through. Add the minced garlic and stir. Cook for another 30-60 seconds until fragrant.

Add the beef broth, water, and tomato sauce and stir together. Add the pasta and stir again. Use the back or your spatula or spoon to flatten out the ingredients to be just under the surface of the liquid as best you can. Turn the heat up to med-high and bring the mixture to a boil. Once boiling, reduce the heat to med-low to simmer. Simmer for 12-15 minutes, stirring the ingredients every few minutes to make sure the pasta gets rotated and doesn't stick to the bottom.

When the pasta is cooked through and most of the liquid is absorbed, remove the pot from heat. Stir in the cream cheese, cheddar cheese, ketchup and mustard until well combined and melted into a sauce. Add the halved tomatoes and stir to distribute them throughout (they will get warm from being amongst the other ingredients). Serve warm.
Notes
WW Points per (1 cup) serving: 7 (SP calculated using the recipe builder on weightwatchers.com)
To view your current WW Points for this recipe and track it in the WW app or site, click here!
Nutrition Information per (1 cup) serving:
308 calories, 38 g carbs, 6 g sugars, 6 g fat, 3 g saturated fat, 24 g protein, 2 g fiber, 738 mg sodium (from myfitnesspal.com)
Weight Watchers Points Plus:
8 per (1 cup) serving (PP calculated using a Weight Watchers PointsPlus calculator and the nutrition info below)