Maple Dijon Chicken and Squash Skillet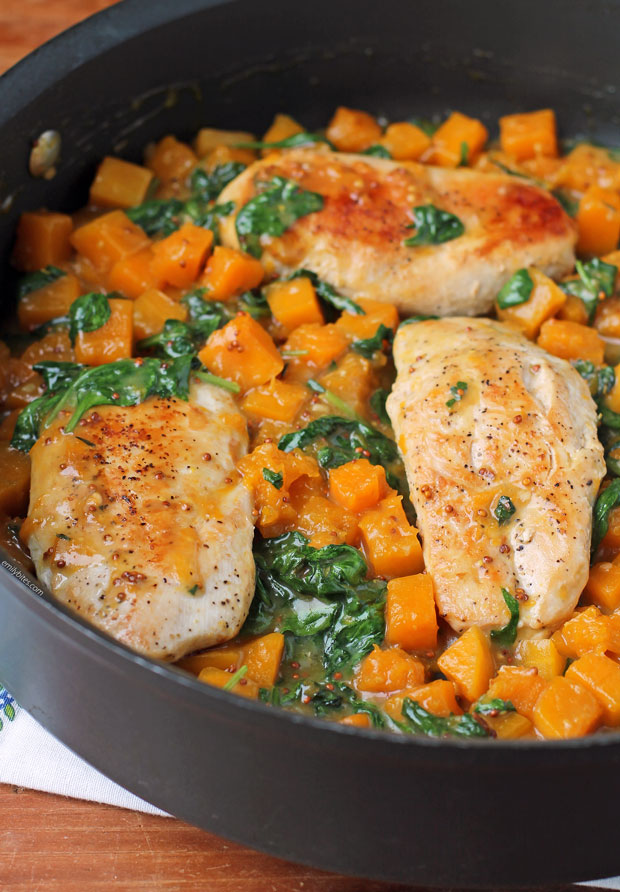 This Maple Dijon Chicken and Squash Skillet is full of fall flavors and comes together in just one pan! Juicy chicken breasts, hearty butternut squash, aromatic garlic, and fresh spinach are sautéed together in a tasty sauce made with sweet maple syrup and sharp, tangy Dijon mustard. The result is sweet, savory, and uniquely delicious. Plus, I love that the entire meal (chicken and a veggie side dish) is made in one pan! Less dishes means more time to relax and enjoy your meal. Not only is this one-pan meal fresh and full of flavor, each filling serving (1 chicken breast + 2/3 cup of saucy squash and spinach) is just 347 calories or 5 WW Points! To view your current WW Points for this recipe and track it in the WW app or site, click here!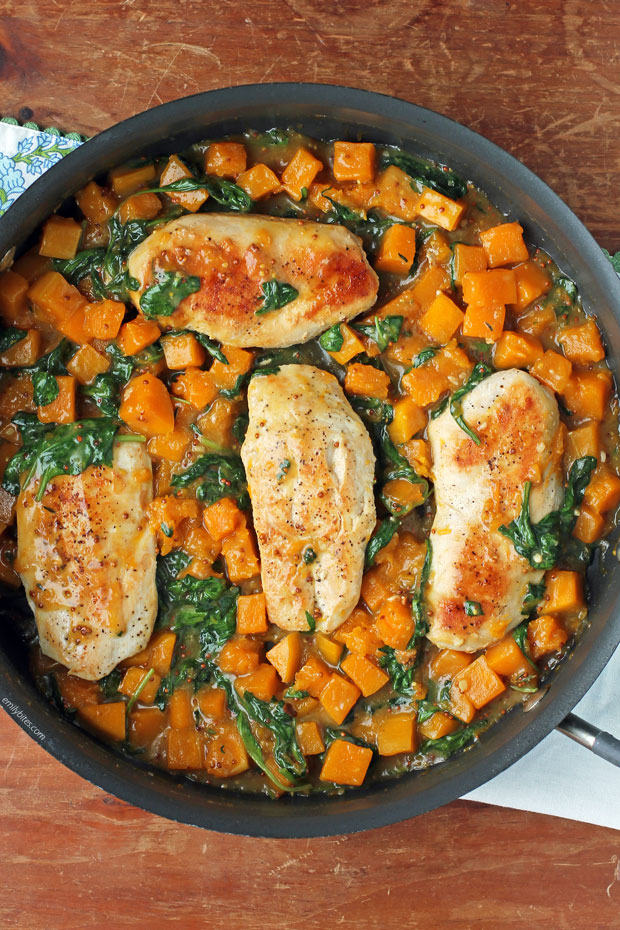 I used two types of Dijon mustard in this Maple Dijon Chicken and Squash Skillet, because I love the look, flavor and texture of the full mustard seeds in whole grain Dijon mustard. However, if you're going to just use one, you can use all creamy Dijon instead. I used the Wegmans (store brand) version of both mustards, but you should be able to find both creamy and whole grain Dijon mustard in various brands at your local grocery stores.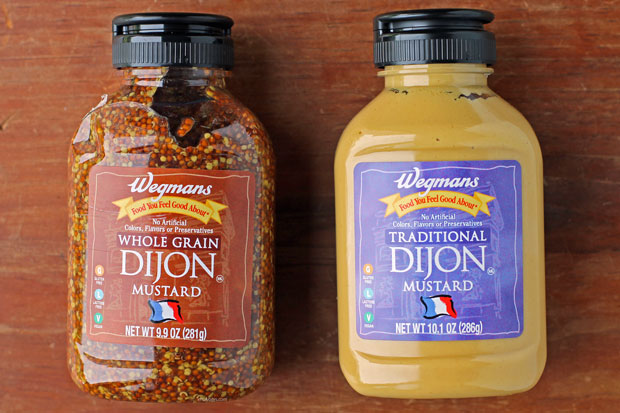 If you've never chopped up a butternut squash before, this easy tutorial from Simple Recipes is pretty much exactly what I do. Once you've weighed out a pound of squash to use in this recipe, I highly recommend using the remaining squash to make my Butternut Squash Soup. It's one of my favorite soups of all time!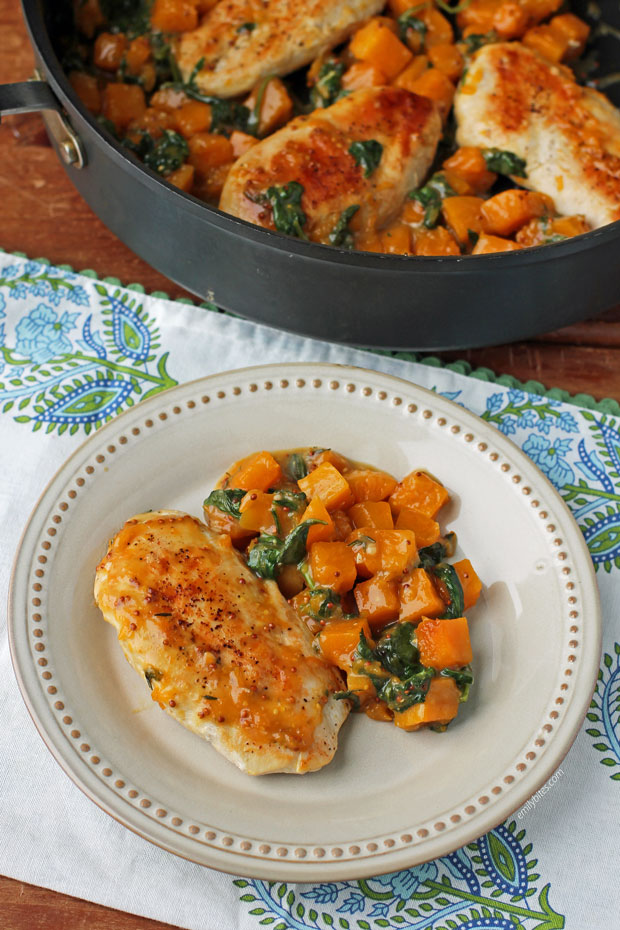 Looking for more one-pot/one-pan meals? Check out my One-Pot Chili Cheese Mac, One-Pot Creamy Tomato Pasta with Chicken and Spinach, One-Pot Turkey and Veggie Spaghetti, One-Pot Creamy Chicken Piccata Pasta, Sheet Pan Meatloaves with Roasted Potatoes and Green Beans, One-Pot Cajun Chicken and Sausage Pasta, One-Pot Buffalo Chicken Mac and Cheese, Lemon Garlic Chicken and Beans Skillet, One Pot Spicy Dirty Rice with Chicken and Sausage, Beef Stroganoff, Beefy American Goulash, One-Pot Creamy Garlic Chicken Pasta, Chicken Pot Pasta, Mexican Chicken Cauliflower Rice Skillet, Thai Turkey with Carrot Noodles, Rustic Sausage and Potato Skillet, Lemon Chicken Orzo with Tomatoes and Asparagus, and many more in the One-Pot Meals section of my recipe index!
Maple Dijon Chicken and Squash Skillet
This Maple Dijon Chicken and Squash Skillet is a one-pot meal that's full of autumn flavors!
Ingredients
1

lb

peeled butternut squash

,

cut into ½" – ¾" cubes

2

tablespoons

water

½

teaspoon

salt

4

teaspoons

olive oil

,

divided

4

(5 oz each) thin chicken breast cutlets

,

if you buy large breasts, trim them to 5 ounces each and pound them thin

Salt and pepper

,

to taste

½

cup

reduced sodium chicken broth

3

tablespoons

maple syrup

2

tablespoons

creamy Dijon mustard

1

tablespoon

whole grain Dijon mustard

1

tablespoon

apple cider vinegar

2

teaspoons

cornstarch

1

teaspoon

fresh thyme

3

garlic cloves

,

minced

3

cups

fresh spinach leaves
Instructions
Placed the cubed squash into a microwave-safe bowl and add the 2 tablespoons of water and ½ teaspoon salt. Cover the bowl with a damp paper towel and microwave on high for 5 minutes. Keep covered and set aside.

Drizzle 2 teaspoons of the olive oil into a large saute pan and bring to medium-high heat. Sprinkle the chicken breast cutlets with salt and black pepper on both sides and lay them in the skillet. Cook for 3-4 minutes until golden on the bottom. Flip the breasts and cook for another 3-5 minutes until the chicken is cooked through. Remove the chicken to a side plate and cover with aluminum foil to keep warm.

In a mixing bowl, add the chicken broth, maple syrup, both types of Dijon mustard, vinegar, cornstarch, and thyme and whisk together until combined. Set aside.

Add the remaining 2 teaspoons olive oil to the saute pan and bring back to medium-high heat. Add the cubed squash in a single layer and follow with the garlic. Cook for 1 minute until garlic is fragrant.

Pour in the sauce mixture from step 3 and stir. Once bubbling (should happen fairly quickly), reduce the heat to low and simmer for 4-5 minutes, stirring occasionally, until the squash is just tender and the sauce has thickened. Add the spinach leaves and stir for 1-2 minutes until wilted. Add the chicken back in and stir to coat in sauce. Cook for another minute or two to warm the chicken and serve warm.
Notes
To view your current WW Points for this recipe and track it in the WW app or site, click here!
WW Points per (1 chicken breast + 2/3 cup squash/spinach) serving: 5 (Points calculated using the recipe builder on weightwatchers.com)
Nutrition Information per (1 chicken breast + 2/3 cup squash/spinach) serving:
347 calories, 30 g carbs, 12 g sugars, 10 g fat, 1 g saturated fat, 34 g protein, 3 g fiber (from myfitnesspal.com)
MYWW SMARTPOINTS PER (1 chicken breast + 2/3 cup squash/Spinach) SERVING: (SP calculated using the recipe builder on weightwatchers.com)
Green: 7 SmartPoints/ Blue: 4 SmartPoints/ Purple: 4 SmartPoints
Weight Watchers Points Plus:

9 per (1 chicken breast + 2/3 cup squash/spinach) serving (PP calculated using a Weight Watchers PointsPlus calculator and the nutrition info below)
Adapted from Carlsbad Cravings and I heart eating