Turkey Club Wonton Cupcakes
If you love bacon (and hopefully you do), you're going to love these Turkey Club Wonton Cupcakes. It's all the flavors you crave from the traditional sandwich, stuffed between layers of wonton wrappers and served warm with a sprinkling of lettuce, tomato, avocado, and more bacon. I actually thought the flavors were similar to my BLT Dip, and since that's one of my favorites, these cups were a home run. I skipped the mayonnaise that's typically involved in a turkey club and replaced it with creamy cheese wedges and a bit of mustard. I think you're going to love the results! Just 130 calories or 3 Weight Watchers SmartPoints each on the myWW Green, Blue and Purple plans!
Looking for more ways to use wonton wrappers? I've got you covered! Check out my recipes for Chicken Parmesan Wonton Cupcakes, Mini Cinnamon Apple Tarts, Taco Cupcakes, French Dip Cupcakes, Berries and Cream Cinnamon Dessert Cups, Buffalo Chicken Cupcakes, Cheeseburger Cupcakes, Lasagna Cupcakes and more!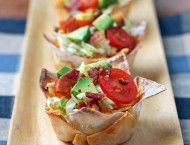 Turkey Club Wonton Cupcakes
Ingredients:
8 slices center cut bacon, cooked crisp and chopped, divided
12 oz deli sliced turkey breast, diced
4 wedges of The Laughing Cow Light Swiss or White Cheddar Cheese Wedges, chopped
1 tablespoon yellow mustard
24 wonton wrappers
4 oz 2% shredded sharp cheddar
¾ cup shredded lettuce
6 grape tomatoes, sliced or diced
2 oz avocado, diced
Directions:
Pre-heat the oven to 375. Lightly mist 12 cups in a standard muffin/cupcake tin with cooking spray and set aside.
In a microwave-safe mixing bowl, combine 6 slices worth of the chopped bacon, the chopped deli turkey and chopped cheese wedges and stir together. Place the bowl in the microwave and heat on high for 1 ½ minutes until contents are warm. Use a spoon to mix contents and smush the cheese wedges until they've coated the meat. Mix in the mustard.
Push a wonton wrapper into the bottom of each of the sprayed cups in the muffin tin. Using about half of the turkey mixture, spoon evenly into the wonton wrappers. Sprinkle about half of the shredded cheddar evenly over the top of each cup. Press another wonton wrapper on top and repeat the layering steps with the remaining turkey mixture and shredded cheddar.
Bake for 18-20 minutes until the wontons are golden brown and the contents are heated through. Remove the muffin tin from the oven and allow to cool for 1-2 minutes. Top each cup with a tablespoon of shredded lettuce and sprinkle with tomatoes, avocado chunks and the remaining 2 slices worth of chopped bacon before serving*.
*Avocado exposed to the air will turn brown, so if you're not serving all the cups at once you may want to hold off on the toppings and add those just before serving.
MyWW SmartPoints per (1 wonton cup) serving: (SP calculated using the recipe builder on weightwatchers.com)
Green: 3 SmartPoints/ Blue: 3 SmartPoints/ Purple: 3 SmartPoints
Weight Watchers Points Plus:
3 per "cupcake," 7 PP for 2 cupcakes (P+ calculated using the recipe builder on weightwatchers.com)
Nutrition Information per cupcake:
130 calories, 10 g carbs, 1 g sugars, 5 g fat, 2 g saturated fat, 11 g protein, 1 g fiber (from myfitnesspal.com)