Italian Sausage Stuffed Zucchini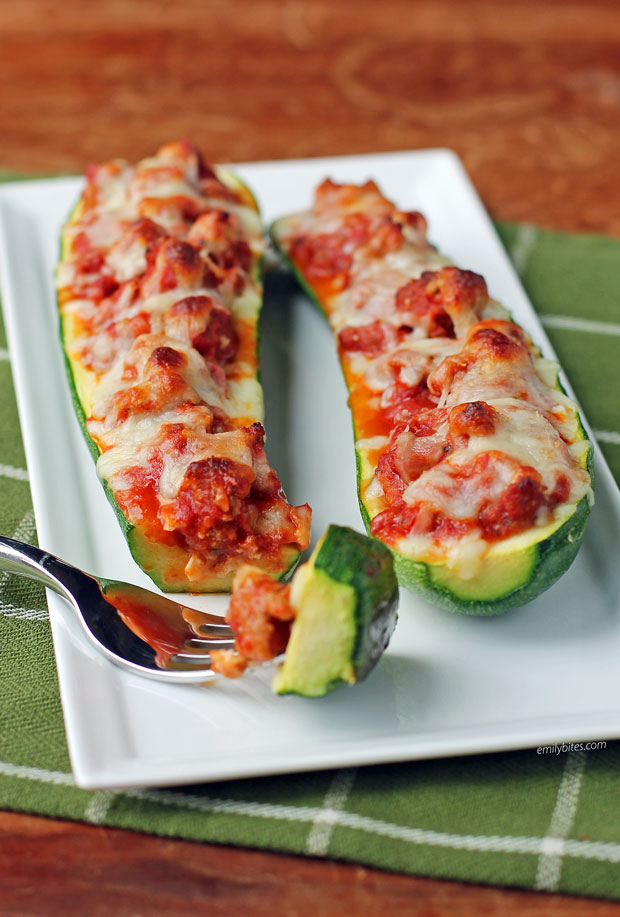 This Italian Sausage Stuffed Zucchini is savory, satisfying, and family-friendly! It's also healthy and a great way to make vegetables taste delicious. I really love this dish when I'm craving saucy, cheesy, meaty Italian food. It's not complicated to make, either! You'll just measure out some spices to mix in with ground turkey breast, creating your own leaner Italian sausage. Then you'll brown the sausage up and let it simmer in your favorite pasta sauce, adding in some shredded Parmesan. While that's cooking, you cut zucchinis in half and scoop out the inside to form zucchini "boats" and then spoon the saucy sausage into the boats, piling it high. Top with a nice sprinkle of Mozzarella cheese and bake in the oven for 20 minutes (I like to broil mine for another minute to brown the cheese a bit). That's it! Dinner is ready, and it tastes so good.
I made the serving size for this Italian Sausage Stuffed Zucchini two stuffed "boats" which is super hearty and filling. You're eating a whole zucchini, piled high with meat and sauce and cheese, after all! If you decide to serve it with a side of pasta and you only have room for one stuffed zucchini half, I included the WW SmartPoints for that as well. If you track nutrition information, you'd of course just cut that in half. If you decide to eat the full serving of two stuffed zucchini halves, it's just 331 calories, or 5 Weight Watchers/WW Points! To view your current WW Points for this recipe and track it in the WW app or site, click here!
Looking for more tasty, lightened up Italian-inspired recipes like this Italian Sausage Stuffed Zucchini? Check out my Ricotta Stuffed Chicken Bake, One-Pot Turkey and Veggie Spaghetti, Bruschetta Chicken Pasta, One-Pot Creamy Tomato Pasta with Chicken and Spinach, Tuscan Olive Chicken, Chicken Florentine Roulades, Italian Wedding Pasta Skillet, Pizza Lasagna Roll-Ups, Bruschetta Topped Balsamic Chicken, Sausage and Tortellini Tomato Soup, Chicken Parmesan Stuffed Shells, Sausage Stuffed Portobello Mushrooms, Beef and Sausage Manicotti, Zuppa Toscana, Eggplant Parmesan Casserole, and many more in the Italian category of my recipe index.
Italian Sausage Stuffed Zucchini
This Italian Sausage Stuffed Zucchini is piled high with meat, sauce, and cheese for a lightened up twist on classic Italian flavors.
Ingredients
1

teaspoon

dried parsley flakes

1

teaspoon

Italian seasoning

1

teaspoon

salt

½

teaspoon

black pepper

½

teaspoon

garlic powder

½

teaspoon

dried minced onion

¼

teaspoon

fennel seed

¼

teaspoon

paprika

¼

teaspoon

crushed red pepper flakes

1

lb

99% lean ground turkey breast

2

teaspoons

olive oil

1 ½

cups

pasta sauce

,

I use Francesco Rinaldi Original

1

oz

Parmesan cheese

,

finely shredded

4

medium zucchinis

1

cup

shredded 2% Mozzarella cheese
Instructions
In a mixing bowl, combine the parsley, Italian seasoning, salt, pepper, garlic powder, minced onion, fennel seed, paprika, and crushed red pepper flakes and stir to make an Italian sausage seasoning mix. Add the ground turkey and stir with a fork (or mush with clean hands) to blend the spices evenly into the ground turkey to make turkey sausage.

Pre-heat the oven to 400 degrees. Line a baking sheet with parchment paper and set aside.

Drizzle the olive oil in a large skillet or saute pan and bring to med-high heat. Add the turkey sausage mixture from step 1 and cook, breaking up into small chunks, for 4-5 minutes until cooked through. Add the pasta sauce to the sausage and stir to combine. Reduce the heat to low and simmer, uncovered for 8-10 minutes*. Sauce will thicken a bit. Stir in the parmesan cheese and cook for another minute until melted.

*While the sauce is simmering, Cut the stems off of the zucchinis, along with the little bit at the other end. Slice the zucchinis in half lengthwise. Use a spoon to scoop out the center of each zucchini half, leaving about ¼" border around the edges to form a boat shape. Sprinkle lightly with salt on the cut sides and place them hollow-side-up on the prepared baking sheet.

Spoon the sausage and sauce mixture evenly into the zucchini boats. Top with the shredded Mozzarella cheese. Place in the oven and bake for 20 minutes. Switch the oven to broil and broil for 1-2 minutes to brown the cheese a bit (this can happen quickly, keep an eye on it). Serve warm.
Notes
To view your current WW Points for this recipe and track it in the WW app or site, click here!
WW Points per (2 stuffed zucchini halves) serving: 5 (Points calculated using the recipe builder on weightwatchers.com)
Nutrition Information per (2 stuffed zucchini halves) serving:
331 calories, 20 g carbs, 5 g sugars, 11 g fat, 4 g saturated fat, 41 g protein, 2 g fiber (from myfitnesspal.com)
MYWW SMARTPOINTS PER (2 stuffed zucchini halves) SERVING: (SP calculated using the recipe builder on weightwatchers.com)
Green: 7 SmartPoints*/ Blue: 6 SmartPoints/ Purple: 6 SmartPoints
*If you decide to only eat one stuffed zucchini half, it would be 4 Green, 3 Blue or 3 Purple SmartPoints
Weight Watchers Points Plus:
9 per (2 stuffed zucchini halves) serving (PP calculated using a Weight Watchers PointsPlus calculator and the nutrition info below)
Italian sausage seasoning adapted from Tastes of Lizzy T