Banana Zucchini Muffins
These easy Banana Zucchini Muffins are moist, fluffy, and just the right amount of sweet! I find that you can always use significantly less sugar that a traditional muffin recipe and still get the sweetness and taste you love. If you're a fan of banana bread and zucchini bread, you're going to absolutely love the flavor mashup in these muffins. They come together super quickly with just a few common ingredients and the results are delicious.
I prefer making muffins rather than loaves because they're already perfectly portioned and easy to grab and go for breakfast or a snack. Plus, my almost-four-year-old loves eating muffins (even ones with vegetables in them). These lightened up Banana Zucchini Muffins are just 123 calories or 4 WW Points each (5 Points each if following the diabetic Weight Watchers program). To view your current WW Points for this recipe and track it in the WW app or site, click here!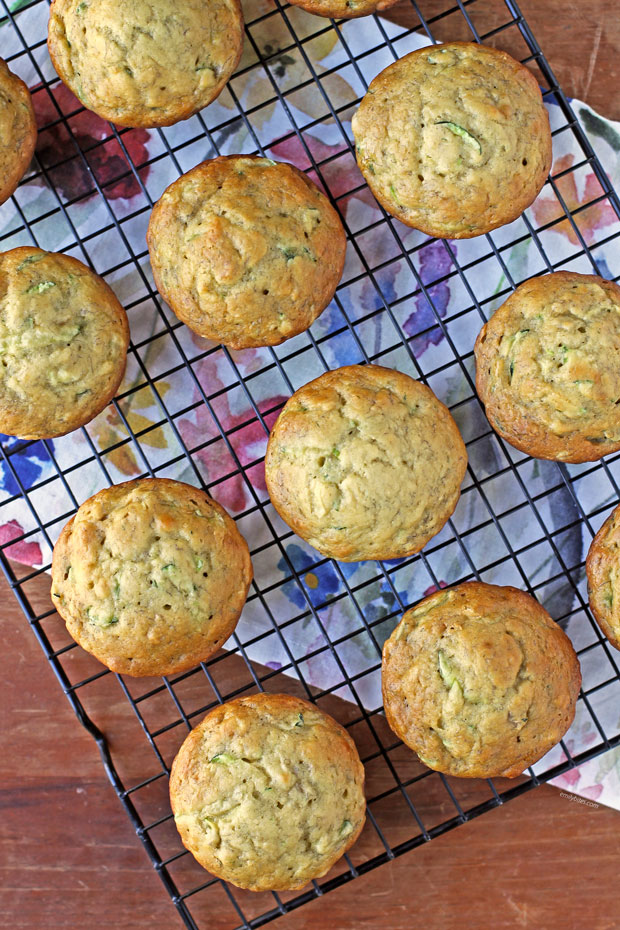 Variations/Substitutions
Banana: I love the banana bread/zucchini bread flavor combination in these muffins, but if you're not a banana fan or don't have any on hand, you can make these plain zucchini muffins. Just substitute unsweetened applesauce for the mashed banana.
Alternative Sweeteners: I haven't personally tried making these using a zero-calorie sweetener in place of sugar, but I feel confident that it would work out just fine. Just make sure the sweetener you're using has a 1:1 substitution ratio with sugar so that the sweetness level isn't off.
Add-Ins: I think walnuts or pecans would be great in these if you'd like to add nuts! Keep in mind that this will of course affect the nutrition information/WW points listed if you're tracking either.

To Freeze:
I love how easily these Banana Zucchini Muffins come together, and they're great to bake once and eat all week! I've also frozen them very successfully by just wrapping each one in plastic wrap once they're completely cool and putting them all together in a Ziploc freezer bag. You can either defrost them to room temp or heat them up in the microwave before eating. I love having a freezer full of muffin options at my disposal at breakfast time!
Want More Muffins?
Looking for more tasty varieties of lightened up muffin recipes? Check out my Morning Glory Muffins, Strawberry Rhubarb Muffins, Carrot Muffins, Chocolate Raspberry Muffins, Apple Cinnamon Muffins, Banana Blueberry Muffins, Pumpkin Zucchini Muffins, and more in the Muffins section of my recipe index!
Banana Zucchini Muffins
These easy, lightened up Banana Zucchini Muffins are a moist, fluffy flavor mashup. If you love banana bread and zucchini bread, these are for you1
Ingredients
1

large

egg

1

cup

mashed ripe banana

,

(about 2 large bananas worth)

⅓

cup

sugar

1

teaspoon

vanilla extract

5

tablespoons

light butter

,

melted (I use Land O'Lakes light butter spread with canola oil in the tub)

1

cup

shredded zucchini

,

(this is less than one medium zucchini's worth)

1 ½

cups

all purpose flour

1

teaspoon

baking powder

1

teaspoon

baking soda

½

teaspoon

salt
Instructions
Pre-heat the oven to 375 degrees. Lightly mist a 12-count standard-sized muffin tin with cooking spray and set aside.

In a large mixing bowl, add the egg, mashed banana, sugar, and vanilla extract and stir together until well combined. Add the melted butter and stir together. Add the shredded zucchini and stir until combined.

In a separate mixing bowl, add the flour, baking soda, baking powder, and salt and whisk until combined. Add the dry ingredients to the wet ingredients and stir together until combined into a batter.

Spoon the batter evenly amongst the wells in the prepared muffin tin. Bake for 18-20 minutes.
Notes
To view your current WW Points for this recipe and track it in the WW app or site, click here!
WW Points per muffin: 4* (Points calculated using the recipe builder on weightwatchers.com)
*5 Points each if following the diabetic plan
Nutrition Information per (1 muffin) serving:
123 calories, 21 g carbs, 8 g sugars, 3 g fat, 1 g saturated fat, 2 g protein, 1 g fiber, 194 mg sodium (from myfitnesspal.com)
Weight Watchers Points Plus:
3 per (1 muffin) serving (P+ calculated using the recipe builder on weightwatchers.com)