New England Clam Chowder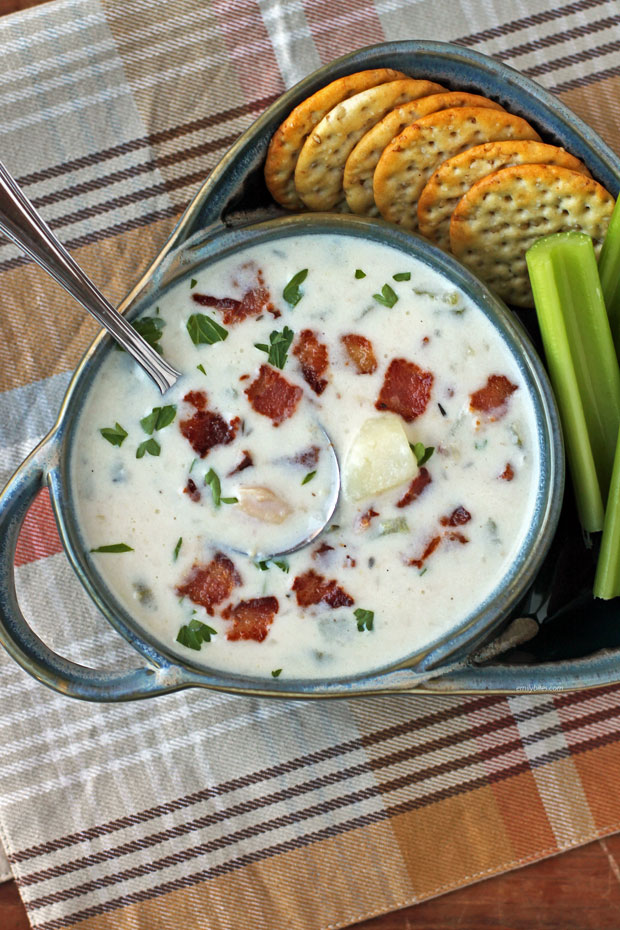 This tasty New England Clam Chowder has full, rich flavor, even lightened up! Plus it's super easy to make and cooks quickly. I love soup for lunch during the colder months because it's warm, comforting, and keeps me feeling full. This one is no exception! A cup of this New England Clam Chowder pairs perfectly with a salad or half a sandwich for lunch, and it makes great leftovers. My whole family loved this one – even my picky 4-year-old! You're going to love the flavor and the fact that each cup is only 147 calories or 4 Points on the new 2022/2023 WW plan. To view your WW Points for this recipe and track it in the WW app or site, click here!
Recipe Notes
Bacon: Bacon lends it's signature salt, smoky flavors to this recipe – don't skip it! I like to use center cut bacon because it's a leaner cut than traditional bacon. If you prefer turkey bacon, that can be used as well! You can either cook your bacon in the soup pot and then wipe it out before cooking the rest of the soup, or you can cook it in a separate pan while the soup is cooking. Whatever seems easier to you!
Clams: Canned chopped clams work wonderfully in this recipe and make a great chowder. Plus you get to use the juice from the can in the soup broth! If you have fresh clams and you want to use them instead you can, I'd just recommend adding a second bottle of clam juice to replace the juice from the cans.
Clam Juice: This is usually found in bottles near the canned clams in the grocery store. It gives extra flavor to the soup, so I definitely recommend using it! However if you have everything else and want to make the soup immediately, you can add extra broth instead. The juice from the canned clams will still give flavor to the soup broth.
Fat Free Half and Half: I used this in most of my creamy soups because it gives a rich, creamy texture and flavor without adding fat to the recipe. If you're unable to find the fat free variety you can use regular half and half or a mixture of milk and heavy cream. If you make these substitutions it will of course change the WW points and estimated nutrition information.
Potatoes: I use russet potatoes because it's what I most commonly have on hand, but if you'd like to use Yukon gold or red potatoes, that should also work well.
The Bowl: Okay, I know this is not part of the recipe, but every time I use this bowl in pictures I get questions about where to buy the bowl! The soup bowl comes in a set of two (different colors) and is from Lakeside Collection. They seem to go in and out of stock there, so if they are out of stock and you don't want to wait or check back, they are also available on Amazon (affiliate links) in either Green/Blue or Red/Cream.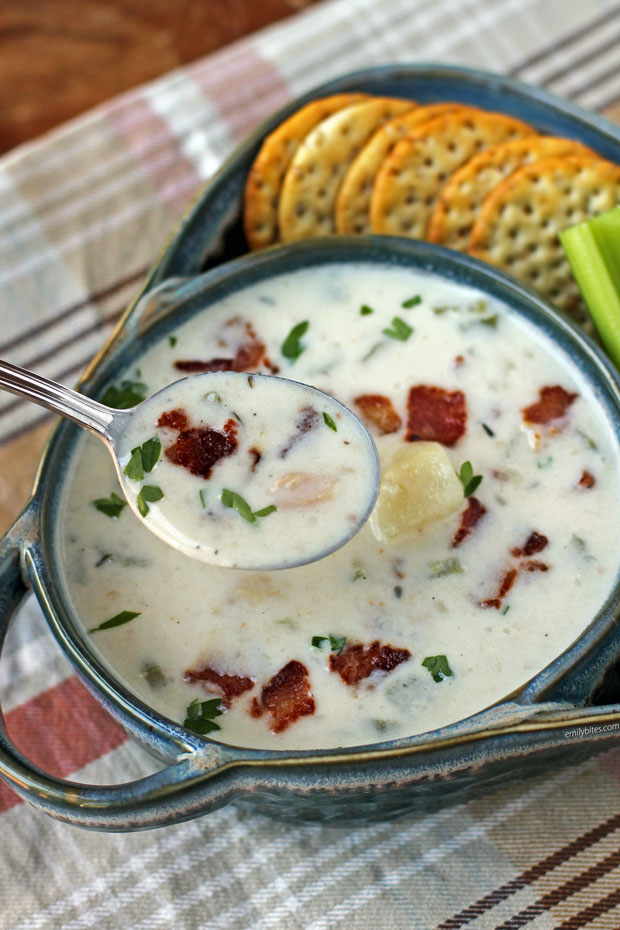 Looking for more tasty lightened up soup recipes to warm up to in the colder weather months ahead? Check out my Butternut Squash Soup, Lasagna Soup, Creamy Chicken Stew, Black Bean Soup, Slow Cooker Loaded Potato and Cauliflower Soup, Creamy Chicken and Gnocchi Soup, Beef Taco Soup, Sausage and Tortellini Tomato Soup, Buffalo Chicken Soup, Slow Cooker Beef and Barley Soup, Zuppa Toscana, Broccoli Cheddar Soup, Creamy Chicken and Wild Rice Soup, Spaghetti and Meatball Soup, and so many more in the Soups category of my recipe index!
New England Clam Chowder
This easy, tasty New England Clam Chowder has full, rich flavor, even lightened up!
Ingredients
6

slices

uncooked center cut bacon

,

chopped

1

tablespoon

light butter

,

(I use Land O'Lakes light butter spread with canola oil)

1

tablespoon

olive oil

1

medium

onion

,

chopped

3

stalks

celery

,

diced

2

garlic cloves

,

minced

3

tablespoons

all-purpose flour

1

teaspoon

salt

¼

teaspoon

black pepper

3

cups

reduced sodium chicken broth

8

oz

bottle clam juice

2

(6.5 oz) each

cans chopped clams in clam juice

,

drained with juices reserved

½

teaspoon

dried thyme

1

bay leaf

1

lb

peeled russet potatoes

,

chopped into small bite-sized pieces

2

cups

fat free half-and-half

2

tablespoons

chopped fresh parsley
Instructions
Place the bacon pieces in a dutch oven or soup pot (you can also do this in a separate pan while the soup cooks) and bring over medium heat. Cook, stirring occasionally, until bacon pieces are crisp. Transfer the bacon to a pile of paper towels using a slotted spoon. Drain the grease from the pot and wipe it out with a paper towel.

Place the butter and oil in the pot and bring over medium heat. Add the onion and celery and cook for 5 minutes until softened. Stir in the garlic and cook for another 30-60 seconds.

Stir together the flour, salt, and pepper in a small dish and pour over the onions and celery in the pot. Stir together until the vegetables are coated and cook, stirring occasionally, for 1-2 minutes. Add the broth, bottle of clam juice, and reserved juice that was drained from the canned clams along with the thyme and bay leaf. Whisk together, scraping up any bits off the bottom of the pot, for 1-2 minutes.

Add the potatoes and increase the heat to high to bring to a boil. Once boiling, stir and then cover and reduce heat to low to simmer. Simmer covered for 15 minutes until potatoes are tender. Remove bay leaf.

Stir in the half and half and the chopped clams and simmer uncovered, stirring occasionally, for 3-4 minutes until warmed through. Makes 9 (1 cup) servings. Top each serving with a sprinkle of parsley and 2 teaspoons of crumbled bacon
Notes
To view your WW Points for this recipe and track it in the WW app or site, click here!
WW Points: 4 per (1 cup) serving (Points calculated using the recipe builder on weightwatchers.com)
Nutrition Information per (1 cup) serving:
147 calories, 20 g carbs, 4 g sugars, 4 g fat, 1 g saturated fat, 8 g protein, 1 g fiber, 614 mg sodium (from myfitnesspal.com)
Weight Watchers Points Plus:
4 per (1 cup) serving (PP calculated using a Weight Watchers PointsPlus calculator and the nutrition info below
Inspired by Little Sunny Kitchen and House of Nash Eats