Slow Cooker Loaded Potato and Cauliflower Soup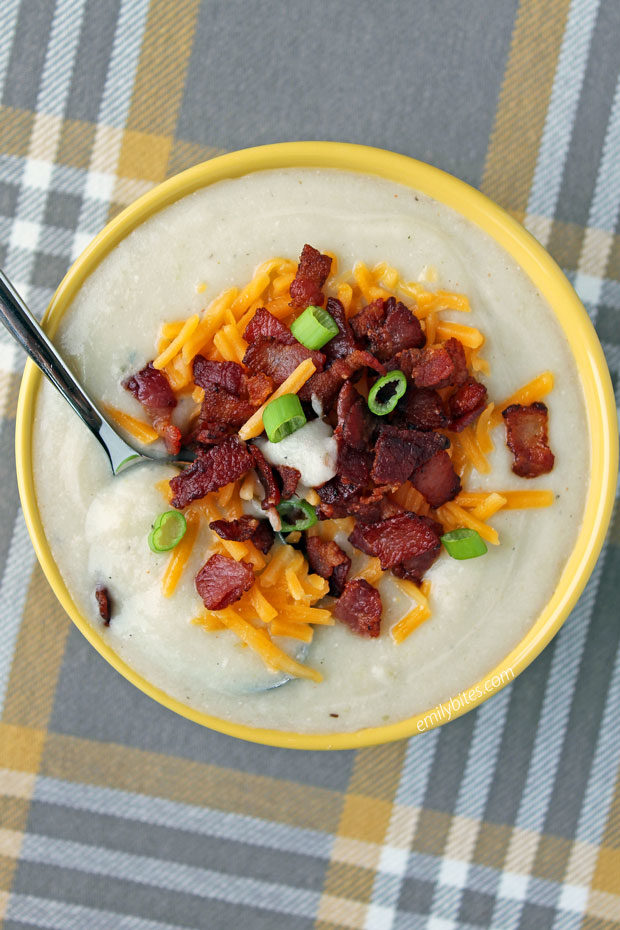 This Slow Cooker Loaded Potato and Cauliflower Soup gives you all the flavors you love from a loaded baked potato with a lighter twist! Replacing some of the potatoes in this soup with cauliflower lowers the calories and carbs without sacrificing that thick, rich potato texture or flavor. Plus, the soup is mixed with sour cream and topped with cheese and bacon, so what's not to love? I love how easily this soup comes together in the slow cooker, you just chop everything, toss it in the slow cooker, and then blend when it's done and stir in the last few ingredients. It's a cinch! I love eating creamy, hearty soups in the winter, they're so warm and comforting. Better still, a 1 & ¼ cup serving of this Slow Cooker Loaded Potato and Cauliflower Soup is just 209 calories or 5 Green, 5 Blue or 3 Purple myWW SmartPoints!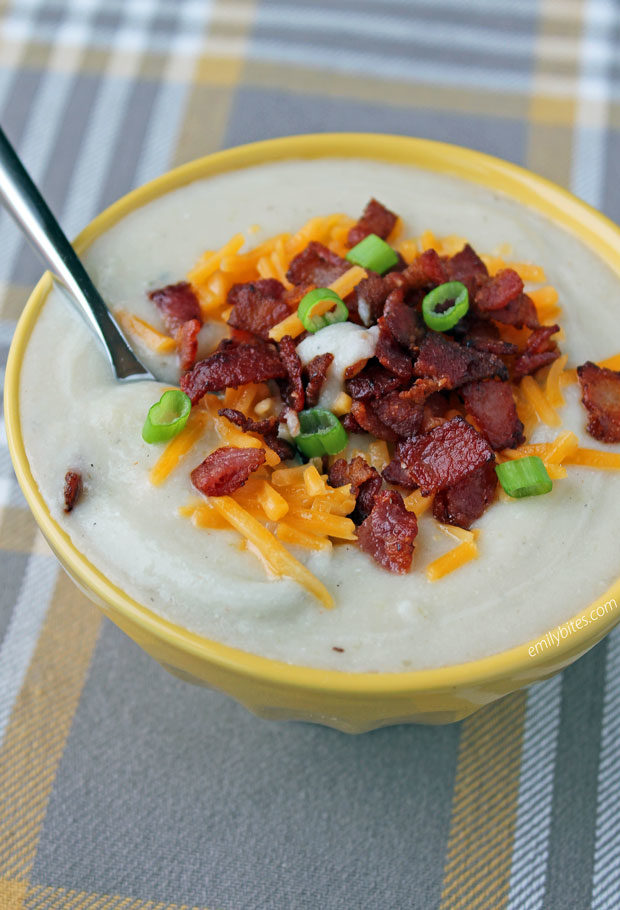 For more tasty, lightened up soup recipes like this Slow Cooker Loaded Potato and Cauliflower Soup check out my Creamy Chicken and Gnocchi Soup, Sausage and Tortellini Tomato Soup, Butternut Squash Soup, Black Bean Soup, Creamy Chicken and Wild Rice Soup, Roasted Corn Soup, Beef Taco Soup, Buffalo Chicken Soup, Slow Cooker Beef and Barley Soup, Chicken Corn Chowder, Zuppa Toscana, Broccoli Cheddar Soup, Italian Wedding Soup, Cheeseburger Soup, Spaghetti and Meatball Soup, Chicken Tortilla Soup, Herbed Chicken and Dumplings, Roasted Tomato Basil Soup and more in the soup section of my recipe index!
Slow Cooker Loaded Potato and Cauliflower Soup
Yield: 8 (1 & 1/4 cup) servings
Ingredients:
2 lbs peeled and chopped russet potatoes
1 lb raw cauliflower florets (for me this was about the amount of florets from a medium head of cauliflower)
1 medium onion, chopped
¾ cup chopped celery
6 garlic cloves, minced
2 sliced scallions, divided
1 teaspoon paprika
½ teaspoon dried thyme
¼ teaspoon black pepper
½ teaspoon salt
4 cups reduced sodium fat free chicken broth
1 cup fat free half and half
½ cup fat free sour cream
8 slices center cut bacon, cooked and crumbled
4 oz 50% reduced fat sharp cheddar cheese, shredded (I use Cabot)
Directions:
Place the potatoes, cauliflower, onion, celery, garlic, one of the scallions, paprika, thyme, salt and pepper into your slow cooker and stir together. Pour in the broth. Cook on high for 4 hours or on low for 8 hours until the vegetables are tender.
Using an immersion blender, blend the ingredients until smooth (if you don't have an immersion blender, you can transfer the soup in batches into a regular blender until smooth and then return to the slow cooker pot). Add the half and half and sour cream and stir until thoroughly combined.
Top each serving with ½ ounce of shredded cheddar, a slice of the crumbled bacon, and some of the remaining sliced scallions.
MyWW SmartPoints per (1 & ¼ cup) serving: (SP calculated using the recipe builder on weightwatchers.com)
Green: 5 SmartPoints/ Blue: 5 SmartPoints/ Purple: 3 SmartPoints
Weight Watchers Points Plus:
5 per (1 & ¼ cup) serving (PP calculated using a Weight Watchers brand PointsPlus calculator and the nutrition information below)
Nutrition Information per (1 & ¼ cup) serving:
209 calories, 32 g carbs, 6 g sugars, 4 g fat, 3 g saturated fat, 12 g protein, 4 g fiber (from myfitnesspal.com)