Creamy Chicken and Gnocchi Soup
It's finally soup season, and this Creamy Chicken and Gnocchi Soup is perfect for the cooler weather coming our way! This soup, much like my Zuppa Toscana, is based on one served at the Olive Garden, but once you make it at home I think you'll be sold on staying in! The base of this Creamy Chicken and Gnocchi Soup is super rich and creamy and with the chicken, vegetables and soft, pillowy gnocchi, I found a cup of this soup to be super filling. I love pairing a decadent soup like this with a side salad, it makes for a perfect fall or winter lunch or light dinner. If you already love my Creamy Chicken and Wild Rice Soup (and I know many of you do), this soup uses the same technique to get the smooth, creamy texture and it tastes just as good. Better still, one cup of this Creamy Chicken and Gnocchi Soup is just 227 calories or 6 Green, 5 Blue or 5 Purple myWW SmartPoints!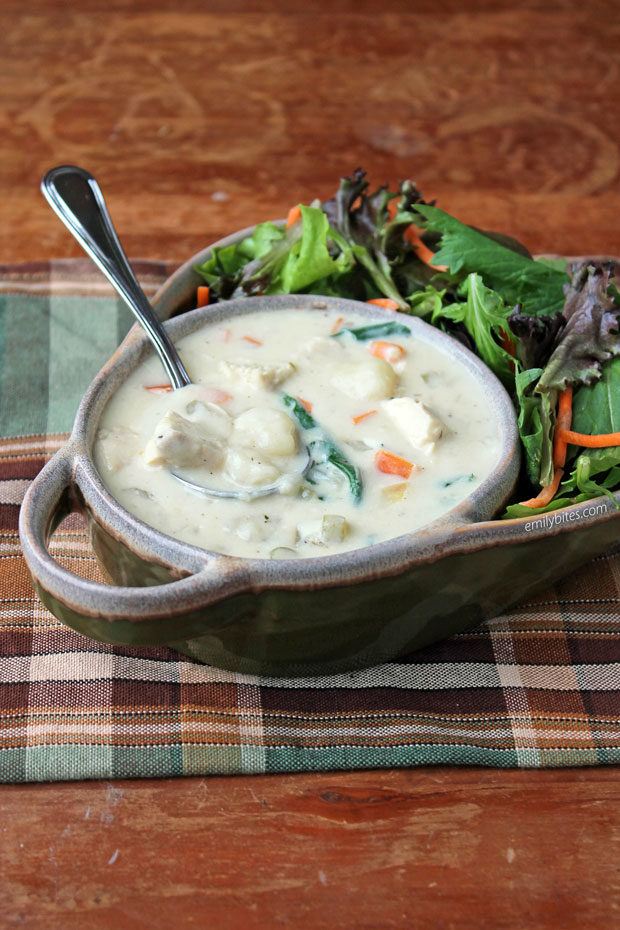 For more tasty, lightened up soup recipes like this Creamy Chicken and Gnocchi Soup, check out my Sausage and Tortellini Tomato Soup, Butternut Squash Soup, Creamy Chicken and Wild Rice Soup, Roasted Corn Soup, Beef Taco Soup, Buffalo Chicken Soup, Slow Cooker Beef and Barley Soup, Chicken Corn Chowder, Zuppa Toscana, Broccoli Cheddar Soup, Italian Wedding Soup, Cheeseburger Soup, Spaghetti and Meatball Soup, Chicken Tortilla Soup, Herbed Chicken and Dumplings, Roasted Tomato Basil Soup and more in the soup section of my recipe index!
Creamy Chicken and Gnocchi Soup
This Creamy Chicken and Gnocchi Soup is creamy, comforting, and perfect for cooler weather!
Ingredients
1

teaspoon

olive oil

1

cup

diced onions

3

garlic cloves

,

minced

4

cups

fat free reduced sodium chicken broth

½

cup

water

1

lb

boneless skinless chicken breasts

1

cup

chopped carrots

1

cup

chopped celery

½

teaspoon

dried rosemary

½

teaspoon

dried thyme

1/8

teaspoon

nutmeg

6

tablespoons

flour

½

teaspoon

salt

¼

teaspoon

black pepper

5

tablespoons

light butter

,

I use Land O'Lakes

2

cups

fat free half-and-half

16

oz

package of gnocchi

, I used Wegmans mini gnocchi, but regular-sized gnocchi are just fine!

2

cups

torn fresh spinach leaves
Instructions
Heat the oil in a dutch oven or soup pot to medium heat. Add the onions and garlic and stir to coat. Cook for 3-5 minutes until the onions are softened. Add the broth and water and increase the heat to bring the contents to a boil. Add the chicken breasts, carrots, celery, rosemary, thyme and nutmeg and once bubbling again, reduce the heat to a simmer and cover. Simmer, covered, for 25-30 minutes until the chicken breasts are cooked through and the vegetables are tender.

About 10 minutes before the chicken is done simmering, mix together the flour, salt and pepper in a small dish. Melt the butter in a medium saucepan over medium heat. Slowly whisk in the flour a little at a time until fully combined and let the "paste" that forms cook for 1-2 minutes. Slowly whisk in the half-and-half a little at a time until the mixture is completely combined, smooth and creamy. Cook for another few minutes, whisking occasionally, until the mixture thickens and lightly bubbles. Remove from heat.

When the chicken from step one is finished cooking, remove it to a cutting board (recover the pot and continue to simmer the other ingredients). Chop the chicken into bite-sized pieces and set aside.

Uncover the simmering pot and add the gnocchi to the broth and vegetables. Re-cover and simmer for the time listed on the package of gnocchi (likely somewhere between 2-5 minutes). Uncover and whisk or stir in the creamy mixture from step two until well combined. Add the chopped chicken and the spinach to the pot and stir to combine. Cook, stirring, for another 2-3 minutes until spinach is wilted. Add salt and pepper to taste if desired. Serve warm.
Notes
MyWW SmartPoints per (1 cup) serving: (SP calculated using the recipe builder on weightwatchers.com)
Green: 6 SmartPoints/ Blue: 5 SmartPoints/ Purple: 5 SmartPoints
Weight Watchers Points Plus:
6 per (1 cup) serving (PP calculated using a Weight Watchers brand PointsPlus calculator and the nutrition information below)
Nutrition Information per (1 cup) serving:
227 calories, 30 g carbs, 4 g sugars, 5 g fat, 2 g saturated fat, 14 g protein, 1 g fiber (from myfitnesspal.com)
I combined my Creamy Chicken and Wild Rice Soup recipe with this recipe from Cooking Classy