Hot & Cheesy Bean Dip
If you don't have an occasion to make this Hot & Cheesy Bean Dip coming up, you should probably plan something now. Even if the occasion is "it's Thursday!" or "it's 6:37 PM!" or whatever. It's worth it. This skinny version of one of everyone's favorite hot dips is every bit as cheesy, hearty, and creamy as the original and you can have a generous serving of it for just a little over 100 calories. I brought some to my boyfriend's house for the basketball game last night and even though he knew I'd made it for my blog he asked me if it was really a light version because he couldn't believe it. You won't believe it either!
This Hot & Cheesy Bean Dip is a great recipe to bring to a potluck, game day party or night in with friends because it's super easy to prepare and it's a huge crowd pleaser. Don't worry if you don't have any of those events coming up, though. There's never a bad time for warm, cheesy bean dip! No occasion necessary.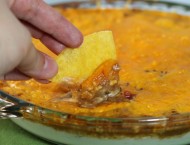 Hot & Cheesy Bean Dip
Yield: 12 (1/3 cup) servings
Ingredients:
8 oz of 1/3 less fat cream cheese, softened
½ cup fat free sour cream
16 oz can of fat free refried beans
1 tablespoon green chilies
½ teaspoon chili powder
1 teaspoon cumin
¼ teaspoon salt
½ cup salsa
4 oz of reduced fat sharp cheddar cheese, shredded (I used Cabot 50%)
Directions:
Preheat the oven to 350.
In a medium bowl, combine the cream cheese and sour cream and mix until combined. Spread the mixture across the bottom of a 9" glass pie plate.
In another bowl, combine the beans, chilies, cumin, chili powder and salt and stir until well combined. Spread the bean mixture over top of the cream cheese layer in the pie plate. Spread the salsa over top of the bean layer and then sprinkle the cheese across the top.
Bake for 30 minutes and serve immediately.
MyWW SmartPoints per (1/3 cup) serving: (SP calculated using the recipe builder on weightwatchers.com)
Green: 4 SmartPoints/ Blue: 3 SmartPoints/ Purple: 3 SmartPoints
Weight Watchers Points Plus:
3 per (1/3 cup) serving (P+ calculated using the recipe builder on weightwatchers.com)
Nutrition Information:
106 calories, 8 g carbs, 2 g sugars, 6 g fat, 4 g saturated fat, 6 g protein, 2 g fiber (from myfitnesspal.com)