Crab Rangoon (Air Fryer or Oven Baked)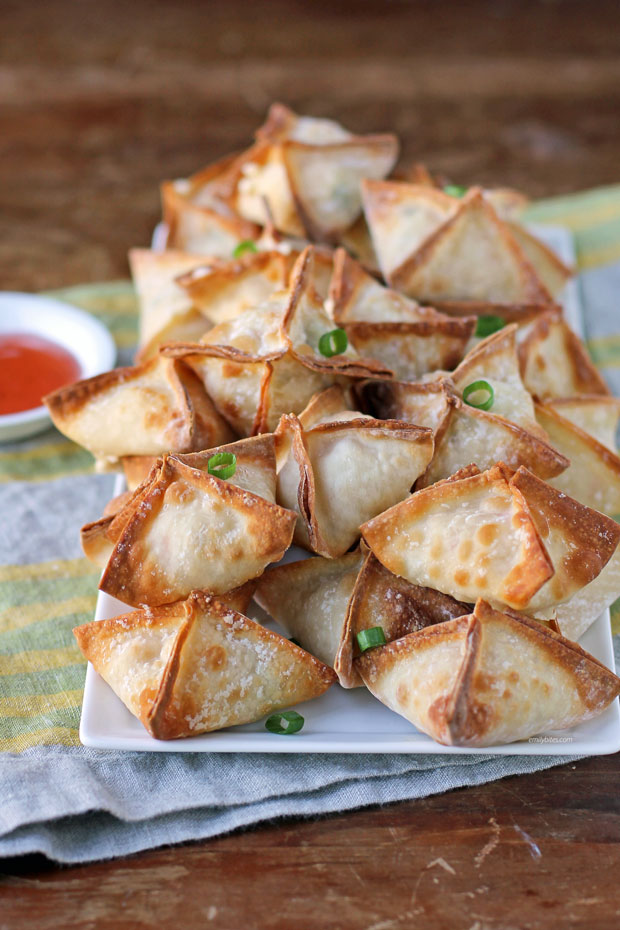 These easy Crab Rangoon taste like takeout but can be made right at home in your air fryer or oven! Using just a few ingredients, you'll get a crunchy wonton exterior filled with a creamy, crabby filling. My husband loves to order Crab Rangoon when we get Chinese takeout, so I was happy to find that he really enjoyed the homemade version as well. I think these would make great finger food for a party, book club gathering, or for watching the game at home. They also make a great lunch! Better still, each piece of Crab Rangoon is just 46 calories or 1 WW Point. To view your current WW Points for this recipe and track it in the WW app or site, click here!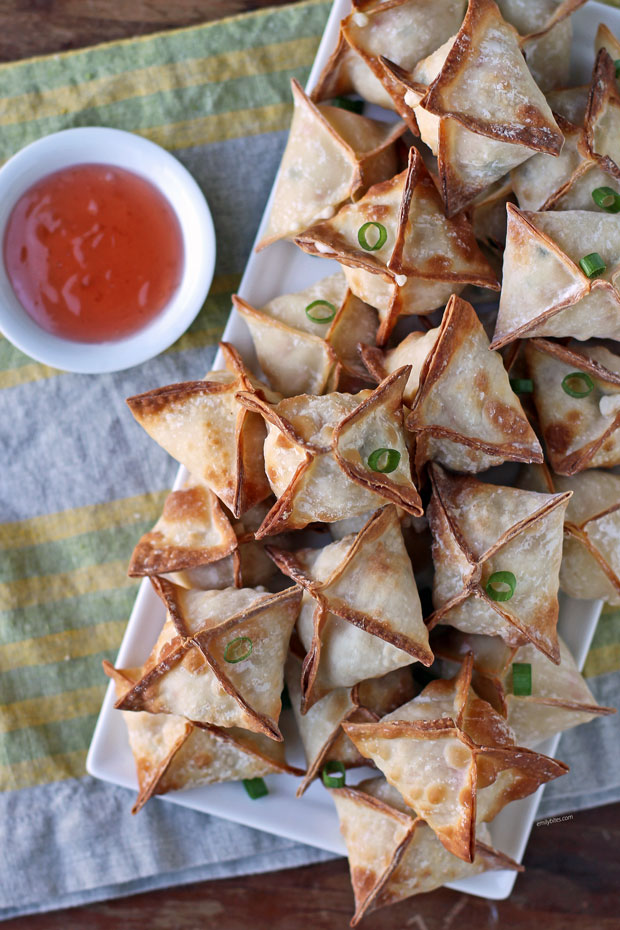 Oven or Air Fryer
I've included directions for making these in your air fryer or baking them in your oven, and both turn out great! If I had to choose, I think they brown up a bit better in the air fryer, but if you don't own one or you want to make them all at once rather than in batches, the oven does a great job. Either way, they will have a different texture than the deep fried version you order at an American Chinese restaurant. I happen to really like the crispy (and not greasy) exterior of the baked or air fried wontons!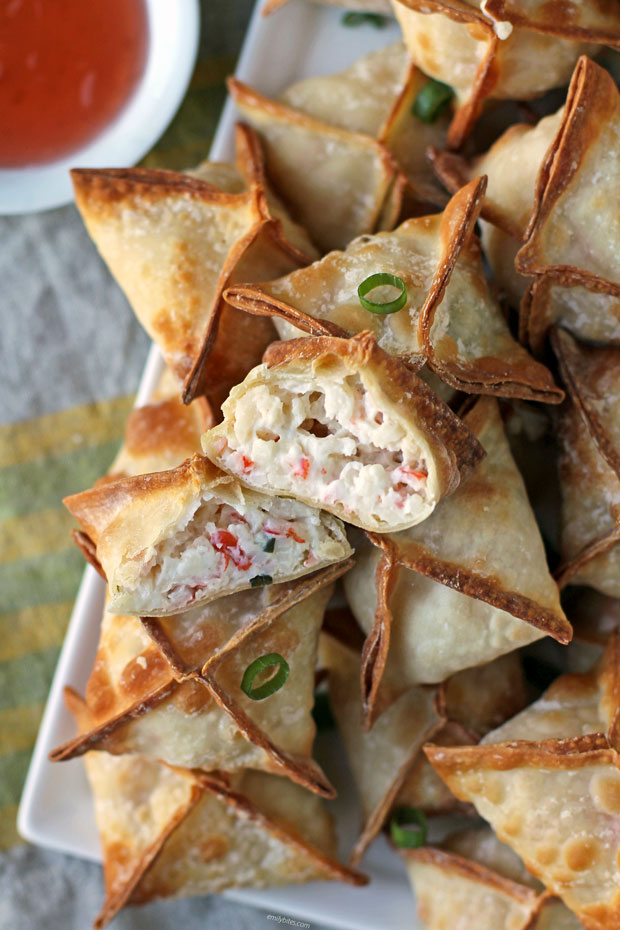 The Crab Filling
You can use either real crab meat or imitation crab in this recipe. I definitely think there are many restaurants out there that use imitation crab. It will taste great either way! The imitation crab I have bought is actually Alaskan Pollock with added cornstarch, coloring, and flavoring to make it seem like crab. I buy the "easy shred" kind and it's much cheaper than buying real crab meat. If you do decide to go for the real thing, feel free to go with the cheaper claw meat rather than springing for jumbo lump crab. You don't need the expensive stuff for Crab Rangoon. My grocery store (Wegmans) sells cooked crab meat in little tubs like this one.
Making Ahead
Prepping these Crab Rangoon takes some time, but if you want to prepare them ahead of time and then cook them just before eating, you can! Just fill and build all the pieces and then place them in a sealed container in the refrigerator for up to 24 hours.
If you'd prefer to freeze some Crab Rangoon, fill and build the pieces and then transfer them to a parchment-lined baking sheet in a single layer. Place the baking sheet in the freezer for several hours until completely frozen and then transfer the frozen pieces into a zipped freezer bag or airtight container. To cook the Crab Rangoon from frozen to may need to add time to either method

Tips and Tricks
Wonton wrappers are typically found in the refrigerated part of the produce section, at least in all the grocery stores I frequent. Wonton wrappers are smaller than egg roll wrappers and different than spring roll wrappers.
This recipe makes 30 pieces, which is a lot! Perfect for a get-together with friends or family. If you want to make less, it's easy to halve the recipe more a smaller batch. Or freeze some of the pieces as directed above.
Crab meat is lightly sweet and I think cream cheese is a bit sweet as well, but the filling for these Crab Rangoon isn't overtly sweet. I know some American Chinese restaurants serve it with a sweeter filling, so if you want a little extra, you can add a bit of powdered sugar to your filling when mixing. This may effect the nutrition calculation and WW points.
These Crab Rangoon are tasty on their own, but feel free to add a dipping sauce of your choice! I commonly see either sweet and sour sauce or sweet chili sauce, both of which are readily available at most grocery stores.
Y'all know I love wonton wrappers! Looking for more ways to use them? I've got you covered! Check out my recipes for Spinach Artichoke Wonton Bites, Banana Chocolate Wonton Bites, Caprese Wonton Bites, Pizza Wonton Cups, Chili Wonton Cups, Asian Chicken Wonton Cups, Chicken Bacon Ranch Wonton Cupcakes, Mixed Berry Mini Tarts, Reuben Wonton Cupcakes, Chicken Parmesan Wonton Cupcakes, Mini Cinnamon Apple Tarts, Taco Cupcakes, French Dip Cupcakes, Berries and Cream Cinnamon Dessert Cups, Buffalo Chicken Cupcakes, Cheeseburger Cupcakes, Lasagna Cupcakes and many more in the wonton category of my recipe index!
Crab Rangoon
These easy Crab Rangoon taste like takeout but can be made right at home in your air fryer or oven!
Ingredients
8

oz

1/3 less fat cream cheese

,

softened to room temperature

8

oz

cooked crab meat

,

shredded (can substitute imitation crab meat)

1

teaspoon

Worcestershire sauce

1

medium

scallion

,

thinly sliced

¼

teaspoon

garlic powder

⅛

teaspoon

salt

30

wonton wrappers

,

(I use Nasoya brand)
Instructions
In a mixing bowl, combine the cream cheese, shredded crab meat, Worcestershire sauce, scallions, garlic powder, and salt. Stir together until thoroughly combined.

Fill a small dish with water and set it beside you on a clean, dry work surface (like a cutting mat). Lay a wonton wrapper on the mat. Place one tablespoon of crab mixture in the center of the wonton.

Dip your finger into the dish of water and run it along the entire outside edge of the wonton wrapper, corner to corner, creating a square of wet around the edge of the wrapper. Gather the four corners of the wrapper and bring them to the center, pressing them together. Use your fingers to press together all the edges of the wonton wrapper to seal the wonton closed. Repeat steps 2 and 3 with remaining ingredients to create 30 Rangoon. Mist the tops of the bites with cooking spray.

To Air Fry: Pre-heat the air fryer to 370 degrees for a few minutes. Working in batches (I did about 10 at a time, whatever fits in a single layer with some space around them), place some Rangoon into the air fryer basket and cook for 6-7 minutes until the tops are golden. Repeat with remaining batches.To Bake: Pre-heat the oven to 400 degrees. Line a baking sheet with parchment paper. Line the Rangoon up on the baking sheet and place in the oven. Bake for about 10-12 minutes until the tops are golden.
Notes
To view your current WW Points for this recipe and track it in the WW app or site, click here!
WW Points per wonton bite: 1 (Points calculated using the recipe builder on weightwatchers.com)
Nutrition Information per wonton bite:
46 calories, 4 g carbs, 1 g sugars, 2 g fat, 1 g saturated fat, 3 g protein, 0 g fiber, 107 mg sodium (from myfitnesspal.com)
MyWW SmartPoints per (1 piece) serving: (SP calculated using the recipe builder on weightwatchers.com)
Green: 1 SmartPoints/ Blue: 1 SmartPoints/ Purple: 1 SmartPoints
Weight Watchers Points Plus:
1 per wonton bite (PP calculated using a Weight Watchers PointsPlus calculator and the nutrition info below)
adapted from Dinner at the Zoo and Rachel Cooks