Pumpkin Pie Pastry Pockets
These Pumpkin Pie Pastry Pockets are the perfect, elegant way to bring the decadent Fall flavors of your favorite pie to your holiday table for just 132 calories or 6 Green, 5 Blue or 5 Purple Weight Watchers SmartPoints each. And don't think of them as just a pie-replacement, they're totally swoon-worthy on their own right! I personally prefer the light, flaky layers of puff pastry to a pie crust and I love biting in to taste the sweet pumpkin filling. No one will ever guess they're light!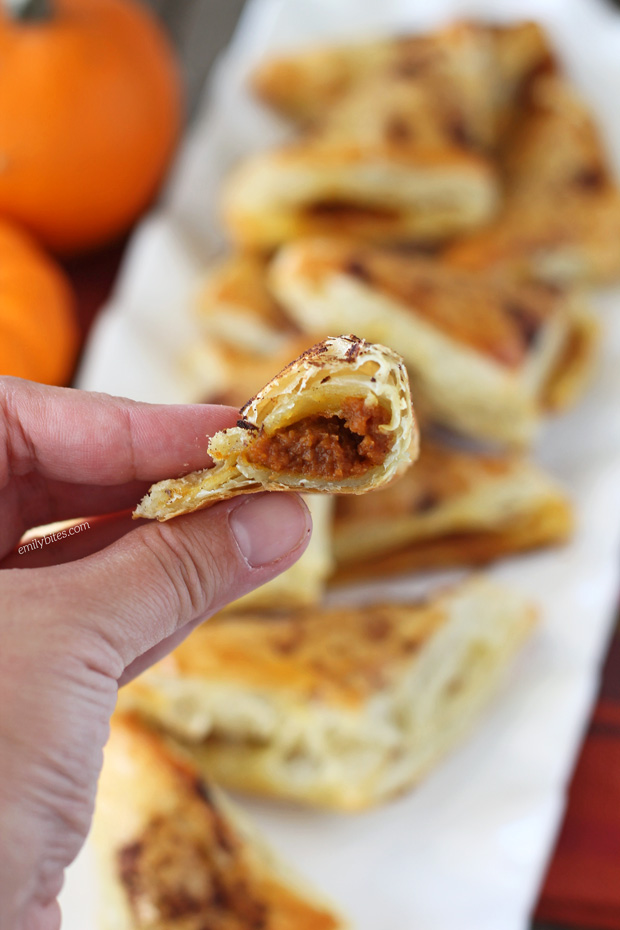 If you've never used puff pastry dough before, don't worry, it's so easy. After I posted my Pizza Pockets earlier this year I knew I wanted to make some similar pastries with sweet filling and these pumpkin ones were a great place to start! Not only would they make a great Thanksgiving dessert, they're also perfect for Fall potlucks or entertaining. They taste indulgent and they look much more complicated than they are!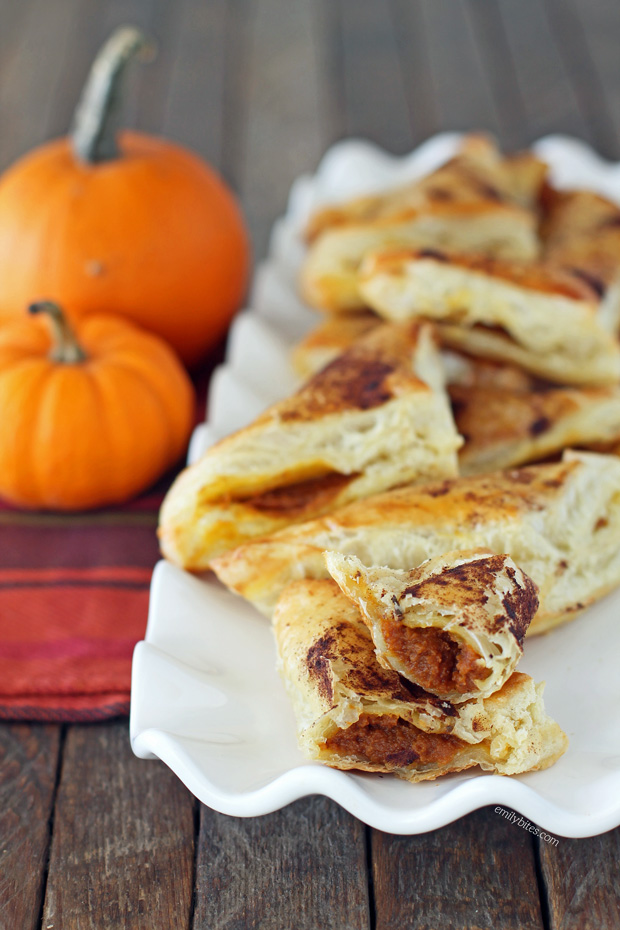 In love with all things pumpkin? Check out my Pumpkin Alfredo Tortellini Skillet, Pumpkin Chocolate Baked Oatmeal Singles, Pumpkin Mac & Cheese, Pumpkin French Toast, Crustless Mini Pumpkin Pies and more in the pumpkin section of my recipe index!
Pumpkin Pie Pastry Pockets
Ingredients:
1 sheet of frozen puff pastry, defrosted per package instructions (such as Pepperidge Farms)
½ cup canned pumpkin
3 tablespoons sugar
½ teaspoon cinnamon, divided
1/8 teaspoon ground ginger
1/8 teaspoon salt
A pinch of ground cloves
1 egg*
1 tablespoon water
Directions:
On a clean, dry surface sprinkle a small amount of flour to prevent sticking and lay down your sheet of defrosted puff pastry. Using a rolling pin, roll the pastry into a 12"x12" square of even thickness. Using a knife or pizza cutter, cut the pastry into 9 even squares (3 rows of 3).
In a mixing bowl, combine the pumpkin, sugar, ¼ teaspoon of the cinnamon, ginger, salt and cloves and stir until well combined. Spoon about a tablespoon of the filling into the center of each pastry square (should use all the filling) and spread it a bit diagonally toward two opposite corners. Get a small dish of water and lightly spread a bit of water around the edges of a square. Fold one corner over diagonally to meet its opposite corner and form a triangle. Press the edges of the pastry together to seal the filling inside. Repeat with each pastry square. Cover a baking sheet with parchment paper and transfer the triangles to the sheet.
Combine the egg and a tablespoon of water in a bowl and whisk together to combine. Use a pastry brush to brush the egg wash over top of each pastry triangle. Discard leftover egg wash. Sprinkle the remaining ¼ teaspoon of cinnamon over the tops of the triangles.
Preheat the oven to 400. Place the baking sheet into the freezer for 15-20 minutes to ensure the pastry is chilled (this makes it puff better). Transfer the sheet to the oven and bake for 15-18 minutes until pastry is golden.
MyWW SmartPoints per (1 pastry) serving: (SP calculated using the recipe builder on weightwatchers.com)
Green: 6 SmartPoints/ Blue: 5 SmartPoints/ Purple: 5 SmartPoints
Weight Watchers Points Plus:
4 per pocket (P+ calculated using the recipe builder on weightwatchers.com)
Nutrition Information (per pocket):
132 calories, 16 g carbs, 5 g sugar, 7 g fat, 3 g saturated fat, 2 g protein, 1 g fiber (from myfitnesspal.com)
*Since you definitely won't use all of the egg wash I calculated the nutrition information and Weight Watchers points using the values for ½ an egg.