Blueberry Cheesecake Rolls
I've been dreaming about these Blueberry Cheesecake Rolls ever since I tasted them. Warm, juicy blueberries that burst when you take a bite and sweet creamy cheesecake filling wrapped in a flaky crescent roll pastry…what's not to love? Plus this swoon-worthy dessert has only 5 ingredients and comes together super quickly and easily. I'm thinking you could even serve these at breakfast or brunch if you want to start your day off sweet.
Each of these Blueberry Cheesecake Rolls is only 133 calories or 5 SmartPoints on myWW Green, Blue or Purple – such a bargain for a decadent dessert! This is a recipe you could easily make with kids for a fun family activity and these are also perfect to bring to a party or potluck. They're crowd-pleasers!
If you want to see more perfectly portioned sweet treats, check out my dessert category for favorites like Chocolate Chip Cannoli Cups, Key Lime Cheesecake Cups, Mixed Berry Mini Tarts, Carrot Cake Cupcakes, Cheesecake Stuffed Strawberries, Dark Chocolate Orange Cupcakes, Mini Cinnamon Apple Tarts, Berries & Cream Cinnamon Dessert Cups and more!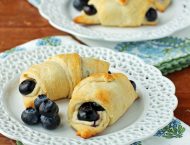 Blueberry Cheesecake Rolls
Ingredients:
3 oz 1/3 less fat cream cheese, softened to room temperature
½ teaspoon vanilla extract
2 ½ tablespoons powdered sugar
1 (8 oz) tube of reduced fat crescent roll dough (8 rolls)
2/3 cup fresh blueberries
Directions:
Preheat the oven to 375.
Combine the cream cheese, vanilla and powdered sugar in a mixing bowl (or the bowl of a stand mixer) and use an electric mixer (I used a hand version) to mix the ingredients until thoroughly combined and smooth.
Unroll the crescent roll dough and separate into 8 triangles along the perforated seams. Place one triangle of dough in front of you with the short flat side facing you and the long triangle pointing away. Spread about a tablespoon of the cream cheese mixture across the bottom third of the dough triangle (the part closest to you). Top the cream cheese layer with two rows of blueberries (pictured above). Starting with the edge closest to you, roll the dough forward all the way to the far tip of the triangle, surrounding the blueberries. Place the finished roll onto a baking sheet and repeat with remaining ingredients to create 8 rolls.
Place the baking sheet of rolls in the preheated oven and bake for 10-13 minutes until the rolls are golden and serve.
MyWW SmartPoints per (1 piece) serving: (SP calculated using the recipe builder on weightwatchers.com)
Green: 5 SmartPoints/ Blue: 5 SmartPoints/ Purple: 5 SmartPoints
Weight Watchers Points Plus:
4 per roll (PP calculated using a Weight Watchers PointsPlus calculator and the nutrition info below)
Nutrition Information per roll:
133 calories, 18 g carbs, 7 g sugars, 6 g fat, 3 g saturated fat, 3 g protein, 0 g fiber (from myfitnesspal.com)