Easy Salsa Rice
This Easy Salsa Rice is a simple, flavorful dish that's perfect as a weekday side dish, in a burrito bowl or as a tasty addition to your taco night. With just a few ingredients you may already have in your pantry, you have a versatile side or base to form a creative meal around! Just add some protein (steak, chicken, ground beef, black beans, chili beans, etc) and veggies (peppers, corn, tomatoes, peas, whatever you like) for a fun complete meal. This Easy Salsa Rice is only 211 calories or 6 Green, 6 Blue or 1 Purple myWW SmartPoints for a scant cup (when I measured the entire finished recipe I got just under 6 cups), so depending on what else you're serving you can also select to eat ½ cup or ¾ cup depending on your needs.
Looking for more flavorful, lightened up side dishes like this Easy Salsa Rice? Try my Roasted Fingerling Potatoes, Hummus Veggie Tots, Garlic Roasted Green Beans, Loaded Cauliflower Bake, Parmesan Roasted Sweet Potatoes, Spinach and Parmesan Orzo, Cheesy Broccoli Bake, Garlic Thyme Roasted Carrots, Easy Garlic Knots, Butternut Squash Quinoa Salad, Roasted Smashed Garlic Potatoes, Sweet Potato Casserole Stacks, Cheddar Bay Pull Apart Muffins, Cheddar Broccoli Orzo, Broccoli Salad, Tomato Cobbler and many more in the Side Dishes category of my recipe index!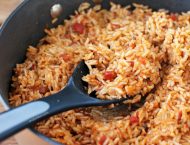 Easy Salsa Rice
Yield: 6 (1 scant cup) servings
Ingredients:
1 tablespoon olive oil
¼ cup chopped onion
1 ½ cups long grain white rice (use brown rice if following the myWW Purple plan)
2 cups reduced sodium chicken or vegetable broth
1 cup salsa (I recommend roasted tomato salsa – Frontera, Wegmans and Trader Joe's all have a version)
½ teaspoon ground cumin
A sprinkle of garlic powder
Directions:
Bring the oil over medium heat in a large saute pan or walled skillet. Add the chopped onion and cook, stirring occasionally, for 3-5 minutes until the onions are softened.
Add the rice to the skillet and stir together with the oil and onions. Cook the dry rice, stirring occasionally, until some of the rice starts to turn golden (about 4-5 minutes). Add the broth, salsa, cumin and garlic powder and stir together. Cover the pan and reduce the heat to simmer for 20 minutes until the liquid is absorbed and the rice is cooked through.
MyWW SmartPoints per (1 scant cup) serving:(SP calculated using the recipe builder on weightwatchers.com)
Green: 6 SmartPoints/ Blue: 6 SmartPoints/ Purple: 1 SmartPoints (if using brown rice, if not then use Blue points)
Weight Watchers Points Plus:
6 per (1 scant cup) serving (PP calculated using a WW PointsPlus calculator and the nutrition info below)
Nutrition Information per (1 scant cup) serving:
211 calories, 41 g carbs, 3 g sugars, 3 g fat, 0 g saturated fat, 4 g protein, 1 g fiber (from myfitnesspal.com)