Broccoli Salad
This lightened up Broccoli Salad is the perfect answer to that "what should I bring?" question that comes up for cookouts and parties all summer long. It's hearty and crunchy with broccoli, carrots and sunflower seeds, smoky from the crispy chopped bacon, fruity with red grapes and apples and all tossed in a sweet and creamy sauce. Plus a generous serving is just 140 calories or 4 Weight Watchers SmartPoints on myWW Green, Blue and Purple! I laid out the recipe below to serve 6 so that it would work well for those who are making it for lunches or for a side dish at home, but you can easily double or triple the recipe to bring to a party – it's sure to be a crowd-pleaser!
This picnic staple usually contains chopped red onion, but since I don't enjoy eating raw onion, I substituted scallions and they brought the perfect amount of mild onion flavor. I also used fresh red grapes and apples instead of the more traditional dried fruits like raisins or craisins. It tastes just as good and it's healthier! When I measured the entire finished recipe it came out to about 5 ½ cups total, so I listed the serving size as 6 scant cups. If you're eating it for lunch instead of as a side dish you may want to double the serving size.

Looking for more tasty lightened up recipes to help you answer "what should I bring?" Check out my Doritos Taco Salad, Cannoli Dip, Cheesy Potluck Potatoes, Cheesecake Stuffed Strawberries, BLT Dip, Buffalo Chicken Pasta Salad, Greek Layer Dip, Zucchini Casserole, Strawberry Balsamic Bruschetta, Greek Orzo Pasta Salad, Mixed Berry Mini Tarts, Fiesta Hummus, Spinach & Artichoke Dip, Zucchini Squares, Chocolate Fruit Dip and many more in my recipe index!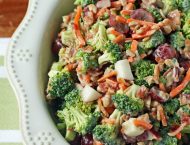 Broccoli Salad
Yield: 6 (1 scant cup) servings
Ingredients:
½ cup chopped red apple
1 teaspoon lemon juice
8 slices center cut bacon, cooked crisp and chopped
3 cups chopped broccoli florets
¾ cup sliced red grapes
½ cup shredded or matchstick carrots
1 medium scallion, chopped
1/3 cup sunflower seeds
½ cup low fat mayonnaise (I used Hellmann's)
2 tablespoons granulated sugar
1 tablespoon apple cider vinegar
Directions:
Place the chopped apples in a large mixing bowl and add the lemon juice. Stir to coat the apples. Add the chopped bacon, broccoli florets, grapes, carrots, scallions and sunflower seeds and stir until well combined.
In a separate dish, combine the mayonnaise, sugar and apple cider vinegar and stir until combined. Add the mayo mixture to the other ingredients and stir until well coated. Store in the refrigerator and serve chilled or at room temperature.
MyWW SmartPoints per (1 scant cup*) serving: (SP calculated using the recipe builder on weightwatchers.com)
Green: 4 SmartPoints/ Blue: 4 SmartPoints/ Purple: 4 SmartPoints
Weight Watchers Points Plus:
4 per (1 scant cup*) serving (PP calculated using the nutrition info below and a WW PointsPlus calculator)
Nutrition Information (1 scant cup*):
140 calories, 16 g carbs, 9 g sugars, 7 g fat, 1 g saturated fat, 6 g protein, 2 g fiber (from myfitnesspal.com)
* When I measured the entire finished recipe it came out to about 5 ½ cups total, so I listed the serving size as 6 scant cups.