Sweet and Spicy Grilled Chicken Sandwiches
I have partnered with Flatout to create these Sweet and Spicy Grilled Chicken Sandwiches. I have been compensated for my time commitment to work with their product, however my opinions are entirely my own and I have not been paid to publish positive comments.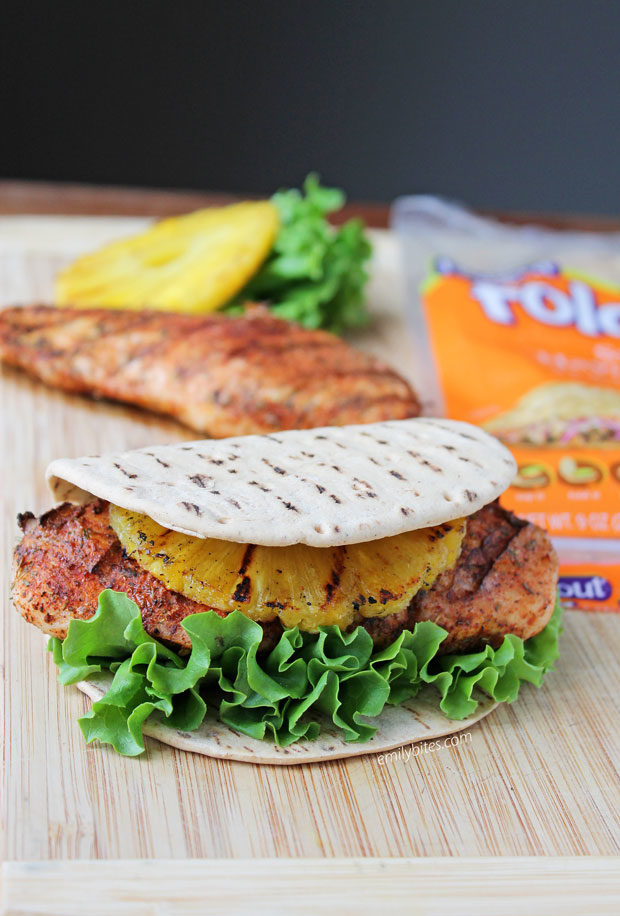 It's grilling season and these Sweet and Spicy Grilled Chicken Sandwiches are such a fun, flavorful, healthy way to celebrate! We love grilling at our house (my husband is the grill master) because it's such an easy way to get dinner on the table quickly. These sandwiches are no exception! Spicy seasoned chicken breast combined with sweet, juicy pineapple and served on Flatout's new soft Sweet Hawaiian Foldits – it's a perfect flavor combination! Plus each sandwich is only 350 calories or 6 Green, 3 Blue or 3 Purple myWW SmartPoints each with 44 grams of protein! What a bargain.
Big Flatout news! If you've been following my blog for a while, you know I love using Flatout flatbreads to make wraps, pizzas, quesadillas, sandwiches, desserts and more. They're versatile, tasty, full of protein and fiber and endorsed by Weight Watchers®, so what's not to love? This summer, Flatout is coming out with four NEW products and I can't wait to try them all! In addition to the Sweet Hawaiian Foldits featured in this post, they're also introducing three new FlavorIt flatbreads: Olive Oil and Sea Salt, Southwest Chipotle, and Garden Ranch. Yum! Better still, the Olive Oil & Sea Salt and Southwest Chipotle flavors are just ONE SmartPoint each on the Weight Watchers Freestyle plan!
Looking for more recipe ideas using Flatout flatbreads? Check out my Chicken Hummus Veggie Wrap, Taco Flatbreads, Easy Chicken Quesadillas, Buffalo Chicken Tacos, Barbecue Chicken Bacon Wraps, Greek Chicken Tacos, Strawberry Avocado Toast Flats, BLT Flatbreads, Pepperoni and Sausage Pizzadillas, Savory Sausage Pumpkin Flatbreads, Chicken Caesar Wraps, Veggie Lover's Flatbread, Black and Blue Steak Wraps, Easy Taco Cups, Spicy Southwest Chicken Wraps, Peaches and Cream Dessert Flats, Three Cheese Mushroom Flatbreads, Maple Bacon Breakfast Wraps, Chicken Saltimbocca Sandwiches, Buffalo Chicken Pinwheel Wraps, Spinach Artichoke Flatbreads, Greek Snack Flats, Mexi Burgers with Guacamole, Chinese Chicken Wrap, Chicken Pesto Flatbreads and Bacon Cheeseburger Wraps!
Sweet and Spicy Grilled Chicken Sandwiches
These Sweet and Spicy Grilled Chicken Sandwiches are a fun, flavorful, healthy way to get your grill on!
Ingredients
½

teaspoon

salt

¼

teaspoon

paprika

¼

teaspoon

garlic powder

¼

teaspoon

chili powder

¼

teaspoon

ground cayenne red pepper

¼

teaspoon

dried oregano

¼

teaspoon

dried thyme leaves

1/8

teaspoon

black pepper

2

(6 oz each) boneless, skinless chicken breasts

,

(12 ounces total)

2

slices

pineapple

2

Flatout Sweet Hawaiian Foldits

2

leaves

green leaf lettuce
Instructions
In a small dish, mix all of the seasonings together until well combined. Lay the chicken on a cutting mat and sprinkle/rub all sides of the chicken with the seasoning until the chicken is coated in spices.

Preheat your grill and grill the chicken breasts until cooked through. Grills heat differently and chicken breasts of the same weight can be of different thickness, so the time this takes can vary. The chicken should be 160 degrees in the center if you have a meat thermometer. If not, you can always cut into the chicken to check if you're unsure. Optional: you can also grill the pineapple slices until warm, it's delicious!

To build the sandwiches, place a lettuce leaf on one side of each foldit and top with a grilled chicken breast and a pineapple slice. Fold the other half over the top and serve!
Notes
MyWW SmartPoints per (1 sandwich) serving: (SP calculated using the recipe builder on weightwatchers.com)
Green: 6 SmartPoints/ Blue: 3 SmartPoints/ Purple: 3 SmartPoints
Weight Watchers Points Plus:

9 per sandwich (PP calculated using a Weight Watchers brand PointsPlus calculator and the nutrition information below)
Nutrition Information per sandwich:
350 calories, 33 g carbs, 11 g sugars, 6 g fat, 1 g saturated fat, 44 g protein, 8 g fiber (from myfitnesspal.com)