Chicken Noodle Soup
There's something about a classic bowl of Chicken Noodle Soup on a cold day that just fills you with comfort from the inside out. I'm excited to share this tasty version featuring a flavorful broth seasoned with bouillon, ginger, rosemary, thyme, and a bit of lemon. I like using tiny pasta in soups because it fits nicely on the spoon while leaving room for chicken and vegetables. This time I decided to use a whole wheat pearl couscous (also labeled Isreali couscous). Alternatively, you could certainly use the non-wheat variety of pearl couscous, or another small pasta like orzo or ditalini. It will be delicious either way! I find this Chicken Noodle Soup to be hearty, filling, and a real bargain at just 280 calories or 5 Green, 3 Blue, or 1 Purple SmartPoints for a 1 1/3 cups serving! To view your WW PersonalPoints for this recipe and track it in the WW app or site, click here!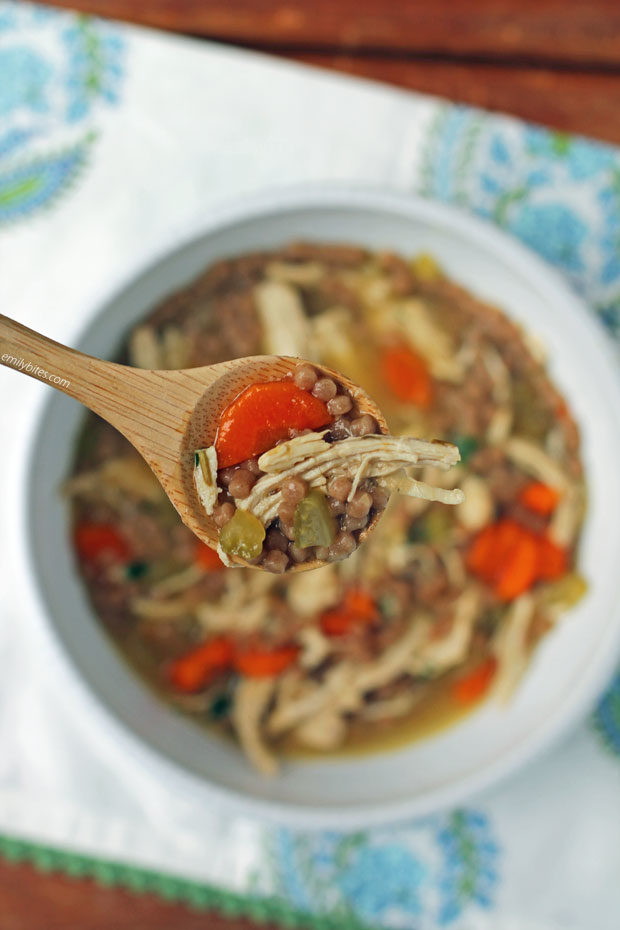 This Chicken Noodle Soup is great to take for lunches or for dinner at home. I love making my own "lunch combos" with a salad or half a sandwich like I'm at a restaurant. Honestly though, soup fills me up a lot so I don't always get to the sandwich! It's also awesome served with crackers. Since cold and flu season is upon us, this soup is also the perfect meal for when you're under the weather, with the added health benefits of ginger! Just an FYI: all soups with pasta or rice will lose some liquid when you store them – the pasta just soaks it up! Feel free to add more broth as needed when you reheat leftovers.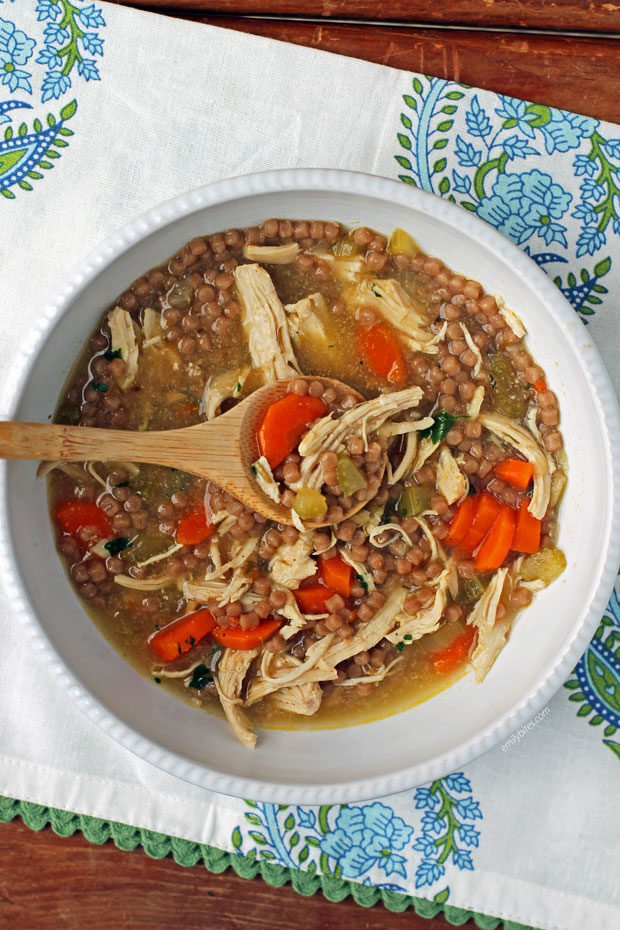 For more tasty, lightened up soup recipes like this Chicken Noodle Soup, check out my Creamy Chicken and Gnocchi Soup, Black Bean Soup, Sausage and Tortellini Tomato Soup, Butternut Squash Soup, Creamy Chicken and Wild Rice Soup, Roasted Corn Soup, Beef Taco Soup, Buffalo Chicken Soup, Slow Cooker Beef and Barley Soup, Chicken Corn Chowder, Zuppa Toscana, Broccoli Cheddar Soup, Italian Wedding Soup, Cheeseburger Soup, Spaghetti and Meatball Soup, Chicken Tortilla Soup, Herbed Chicken and Dumplings, Roasted Tomato Basil Soup and more in the soup section of my recipe index!
Chicken Noodle Soup
This classic Chicken Noodle Soup features a flavorful seasoned broth and tasty Isreali coucous!
Ingredients
2

teaspoons

olive oil

1

medium onion

,

diced

2

medium carrots

,

sliced

2

medium celery ribs

,

sliced

2

garlic cloves

,

minced

1

tablespoon

freshly grated ginger

8

cups

fat free reduced sodium chicken broth

1

teaspoon

Better Than Bouillon Roasted Chicken Base

,

or another bouillon paste, powder, or a cube

20

oz

uncooked boneless

,

skinless chicken breasts

½

teaspoon

dried rosemary

½

teaspoon

dried thyme

½

teaspoon

salt

¼

teaspoon

black pepper

1

cup

uncooked whole wheat pearl couscous

,

also called Isreali couscous, you could alternatively use another small pasta such as orzo or ditalini (use wheat pasta if following the myWW Purple plan)

1

tablespoon

lemon juice
Instructions
Heat the oil in a dutch oven or soup pot to medium heat. Add the onions, carrots, and celery and stir to coat. Cook for 3-5 minutes until the onions are softened. Add the garlic and ginger and stir. Cook for another 30 seconds to a minute until fragrant. Add the broth and stir in the bouillon. Add the chicken breasts, rosemary, thyme, salt, and pepper and increase the heat to bring the contents to a boil. Reduce the heat to a simmer and simmer, uncovered, for 20-25 minutes until the chicken breasts are cooked through.

Remove the chicken breasts to a cutting board and add the couscous to the simmering pot. Simmer the contents for another 10 minutes. While the couscous is cooking, shred the chicken breasts using two forks or your preferred method.

When the couscous is cooked, add the chicken back to the pot and add the lemon juice. Taste and add additional salt or pepper if desired, and parsley as an optional garnish. Serve hot.
Notes
To view your WW PersonalPoints for this recipe and track it in the WW app or site, click here!
Nutrition Information per (1 1/3 cups) serving:
280 calories, 29 g carbs, 5 g sugars, 5 g fat, 1 g saturated fat, 29 g protein, 5 g fiber (from myfitnesspal.com)
MyWW SmartPoints per (1 1/3 cups) serving:(SP calculated using the recipe builder on weightwatchers.com)
Green: 5 SmartPoints/ Blue: 3 SmartPoints/ Purple: 1 SmartPoints (if using wheat pasta/couscous...if not, use blue points)
Weight Watchers Points Plus:
7 per (1 1/3 cups) serving (PP calculated using a Weight Watchers brand PointsPlus calculator and the nutrition information below)
Adapted using recipes from Ambitious Kitchen and Soup Addict