New 2019 Weight Watchers MyWW Program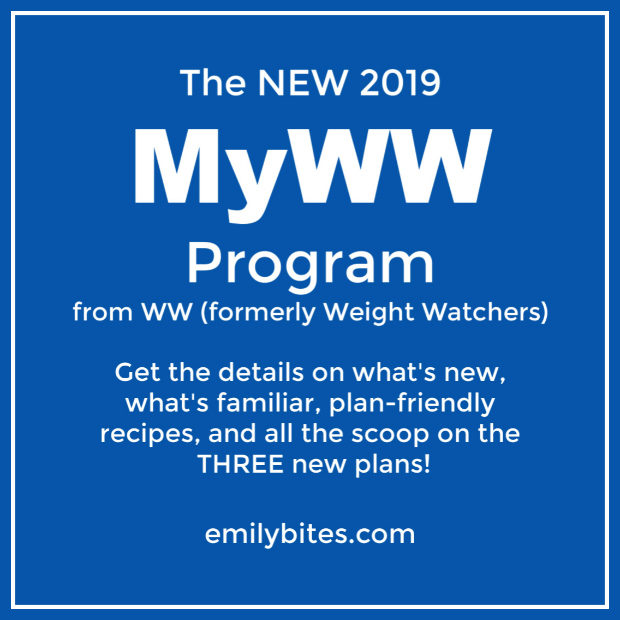 Starting today, there is a new WW (formerly known as Weight Watchers) program called MyWW, and I was lucky enough to get early access so I can share all the details below! I'll be giving an overview of what's different, what's familiar, plan-friendly recipes, and all the scoop on the new 2019 Weight Watchers MyWW Program and plans. That's right, I said plans as in plural! One of the things I've seen WW members request for years is a choice on how to follow the program, and WW is delivering that now with three different plan options to choose from!
If you're just signing up for WW now, you'll take a quiz and WW will recommend the plan they think will work best for you. If you're already a WW member, you'll be able to switch back and forth between plans in the app by going to Profile>Settings>Food Settings and then selecting the plan you'd like to use. WW is recommending you try a plan for at least 2 weeks before switching to give it a fair chance before changing to something new.
What's The Same
In the past, there has always been some panic when a new WW plan rolls out, but one of the nice things about MyWW is that it still uses the same SmartPoints formula to determine the points value of different foods. SmartPoints values are based off calories, saturated fats, protein, and sugars (saturated fats and sugars raise the points values, while protein lowers them). While each of the 3 plans (known as Green, Blue, or Purple) have different zero point food lists, the remaining foods will have the same SmartPoints values you're used to seeing on Freestyle.
Also, if you've been happy doing Freestyle, you don't have to change a thing! The Freestyle plan is still an option, just relabeled as the Blue plan. If you're looking to try something new, there are two additional color-coded plans (Green and Purple) that you can choose from as well. I personally love the idea of having options, so that you can pick the plan that works best for your lifestyle, weight loss journey and eating habits.
All three plans have the following in common:
Each plan uses the SmartPoints formula to calculate points values
Each plan assigns you a daily budget of SmartPoints to use, based on several factors including age, weight, height, and sex. Your daily points budget may decrease as you lose weight and your needs change, but will never dip beneath the minimum daily points for each plan.
Each plan also gives you a bank of weekly points to use as you see fit, also assigned based on your age, weight, height, and sex. Your weekly points budget may also decrease as these factors change, but will remain the same number when switching between the three programs. For example, if you have 35 weeklies on Blue, you will still have 35 weeklies if you switch to Green or Purple, only your daily points budget will change.
Each plan allows you to "roll over" up to 4 unused daily SmartPoints to be added to your weekly points allowance to be used elsewhere throughout the week (for example, if you fill up on a lot of zero point foods on a Tuesday and have a few daily points leftover, they'll be added to your weekly points total and you can save them for the weekend or whenever you'd prefer to indulge a bit)
Each plan has a list of zero point foods, though the lists are now different for each plan
The Three MyWW Plans: Green, Blue, and Purple
As I mentioned above, WW will now offer three different plans to choose from, called Green, Blue and Purple. Here's the general gist of each of the three plans:
Green: Offers the smallest list of zero point foods, and the largest daily points budget. The lowest daily points total on Green is 30 SmartPoints. The zero point foods list is limited to fruits and non-starchy vegetables. This plan will feel very familiar to WW members who did the program a couple years ago before Freestyle was introduced, because it is extremely similar to the Beyond the Scale program (the original SmartPoints plan). If you choose this plan you'll have less zero point food options, but more daily points to spend on whichever foods you like.
Blue: This is the plan formerly known as Freestyle and is now the middle-of-the-road plan. The lowest daily points allowance on Blue is 23 SmartPoints. In addition to fruits and non-starchy vegetables, the Blue plan adds some starchy vegetables like corn and peas, skinless chicken and turkey breast, eggs, fish and shellfish, beans and legumes, nonfat plain yogurt, tofu and tempeh to the zero point food list. If you choose this plan, you'll want to incorporate the zero point foods into your meal planning, but you'll also have a moderate daily points budget to use on other foods.
Purple: Offers the largest list of zero point foods, and the smallest daily points budget. The lowest daily points total on Purple is 16 SmartPoints. In addition to all the zero point food categories offered on the Blue plan, the Purple plan adds potatoes, whole wheat pasta and certain veggie pastas (like chickpea pasta), brown rice, oats, and other grains like barley, quinoa, and farro to the zero point foods list. This plan reminds me a bit of the old Simply Filling plan, so if you loved filling up on healthy basics with less tracking on that style of plan, this one may be for you. If you choose this plan, you'll base your meals around the longer list of zero point foods, and have a smaller daily points budget to spend on other foods.
If you're a visual learner, here's a quick comparison of all three MyWW plan choices
How will this affect the recipes on Emily Bites?
Moving forward, each of my recipes will list three different SmartPoints values for the three different MyWW color plans. I will be working hard over the next week or two to add all three values to each of my current recipes. Please bear with me! I've calculated all the new values already, but adding it in several places and updating over 600 recipe posts takes a bit of time! I will definitely get it done as quickly as possible and update here and on social media (Instagram and Facebook) as soon as I'm finished. UPDATE 11/15: I'm finished!!! All of my recipes from the last 9 years of blogging now have all three color points listed for the myWW plans. Whew! Thanks for all the support and encouragement while I worked on this all week, you guys rock.
As far as how the points values will change, if you're on the Blue plan then the SmartPoints values will remain the same as they were on Freestyle (as it's the same plan, renamed). Otherwise, you may see some changes! Some recipes (ones that don't contain foods that are zero points on any plan, or ones that contain fruits or veggies that are zero points on all plans and no other zero point foods) will have the same SmartPoints value on all three plans. For example, my Apple Cinnamon Muffins are 4 SmartPoints each, regardless of plan color. Other recipes will see points values vary quite a bit.
On the Green plan, you'll see some of the points values for recipes go up, because there are less zero point foods than on Freestyle/Blue. For example, a recipe with chicken, beans or eggs in it (zero points on Freestyle, but all contain points on Green), will likely be higher in points than it was on Freestyle. My Ricotta Stuffed Chicken Bake, for instance, had 4 SmartPoints on Freestyle/Blue, but will have 7 SmartPoints on Green. However, you'll have more daily points to use on the Green plan, so you should still be able to incorporate any recipe you like. If you prefer beef/pork/chicken thighs to chicken breasts, this plan narrows the gap between the options since breasts contain points as well. You'll have to spend points on any meat, but if you'd rather use ground beef than ground turkey or eat a chicken thigh instead of a breast, there will be less of a points difference than when the leaner options were zero.
On the Purple plan, you'll see some of the points values for recipes go down, because there are more zero point foods! Recipes with potatoes, wheat pasta, oats, brown rice, and more will likely have lower Purple values. Some of my recipes already use wheat pasta or brown rice, but in the instances where I originally listed white pasta/rice in the recipe, I will make sure to list the Purple SmartPoints value if substituting wheat pasta/brown rice. This will significantly reduce the SmartPoints values of some of my recipes on the Purple plan. For example, My One-Pot Buffalo Chicken Mac and Cheese was 7 SmartPoints on Freestyle, but will be 4 SmartPoints using wheat pasta on the Purple plan! My One-Pot Turkey Sloppy Joe Pasta becomes just ONE SmartPoint per serving if using wheat pasta on The Purple plan, down from 5 SPs on Freestyle. My Chili Cheese Stuffed Sweet Potatoes will only be 2 SmartPoints on Purple, while they were 7 SmartPoints on Freestyle.
Here are a few more examples of different recipes on my site and the point values per serving for all three plans so you can get a feel for the changes:
Chicken and Dumplings Casserole: 7 Green/ 5 Blue/ 5 Purple
Barley Beef Skillet: 7 Green/ 7 Blue/ 3 Purple
Barbecue Bacon Wrapped Chicken Tenders: 2 Green/ 1 Blue/ 1 Purple
Beefy American Goulash: 8 Green/ 8 Blue/ 3 Purple (if using wheat pasta)
Rustic Sausage and Potato Skillet: 7 Green/ 7 Blue/ 5 Purple
Slow Cooker Apple Bacon BBQ Pulled Pork: 5 Green/ 5 Blue/ 5 Purple
Greek Chicken Quinoa Salad: 7 Green/ 6 Blue/ 3 Purple
Pear Gingerbread Baked Oatmeal Singles: 3 Green/ 3 Blue/ 2 Purple
One-Pot Spicy Dirty Rice with Chicken and Sausage: 10 Green/ 8 Blue/ 4 Purple (if using brown rice)
Sausage and Pepper Egg Bake: 6 Green/ 2 Blue/ 2 Purple
Roasted Fingerling Potatoes: 5 Green/ 5 Blue/ 1 Purple
Just a reminder that the WW recipe builder counts zero point foods as zero points. Because of this, the SmartPoints you calculate by entering the nutrition information for a recipe into the SmartPoints calculator will not necessarily match the SmartPoints you get by entering the ingredients into the WW recipe builder. Zero point foods still have calories, saturated fat, sugar, etc, and the nutrition information will reflect that! For this reason, it's recommended that you use the recipe builder to determine the SmartPoints for recipes.
In Conclusion/My Thoughts
I'm excited about this change! Everyone's lifestyles, eating habits, and weight loss journeys are different, so the idea of each member getting to choose the plan that works best for them makes a lot of sense to me. I can genuinely envision people being happy and successful on each of the three plans. Plus, since two of the plans are taken from past programs (Green from Beyond the Scale and Blue from Freestyle), many members are already familiar with them, which makes for an easier transition. For years I've heard members saying "I wish they'd bring back X plan" or "I wish we could choose which plan to follow," and it seems they were listening!
So…what about you?? I'd love to hear your thoughts on the new program choices below and which plan you're planning to follow (if you're doing WW of course). Comment below to let me know which plan is your favorite and why! Also, if you don't already, make sure to follow me on Instagram, Facebook, or by Email to get updates and tons of delicious WW-friendly recipes for whichever plan you choose!
Thank you so much for being here and for following my blog and cooking along with me! You are all so important to me. A lot of my readers follow the Weight Watchers program, but for those of you who don't, thanks for your patience while I explained these changes to the WW folks – I'll keep listing nutrition information for everyone else! We'll be back to recipes with the next post, I promise. Love you guys. I can't wait to hear your thoughts!
Emily